Thanksgiving Recap…
Posted on 03 December 2010
Goodness, goodness, goodness! It is hard to believe that we left for our Thanksgiving trip a week ago and with it my last post! Apologies on the massive gap (perhaps my longest yet, oops!) But rest assured I do have some holiday treats and goodies and some things that are not quite so seasonal but still supremely yummy.
Last week we flew to my husband's home town on Morehead City in North Carolina to indulge in some quality family time. Armed with a perhaps more than slightly OCD-like binder, Thursday morning was spent in the kitchen getting everything ready for the feast later that afternoon.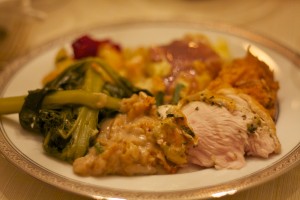 While in theory everything should have been executed as planned, as always there were a few hiccups throughout the day.
Like when my sister-in-law and I tried to dry the inside of the extremely heavy and cumbersome bird only to find a peculiar plastic device designed to keep the turkey in the correct position for roasting. After a few hilarious moments trying to manuoeur the turkey over the sink, we finally discovered that the legs popped out of their plastic cage after reading the packaging. You know when technology has gone too far when you have to read a turkey's directions!
Or when said bird was out of the oven, resting and about to be carved and my brother-in-law found the paper bag containing extra giblets… (I'm going to say it added to the flavor)…
The worst, though, was when I forgot to bake the pie crust blind with weights or dried beans. I just added the prepared filling to the chilled dough and popped it in the oven. Only after about 3 minutes did I suddenly realize my mistake. A quick peak in the oven confirmed it – the dough has melted and was beginning to combine with the filling, leading me to quickly pull out the pie so I could pour out the filling to attempt to salvage some, which thankfully I was able to do. Sadly I was completely unable to save the pie crust and had to slide that sucker into the trash… A last minute run to the grocery store right before closing saved the day with prepackaged pie crusts (shhhh, don't tell anyone!)
I always enjoy a day when you get to eat so much your body needs to sleep to recuperate. My first trip home with my now husband was over Thanksgiving. Immediately following the meal I had to go have a lie down. I am sure I made a great first impression

The recipes for Thanksgiving are a mixture of family recipes, one improvised on the spot (hello deviled eggs and butterscotch pumpkin pie!) and recipes from my rather too large collection of back issues of food magazines.
For the main event I used this Fine Cooking recipe for Three Herb Butter and placed in under the skin of the turkey. The resulting meat was tender and gently flavored with the herbs.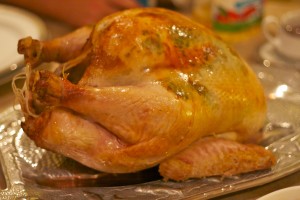 We also ate Sweet Potato Crunch (a recipe of the hub's family so I would have to ask for permission before publishing it, fingers crossed!), Creamy, Buttery Mashed Potatoes, Braised Collard Greens, which my father-in-law made, a very traditional and faithful to the original Campbell's Green Bean Casserole, and a sage and onion stuffing made with fresh baguette and plenty of butter and chicken stock (I'll post this recipe next week in time for Christmas) and a Cranberry Sauce made with Fiji apples.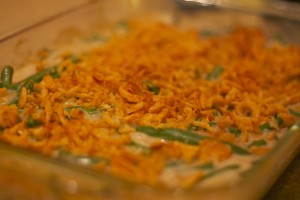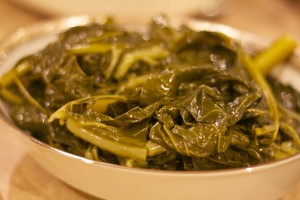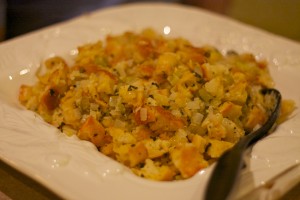 For today's recipe I decided to write up the Deviled Eggs I made as snacks through out the day. This recipe will not blow anyone's mind as it is fairly classic with just a few tweaks to fine tune deviled egg goodness but they are exceedingly moreish as your empty plate will testify! I served this with the Gougeres before we ate our main meal.
Notes: You can refrigerate these up to step 3 until ready to serve and then sprinkle with paprika right before service. You can also boil and peel the eggs in advance as well.
Deviled Eggs, makes 24
12 large eggs
5 tbsp mayonnaise plus 1/2 tsp
1 1/2 tbsp cider vinegar
1 1/2 tbsp sweet pickle relish
1 1/2 tbsp melted butter
1 tbsp yellow mustard
1 tbsp sugar
Sweet paprika, to dust the eggs with before serving
1. Put eggs into a pot and cover with at least 1″ of cold water. Place a lid on the pot and bring the water to a boil over high heat. Turn off the heat and leave the pot on the hob and let sit with the water undisturbed (making no movement) for 12 minutes. Drain water and run under cool water until cool enough to handle. Peel eggs gently.
2. Cut eggs in half and remove yolks. Place yolks in a medium bowl and combine with the rest of the ingredients, mash together with a fork until the mixture is smooth.
3. Place egg white halves on a serving platter. Using a piping bag or a Ziploc bag with the corner cut off, pipe the filling into the egg white where the yolk was originally. (You can also use a small spoon to add tidy dollops).
4. Sprinkle with sweet paprika just before serving.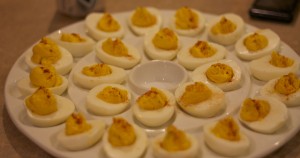 Search

Subscribe

Archives

Categories