Tomato Soup Cupcakes with Mascarpone Frosting
Posted on 02 November 2010
When it comes to shortcuts in cooking you often sacrifice on taste and overall quality of the finished product, so I rarely use them. There are certain tasks that are just plain time consuming and beyond frustrating to complete. Juicing key limes for Key Lime Pie is one, and another is grating carrots for Carrot Cupcakes (I even grumble about both of them in their posts!).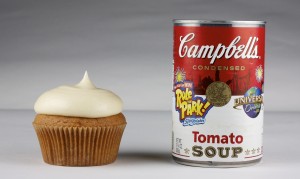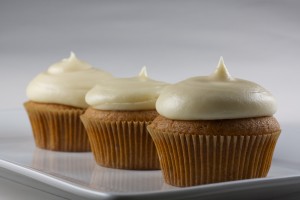 Even though I describe squeezing key limes as a task I wouldn't wish on my worst enemy, aside from the occasional squirt in the eye, I have never inflicted pain upon myself. The same cannot be said for grating carrots (or grating anything actually). I have a severe lack of attention and find myself unable to focus on mundane tasks so I will often attempt to multitask. At any given moment while grating I can be attempting to set the oven, make a new playlist, replying to an email… you get the picture. This has lead to some unfortunate accidents where the food I am making has become a little too personal if you get my drift! This result in my having to begin the task over again.
Adding tomato soup to these cupcakes is an unexpected shortcut for carrot cake cupcakes! When I fed them to the hubbie, he guessed that they were carrot cake. The seasonal spices in both are very similar and the texture of these cupcakes are fluffy and light just like my Carrot Cakes. It also saves time and keeps your knuckles intact – both bonuses!
It may sound odd but do give they a try. You will not be dissapointed!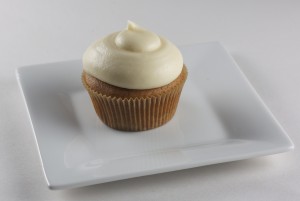 Notes: If you want a more savory cake, replace the cinnamon, nutmeg, and allspice with 1/2 tsp. freshly ground pepper and increase the salt to 1/4 tsp.
Tomato Soup Cupcakes, makes 12 cupcakes, recipe from Baked Explorations: Classic American Desserts Reinvented
1 (10¾ oz.) cans condensed tomato soup, preferably low sodium
1/2 tsp. baking soda
1 3/4 cup all-purpose flour
3/4 tsp. cinnamon (see Notes)
1/4 tsp. freshly grated nutmeg (see Notes)
1/4 tsp. ground allspice (see Notes)
1/8 tsp. salt
1/2 tsp. baking powder
6 tbsp unsalted butter, at room temperature
1/2 cup granulated sugar
1/2 cup firmly packed light brown sugar
2 large eggs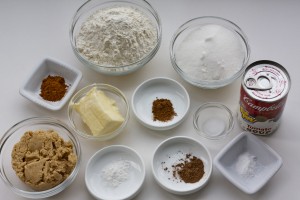 1. Preheat oven to 325°F. Line a twelve-cup cupcake pans with paper liners.
2. In a large bowl, sprinkle baking soda over the tomato soup and stir well. Set aside.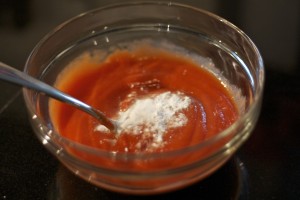 3. In a medium bowl, sift together flour, cinnamon, nutmeg, allspice, salt and baking powder.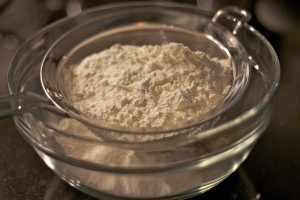 4. Beat butter and sugars together on medium speed until fluffy, three to four minutes. Add eggs, one at a time, and beat until just combined. Scrape down the sides and bottom of the bowl and beat for a few seconds. Turn the mixer to low. Add the flour mixture in three parts, alternating with tomato soup, beginning and ending with flour mixture. Scrape down the bowl again, and mix on low speed for a few more seconds. Fill the prepared cupcake papers about three-quarters full. Bake the cupcakes 25-28 minutes or until a toothpick inserted in the center of a cupcake comes out clean.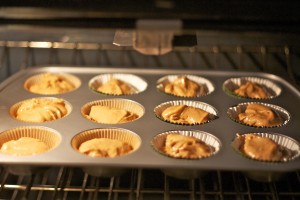 5. Allow the cupcakes to cool for 30 minutes in the pan, then turn them out onto wire racks to cool completely.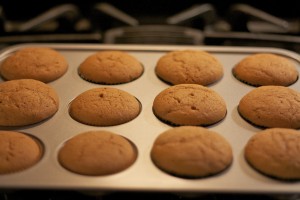 Mascarpone Frosting
6 tbsp unsalted butter, softened
6 oz mascarpone cheese, softened
2 cups confectioners' sugar, sifted
1/2 tsp pure vanilla extract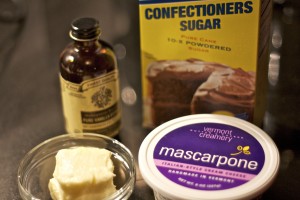 1. Beat softened butter until it is completely smooth (it's easiest to do this in a standing mixer). Add mascarpone and beat until combined.
2. Add sugar and vanilla and beat until smooth. Be careful not to overbeat; this will cause the frosting to lose structure. (At this point, you can tightly cover the frosting and refrigerate overnight if you want. Let it soften at room temperature before using.)
3. Fit a pastry bag with the largest tip, fill with frosting, and cover each cupcake with a big mound. If you do not have a pastry bag, use an ice cream scoop with a release mechanism; scoop the frosting and dispense it onto the top of the cupcake. You can also use an offset spatula to frost the cupcakes.
4. Refrigerate any leftovers in an airtight container for up to three days. Bring the cupcakes to room temperature before serving.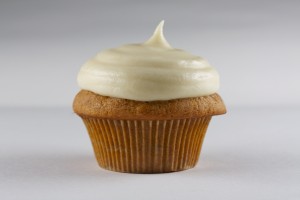 Search

Subscribe

Archives

Categories