Miniature Crab Cakes
Posted on 23 November 2010
While every other food blog is preparing their week of Thanksgiving posts all about cranberries, candied yams, pecan pies and all things turkey I thought I'd go a little outside the box and talk about crab cakes! Not the most Thanksgiving-y of meals but delicious nonetheless. Like most loved dishes, every state down the East coast has their own way of making a crab cake. Some use breadcrumbs to fill, others egg, some add red pepper, some say green… This crab cake is a mixture of all them; there's breadcrumbs, egg, red onion and jalapeno as well as cilantro, Old Bay and Dijon. All together it somehow creates a brand new but completely familiar crab cake taste.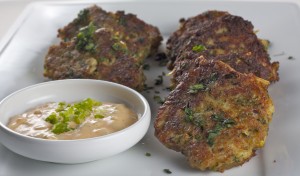 You can make these as either a main course or as I like to do as a two-bite finger food. To make more from the same recipe, just make the patties slightly smaller, about an inch to an inch and a half rather than two. They will become the perfect one bite hors d'oeuvres. Even though they pack a flavorful punch all on their own, I love to serve them with a really quick spicy mayonnaise, which adds some more moisture and a little more flavor.
The recipe is adapted from Martha Stewart's Hors D'Oeuvres Handbook. For anyone who throws a lot of parties or just adores finger food, this is a cannot be missed book!
Tips: I love to garnish the crab cakes with a little extra minced cilantro and add some scallion greens to the dipping sauce for freshness.
Miniature Crab Cakes, makes 8 2-inch crab cakes
Adapted from Martha Stewart's Hors D'Oeuvres Handbook
1 1/2 jalapeno peppers, seeds and ribs removed and finely chopped
2 tbsp cilantro, minced
1 tbsp red onion, finely chopped
1 egg, beaten until white and yolk combine
1 tbsp mayonnaise
2 tsp Dijon mustard
1/2 – 3/4 tsp Worcestershire sauce
1 tsp Old Bay seasoning
1/4 tsp freshly ground pepper
Zest of 1/2 lemon
1/2 lb lump crabmeat
1/4 cup breadcrumbs
1/4 cup canola oil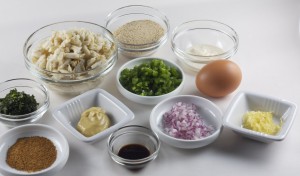 1. Heat oven to 400ºF. Line a baking tray with foil and set aside. Mix the jalapenos, cilantro, red onion, egg, mayonnaise, mustard, Worcestershire, Old Bay, pepper and lemon zest in a small bowl, set aside.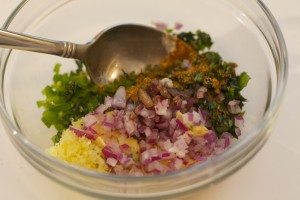 2. Place the crabmeat and breadcrumbs in a medium bowl and stir to combine.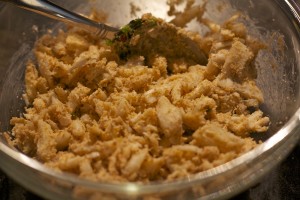 3. Add the mayonnaise mixture and fold together, making sure that everything is well combined.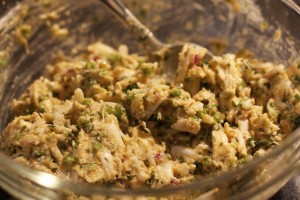 4. Form the crab mixture into 2″ patties. Heat oil in a saute pan over medium high heat. Add as many patties as will fit into the pan without touching and saute until golden brown on the bottom, about 1-2 minutes. Flip over carefully and cook for 1 minute on the other side.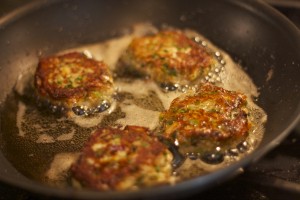 5. Remove from pan and place on the prepared baking sheet and keep warm in the oven. Repeat with the rest of the crab mixture. Serve hot with dipping sauce.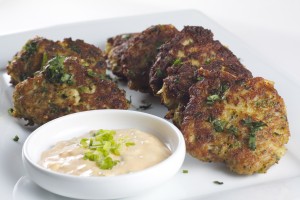 Spicy Mayonnaise
1/4 cup mayonnaise
2 tsp Sriracha or Chili Garlic sauce
1. Stir together and serve!
Search

Subscribe

Archives

Categories