Mahi Mahi with a Homemade Teriyaki Glaze
Posted on 11 November 2010
In a more than disturbing turn of events, when C and I first began dating I asked him whether he liked fish. Sushi is an all time passion of mine (it's also pretty much the only thing I can eat whenever I am hungover – I know, it's weird), so I knew that if this relationship was going to go long term he would need to like fish, ne love, fish. C replied spectacularly said that his favorite fish was dolphin. No joke! After a quick heart stop and spell of dizziness, he quickly went on to explain that that is what people in North Carolina call mahi mahi. Which begs me to ask, why couldn't he just have said mahi mahi to begin with?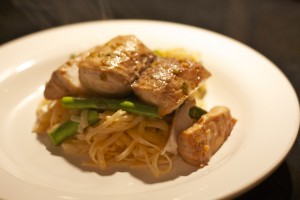 This dish was quickly pulled together from things I always have in my cupboard or fridge and some fabulously fresh mahi steaks. We had spent a day in town trying to get ahead with our Christmas shopping (entirely unlike us I assure you!) and finished up at Chelsea Market. For someone like me Chelsea Market is one giant foodie playground. I am sure that I will do a whole separate post on it so I shan't go into too much detail but needless to say if you are visiting New York, you HAVE to go! These steaks were from the entirely amazing Lobster Place, where we also bought some thick, creamy, sherry enriched lobster bisque for a quick pitstop and some butterfish (black cod) to marinate in miso (recipe up next week). As the trip was impromptu we didn't have a list so I bought whatever took my fancy and then had to iron chef myself a dinner when we got home. The result was this delicious dish!
I served this with asparagus pad thai made with rice noodles and pad thai sauce from Chelsea Thai Wholesale and quickly blanched asparagus. For dessert we have biscotti, mascarpone and stracciatella gelato from L'Arte del Gelato. Honestly Chelsea Market is amazing!
Cute Notes: Later on in the conversation C went on to tell me that the first time he ever ate sushi was in Japan… Only to tell me that he meant the Japan section in the Epcot Center at Disney!
Mahi Mahi Marinated in a Homemade Teriyaki Sauce, serves 2
2 8oz mahi mahi steaks
3 scallion, thinly sliced
2 garlic cloves, crushed with the side of a chef's knife and roughly chopped
2 tbsp soy sauce
1 tbsp canola oil
1 tbsp lemon juice
1/2 tbsp mirin
1/2 tbsp rice vinegar
1/2 – 1 tsp grated ginger (depending on your love of ginger)
1. Combine all the ingredients above and add mahi mahi steaks. Allow to marinate at room temperature for 20-30 minutes.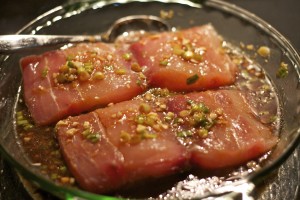 2. Heat a saute pan over medium high heat. Add 1/2 tsp canola oil. Remove mahi mahi from marinade and place in pan. Cook for 4 minutes with a lid covering the pan. Flip steaks and cook for 2-3 minutes longer. Serve immediately.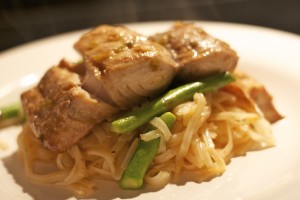 An optional step if you want a sauce – Remove fish from the pan and set aside on a plate and cover with foil. Add the marinade to the pan and allow to boil and reduce until it is thick enough to coat the back of a spoon, about 4 minutes. Drizzle over the cooked fish and serve immediately.
Search

Subscribe

Archives

Categories