Gastropub Style Braised Lamb Shanks
Posted on 03 November 2010
In the winter nothing is better than a braise or a stew. Lamb shanks are the perfect choice for such a dish. With a long, slow braise the meat becomes tender and begins to fall off the bone and it is the perfect thing to prep quickly and leave simmering on the stove all day. It is this type of food that gastro pubs make so well but it is just as easy to make at home.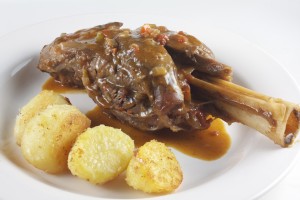 For the herbs I just a bouquet garni again, just like in my White Wine Poached Chicken Thighs. It adds so much flavor with so little effort. I served this with Crunchy on the Outside, Soft on the Inside Roasted Potatoes (the recipe is coming tomorrow)!
Braised Lamb Shanks with a Red Wine Jus, serves 2 as a main course
3 tbsp olive oil
2 lamb shanks (weighing approx. 1 1/4 lb each)
1/2 cups Spanish onion, chopped (about 1 1/2 cups)
2 stalks celery, chopped (about 1 cup)
1 carrot, peeled and chopped (about 1 cup)
3 garlic cloves, crushed and roughly chopped
2 tbsp tomato paste
2 tbsp flour
3/4 cup red wine
3 cups chicken stock
1 cup chopped Italian plum tomatoes
2 stalks rosemary
5 stalks thyme
5 stalks parsley
20 peppercorns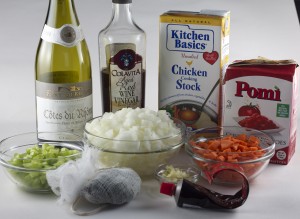 1. Heat oil in a large, tall saucepan over medium high heat. Add lamb shanks and sear for 8-10 minutes, browning all the way around the shank. Remove lamb to a plate and set aside.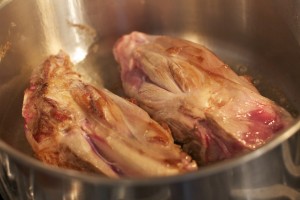 2. Turn heat down to medium and add celery, onion and carrots to the pan. Cook for 10 minutes, stirring occasionally to prevent sticking or burning, until the vegetables have softened. Add the garlic and tomato paste and stir well to coat the vegetables, cook for 1 minutes. Add flour and cook for 2 minutes, stirring continuously.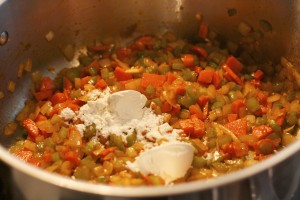 3. Pour in the red wine and scrape any browned pieces of the bottom of the pan, allow to simmer for 2-3 minutes. Add chicken stock and wine and lamb. Make sure the lamb is covered by liquid (if it is not, add more chicken stock). Place a lid on top and simmer gently for at least 1 1/2 hours.
More stock was added after this photo was taken.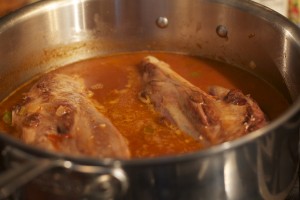 4. In the meantime, wrap the rosemary, thyme, parsley and peppercorn in cheesecloth to form a bouquet garni. Add bouquet garni after the lamb has braised for 1 1/2 hours, remove lid and simmer for at least 45 minutes longer, until the lamb is almost falling off the bone and the sauce is thick enough to coat the back of a spoon.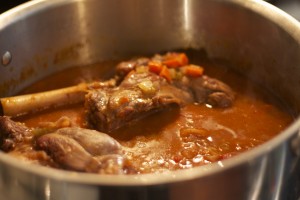 Search

Subscribe

Archives

Categories