Fall-Off-The-Bone Sticky, Sweet Kansas City Style Ribs
Posted on 10 November 2010
Around the time when the really cold fall weather finally sets in (for real this time, I'm hoping!) I begin to fine tune all my game day recipes. For the last few years the hubs and I have valiantly tried to cook the perfect oven cooked pork shoulder for pulled pork sandwiches, finally getting it to exactly where we wanted it to. Well, not exactly, we've found the perfect slow cooked pork shoulder has to get cooked extreeeemly slowly and waking up at 6am on a Saturday was not exactly where I wanted to be!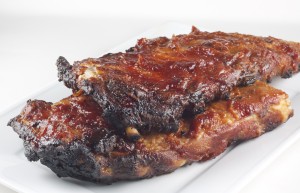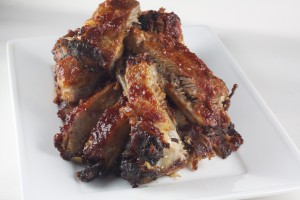 This year it is the ribs turn. I am trying to find the perfect recipe for ribs made in the oven. I love sweet and sticky ribs with a spicy kick to them. For me, they have to be pork. Of course I will eat lamb, beef and even rabbit ribs if presented with them, but I feel that pork gives you the most authentic 'rib' taste and you get the most meat in the meat to bone ratio.
These Kansas City style ribs are slightly messy to make and far messier to eat, which is just the way you want them if you are a rib lover. You should require several napkins to get you through a plate if you are eating them with the gusto required so do not make these for a first date… You will not look cute eating them, but you will be exceptionally happy!  During their long time in the oven the fat melts into the rib meat making it juicy and tender so the meat just slips off the bone. The sauce cuts any richness with its' spicy and peppery notes and its' vinegar base.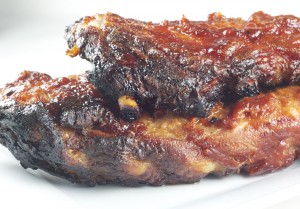 I served this with Creamed Corn and Potato Salad (a slightly different recipe than the one linked – I fried some bacon until crispy, crumbled it and added a touchof the bacon fat to the potato salad. I also added some finely chopped red onion and orange bell pepper and extra Dijon mustard).
Tips: If you want to make a whole batch of the Kansas City Style Barbecue Sauce I have a few more recipes to use it in. These Barbecue Chicken Thighs are the simplest things in the whole world to make. Just baking the skinless, boneless thighs in the barbecue sauce is enough to make them tender, moist and still absorb all the flavors. Another recipe that I love, Pulled Chicken and Avocado Sandwich, uses any leftover chicken thighs you might have (I make extra to make sure I do) and combines them with extra barbecue sauce, mashed avocado and peppery watercress leaves on a soft brioche bun.
Notes: I have this Calphalon non-stick roasting pan with rack. It works perfectly for everything from pulled pork, to my Thanksgiving turkey to these ribs. As it is non-stick, the clean up is always a snap too. Even with the heavily caramelized barbecue sauce (read: burnt) that dripped off the ribs as they were cooking, it just took a quick soak and rinse to get it clean.
Fall Off The Bone Sticky, Sweet, Spicy Ribs, serves 3-4 as a main course
1 3-lb slab of pork St. Louis style ribs (also called spare ribs)
3/4 cup light brown sugar
3 tbsp ground mustard
2 tsp cayenne pepper
1 1/2 tsp smoked paprika
1 1/2 tsp garlic powder
1 1/2 tsp onion powder
1 1/2 tsp kosher salt
1 tsp freshly ground black pepper
1 cup homemade Kansas City Style Barbecue Sauce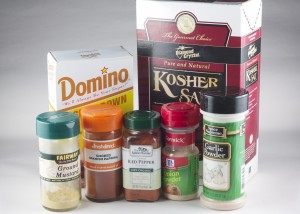 1. Mix all the dry ingredients, sugar, mustard, cayenne, paprika, garlic and onion powder and salt and pepper, together in a small bowl. Place the slab of ribs in a large baking dish. Rub the sugar mixture into the ribs, using generous amounts until they are completely covered. Cover the dish and place in the fridge. Allow the rub to penetrate the ribs for at least one hour.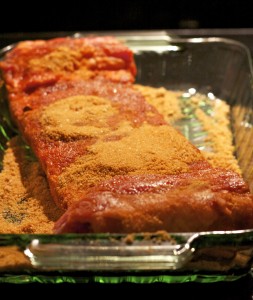 2. Heat oven to 350ºF. Place ribs on a rack set over a roasting dish (see Notes), spoon over enough of the sauce to cover the ribs and using your hands or a spoon smooth out the sauce to make sure all parts are covered. Lay a piece of foil gently over the rack so the ribs are covered but the foil is not touching most of the ribs (the ends may be unavoidable). Place in the oven for 3 1/2 hours, until the meat is fork tender, basting with the sauce every 30-45 minutes.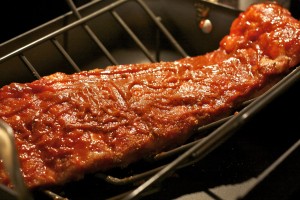 3. After the last basting, remove foil and place the ribs back in the oven and continue to cook for another 15 minutes. Remove from oven and remove the rack with the ribs from the roasting dish. Cover the ribs loosely in foil and rest for 10 minutes.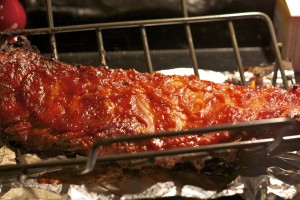 4. Cut in between the bones to slice into individual ribs.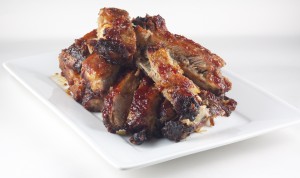 Search

Subscribe

Archives

Categories