Easy, Foolproof and Perfect Roast Potatoes
Posted on 04 November 2010
Now I know that I talk about potatoes a lot, I mean I do have recipes for Creamy, Buttery Mashed Potatoes, Roasted Garlic Mashed Potatoes, an Easy Potato Salad (and working on another one with bacon, peppers and scallions!), Homity Pie, the Ultimate Potato Gratin, I've used them in my Pork and Potato Croquettes and Roast Duck Hash, and as a side for my Bangers and Mash, oh, and a topping for my Shepherd's Pie… you get the picture, but when I was younger I was told I was allergic to potatoes by a nutritionist. As the list above shows I absolutely refused to listen! Being allergic to potatoes is not something I am willing to be, even though I am sure that my body would like it better if I did listen, my tummy definitely wouldn't! So I am going to share another potato recipe with you – the perfect crunchy-on-the-outside-and-soft-on-the-inside roast potato.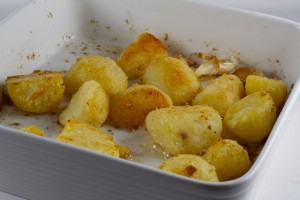 Now that it's beginning to get colder I need to begin mixing up my sides with something other than mashed potatoes as delicious as they are, and it's getting a little too cold for potato salads so I made roast potatoes to go alongside Braised Lamb Shanks. The soft, tender meat was the perfect contrast to the crispy exterior (and they are divine smothered in the gravy!) To get the perfect textural difference within the potato, you have to begin with the right kind of potato. In the US I swear by Yukon Golds for almost anything but baking and potato skins (russets get fluffier with the perfect thicker skin) or some potato salad (smaller waxier potatoes, like creamer or red potatoes hold their shape neatly) and in the UK, I adore Maris Pipers and King Edward for their light yet creamy texture.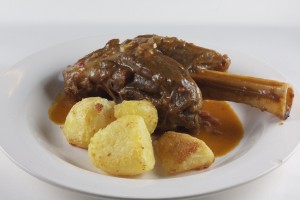 Even though potatoes (and starches in general) have gotten a bad rep recently with all the Atkins and G.I. diet stuff, I personally ignore all the naysayers by looking at the benefits of potatoes. Potatoes contain a ton of vitamins C, B6 and potassium, more with the skin on which of course you can do with these for a more rustic feel. The skin gets extra crispy which actually tastes better but can look a bit messy, especially after banging the potatoes around after parboiling them.
As a side note, the nutritionist also told me that I was extremely allergic to corn and avocados and to avoid them at all costs so please refer to my Creamed Summer Corn, Guacamole, Pulled Chicken and Avocado Sandwich and Seared Tuna Salad for further proof. Oops!
Notes: If you have any leftover roasted potatoes, they are amazing in warm salad.  I reheated some and added them to my Roast Beet, Blue Cheese and Arugula Salad and they were amazing.
The Perfect Roast Potatoes, serves 2 as a side
5 Yukon Gold potatoes, peeled and cut into 2-2 1/2″ chunks
2 garlic cloves, with skins on and crushed with the side of a large knife
2 tbsp butter, cut into tiny squares
2 tbsp olive oil
1 tbsp flour
1. Heat oven to 400ºF. Place potatoes pieces into a large saucepan of cold, salted water and place over high heat. Boil potatoes for 10 minutes, until they are still hard but just beginning to soften. Drain well. Place lid over saucepan containing potatoes and shake the saucepan vigorously, making sure the potatoes get banged around a bit. Sprinkle over the flour and stir to coat the potato pieces. Pour the potatoes into a baking dish. Sprinkle the butter pieces and a generous pinch of salt over the top, add the garlic cloves and drizzle the olive oil, stirring gently to get everything combine.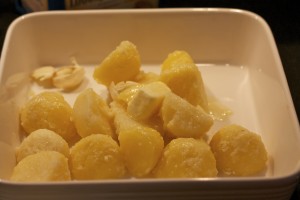 2. Place dish in the oven for 45 minutes, until the potatoes are golden and crispy, turning over the pieces once halfway through cooking.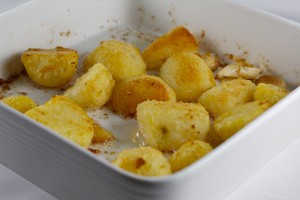 Search

Subscribe

Archives

Categories