Cobb Salad with the Original Brown Derby Dressing
Posted on 18 November 2010
Many girls love the movie Sabrina due to Audrey Hepburn and even though I would entirely love all the clothes she wears through that movie (designed by Givenchy!), I love Sabrina even more because of William Holden. I have always been obsessed with the 1950s. It probably stems from a misspent youth of watching far too much Nick at Nite. My sister and I spent countless hours watching I Love Lucy, Bewitched, I Dream of Jeannie and Get Smart. Out of all the shows I Love Lucy holds a special place in my heart (I'll still stop what I'm doing and watch an episode of it, if I see it one on tv, only Lucy and Friends have this power over me), so when Bill Holden guest starred on an episode of I Love Lucy it was like two amazing worlds colliding.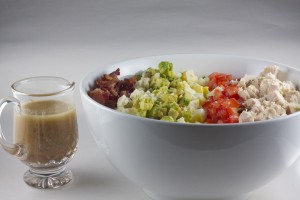 Lucy's love of celebrities is well documented through the series, often putting herself and her husband, Ricky, in cringe inducing and hilariously awkward situations. This episode was no exception. Having moved out to Hollywood for a film Ricky was shooting, Lucy, Ethel and Fred ate lunch at the Brown Derby's Hollywood location. The Brown Derby was the chic dining place of the stars at that time and William Holden was seated in the booth next door to theirs. Needless to say cringe inducing hilarity ensued!
As well as having a reservation list that read like a Who's Who in Hollywood, the Brown Derby is also the birthplace of the Cobb salad, which was named after one of the owners, Robert Howard Cobb. In the clip above Bill Holden orders one for lunch. Just like the Caesar salad it's unknown who actually created the first salad but thankfully we still have the recipe. Not many people know the exact dressing to use with a Cobb salad and add a blue cheese dressing, which of course is fine but the original dressing works so much better. The original dressing is tangy, spicy and flavorful with garlic, fresh lemon juice, Worcestershire sauce, ground mustard and vinegar. It compliments the many ingredients in the salad without overpowering them.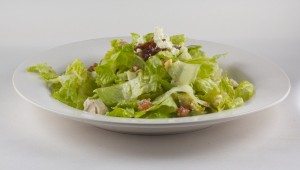 While this salad is beautiful to look at it is a bit tricky to pull together. No component is hard to master, it is just the fact that there are quite so many. I find it easiest to cook everything all at once using 3 separate pans, eggs cooking in one, bacon frying in another and chicken poaching in the third. While they are cooking, I chop the romaine, tomatoes and avocados and crumble the blue cheese and quickly blend the dressing. I serve my salad with all the components in rows, like a rainbow, and then toss it with the dressing table side to prevent the lettuce from wilting.
Notes: Sadly all of the original, iconic Brown Derby locations are no more, (one burnt down and is being combined into a W hotel, one was demolished and another is now the home of a strip mall called the Brown Derby Plaza), but you still see the iconic brown derby hat the restaurants were named for incorporated into the strip mall where it now houses a cafe.
You can still get a similar salad at another Beverly Hills institution, the Polo Lounge in the Beverly Hills Hotel. It's one of their classics so it's served morning, noon and night. Ask for the beets on the side and to switch to blue cheese for a Cobb or stick with the original McCarthy salad for a whole new but delicious experience!
p.s. If you didn't get your fill of Bill Holden with above clip, here he is again on the game show, What's My Name. (I even adore his handwriting.)
And if you want to see the fall out of Lucy's lunch, here is a clip of another awkward encounter!
Brown Derby Cobb Salad, serves 3-4 as a main course
3 eggs
2 chicken breasts
6 strips of bacon
2 romaine hearts, sliced into 1/2″ strips
1 avocado, diced
1 tomato, diced
1 batch of Original Brown Derby Dressing, recipe below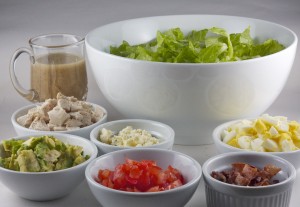 1. Place eggs into a small saucepan and cover with cold, salted water. Put a lid over the pan and place over high heat to bring water to a boil. As soon as the water is boiling, turn the heat off but leave the pan on the hob. Leave eggs to sit in the hot water for 12 minutes. Remove promptly from the water and run under cold water, peel and chop. Set aside.
2. Bring a medium saucepan of cold, lightly salted water to a slow simmer. Add chicken breasts and poach for 8-10, until chicken is cooked through. Set aside until cool enough to handle and then chop into 1/4″ pieces. Set aside.
3. Place bacon strips in a cold pan and set over medium high heat. Cook for for 8 minutes, or until crispy but not burnt. Cut into 1/2″ pieces.
4. In a large salad bowl, add the chopped romaine lettuce. Top with rows of the egg, chicken, bacon, avocado, tomato and blue cheese. Toss with the dressing immediately before serving.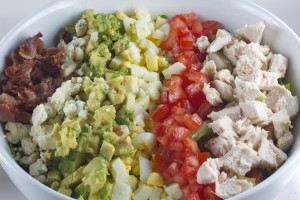 Original Brown Derby Dressing, makes 3/4 cup
1/4 cup water
1/4 cup red wine vinegar
1/4 teaspoon sugar
1 teaspoon freshly squeezed lemon juice
2 teaspoons salt
3/4 teaspoon freshly ground black pepper
3/4 teaspoon Worcestershire sauce
1/4 teaspoon dry English mustard
1 small clove garlic, finely minced
1/4 cup full-flavored olive oil
3/4 cup canola oil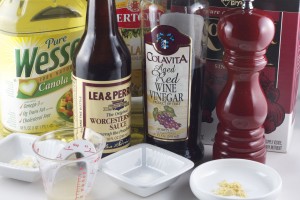 1. Place all the ingredients together in a medium mixing bowl or a blender except the oils. Stir to combine. Drizzle the oils in, whisking continuously until the dressing thickens. Serve with salad.
Search

Subscribe

Archives

Categories