Clinton St. Baking Company's Brookies
Posted on 19 November 2010
Clinton St. Baking Company is a diner/cafe/baked goods mecca (Zagat even gives it a 24). The lines for brunch on a weekend can be up to 3 hours or so. They recently released a cookbook so you can now get all the home baked goodness in your own home, which is perfect as very few have the constitution to wait 3 hours during a New York winter (and if you do, I applaud your dedication!)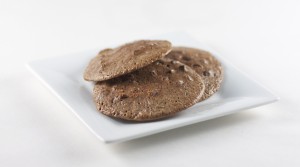 While they are most famous for their 'crack' pancakes and their buttermilk biscuits, these brookies are pretty unbelievable as well. A cross between a cookie and a brownie, they have an exterior with a slight crisp to it but a center with gooey, molten chocolate and a melt in your mouth moistness, which is soft but not cakey. I have to warn you in advance, they are INCREDIBLY more-ish… I may or may not have eaten four of them for breakfast the next morning but I really can't talk about it.
Notes: Even though I do state that you should leave the brookies to cool on the baking sheet, implicitly I mean if you have the willpower – personally, I just had to taste one while they were still warm, fresh out of the oven!
Brookies, makes 20
Recipe from Clinton Street Baking Company Cookbook
1 tbsp. canola oil
1 tsp. unsalted butter
2 c. semisweet chocolate chunks (52-62% cacao)
2 large eggs
¾ c. light brown sugar
½ tsp. vanilla extract
½ c. all-purpose flour
¼ tsp. baking powder
¼ tsp. salt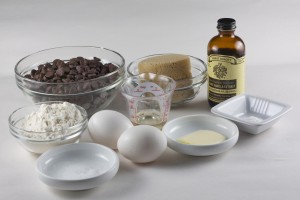 1. Heat oven to 350ºF. Place 1 cup of the chocolate in a small bowl with oil and butter. Heat in the microwave for 1 minute on high setting. Stir and place back in the microwave, stirring every 10 seconds. Set aside to cool. (You can also do this over a double boiler.)
2. In a medium mixing bowl, whisk eggs, brown sugar and vanilla until combined. Gently fold the cooled chocolate mixture into the egg mixture. Stir the flour, baking powder and salt together in a small bowl. Add the flour mixture to the chocolate mixture and then fold in the remaining 1 cup of chocolate chunks.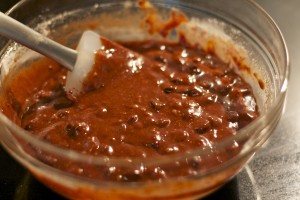 3. Freeze the batter in a shallow pan (such as a pie plate) 10-15 minutes until it sets and hardens slightly.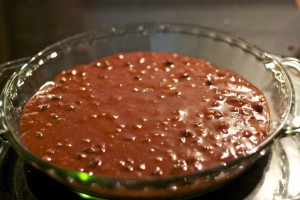 5. Line 2 baking sheets with Silpats or parchment paper. Using a tablespoon measure, measure out 1 tbsp sized rounds and spread them out equally on the baking sheet. Bake 11-12 minutes, until the tops look dry and cracked. Allow to cool on the baking sheet before eating (see Notes)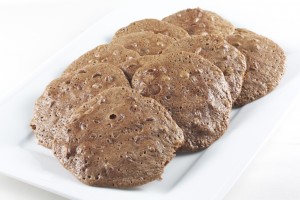 Search

Subscribe

Archives

Categories