White Wine-Poached Chicken Thighs
Posted on 18 October 2010
When it comes to fall comfort food, you can't go go wrong with this classically French chicken dish. As it slowly cooks, it fills the house with an amazing scent. Everything about this dish is textbook French cuisine. Poaching chicken is one of the most common cooking methods in France as it helps to keep the meat tender but still full of moisture so when it comes out of the poaching liquid, the meat falls off the bone.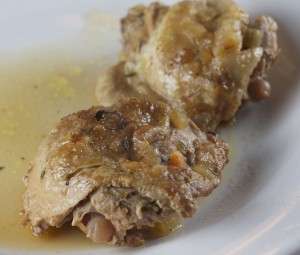 The mixture of onions, celery and carrots is called mirepoix by the French and is the most commonly used flavor base in French food (it is similar to the Cajun "holy trinity" of onions, celery and bell peppers, or the Spanish sofrito or Italian soffritto). By sauteeing the vegetables before adding the chicken, you release some of the sweetness and flavor from them. I threw in a couple of cremini mushrooms I had left over from the Truffled Mushroom Risotto to add another meaty element. You can also steep some dried porcini or morels in boiling water and use them instead for that umami flavor.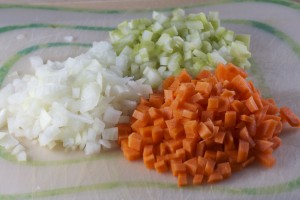 I also threw in some classic herbs: parsley, thyme and bay leaves. I tied them together with butcher's twine to form a very quick bouquet garni. These three herbs form the most basic of the bouquet. You can also switch this up by adding other herbs, such as chervil, rosemary, or tarragon. Peppercorns are also frequently added but they you have to switch the twine for some cheesecloth to make a little sachet.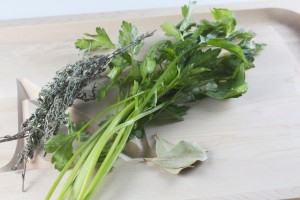 I served this with Roasted Asparagus and Garlic Mashed Potatoes. I strained (well the hubbie did really) the cooking liquid and ladled some over the top to act as a sauce and saved the rest to used a fortified chicken stock. It will contain all of the great flavors of the herbs, mirepoix, wine and chicken and cut down on the time needed to build flavor.
French-Style White Wine Poached Chicken Thighs, serves 2 as an entree
2 tbsp unsalted butter
2 stalks celery, small dice
1/2 Spanish onion, small dice
1 large carrot, peeled and cut into small dice
4 cremini mushrooms, thinly sliced
4 bone-in, skin-on chicken thighs
2 tbsp plain flour
1 cup white wine
2 cups water
2 cups chicken stock
2 bay leaves
10 thyme stalks
5 parsley stems
Butcher's twine
1. Melt butter in a large saute pan over medium heat, as it is foaming add carrot, celery and onion. Cook until soft, about 7 minutes. As the vegetables are cooking, tie the bay leaves, thyme and parsley together using the butcher's twine. Add mushrooms and cook until they soften, about 3 minutes.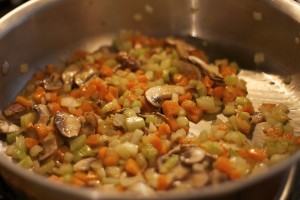 2. Push all the vegetables to one side and turn heat up to medium high, add chicken and cook until browned all over, about 5 minutes each side.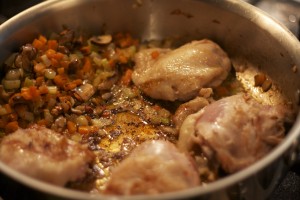 3. Add wine and scrape any browned bits from the bottom of the pan. Add water and stock and the bouquet garni (the herbs) to the pan. Bring up to a fast simmer and turn it down to a gentle simmer. Allow to cook until the chicken is tender and the liquid has reduced by a third. Skim fat off the top occasionally.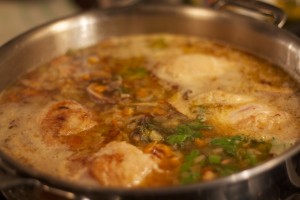 4. Serve with a couple of tablespoons of the braising liquid over the top of the chicken. (You can strain and reuse the liquid as a fortified chicken stock for future braises.)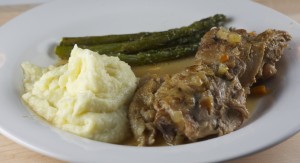 Search

Subscribe

Archives

Categories