White Bean and Kale Soup with Sweet Italian Sausage and Gruyère Croutons
Posted on 14 October 2010
As someone who attempts to eat healthily, kale along with cabbage, collards, and mustard greens, is a hot topic. It is a hot topic because I do not like any of those dark, leafy, bitter, chewy greens at all. I try, regularly, but I just cannot get past the taste and the texture.  It also does not help having a husband who loves to get collard greens, doses them with hot pepper vinegar and tries to make me taste them, insisting that "this time you'll like them"…!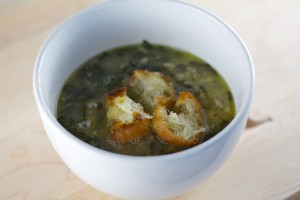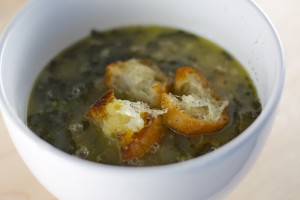 I really do want to like kale though. It is an antioxidant, has anti-inflammatory properties and it is chock full of vitamins; beta carotene, vitamin K, vitamin C, lutein, zeaxanthin (whatever that is!), and calcium. So I did what I always do when I want to like something but just cannot seem to (see my many rants on mushrooms), I switch up the texture. I decided to try to make up my own recipe for a kale and white bean soup. I love cannellini beans, my favorite soup of all time is Pasta E Fagioli, and if anything can make me love kale it will be them.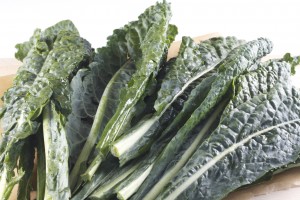 Thankfully (and to my surprise) I love this soup, even, dare I say it, the kale… After sweating the kale (see Tips below) for a few minutes and then gently simmering, produces a tender textured vegetable which is silky and soft. The beans and sausage add some protein and texture to the soup. You can leave out the sausage if you are making this for vegetarians, just double the amount of beans and switch out the chicken stock for vegetable stock.
Tips: Sweating a vegetable is basically cooking it over a low heat for a while to draw out the moisture. Adding salt helps to do this faster. There are two main reasons for sweating, either you want to release the moisture to evaporate it so you leave the lid off or like in this case, you want to get the moisture to release to add more depth of flavor to the stew, soup or sauce you are making so you leave the lid on to trap that moisture.
The Gruyère croutons are amazing and SO easy to make (by now you may be sensing a crouton obsession as this is my third crouton recipe posted!). I was snacking on some leftover ones even though I was full of delicious soup. The croutons add a cheesy fattiness (without adding many calories mind you) in an otherwise impeccably healthy soup. As does the optional Parmesan rind. I collect Parmesan rinds rather than throwing away as I love to add Parmesan rind to soup and stocks as it adds another level of flavor and touch of richness without actually adding fat without any extra money! It does add some salt though so taste the soup at the end to season rather than seasoning with salt and pepper throughout.
Notes: To prep the kale, wash thoroughly and dry. Using a sharp knife, cut the vein out of the center resulting in a V-shaped leaf. The easiest way it to fold the leaf in half and cut along the vein. You can also trim on either side if the center line is not straight.
White Bean and Kale Soup with Sweet Italian Sausage and Gruyère Croutons, serves 2-3 as an entree
1 15oz can cannellini beans
2 cups chicken stock
1 tbsp olive oil
2 sweet Italian sausages, approx. 4oz each
1/2 Spanish onion, chopped
3 garlic cloves, crushed and roughly chopped
1/2 lb kale leaves (see Notes)
1 cup water
1 Parmesan rind, optional
Gruyère Croutons
1 mini ciabatta loaf, approx. 3oz
Olive oil
1/4-1/3 cup grated Gruyère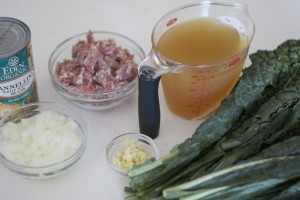 1. Drain and rinse beans. Blend half the beans with the chicken stock. Set aside. Make a slight cut down the casing of the sausage and peel it off. Break the filling into small pieces. Set aside.
2. Add olive oil to a large lidded saucepan over medium high heat. Add sausage and cook until browned, about 4 minutes, breaking up the pieces with the back of a wooden spoon. Add onion and cook until softened, about 5 minutes. Add garlic and cook until fragrant, about 1 minute.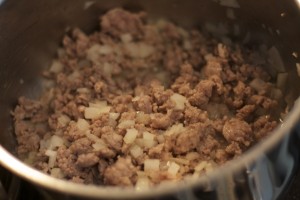 3. Add kale (see Notes) and sprinkle with a pinch of salt, sweat over medium heat for 4 minutes while the saucepan is covered with a lid.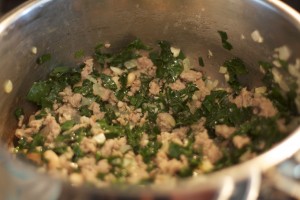 4. Add beans, stock, water and rind and simmer for 30 minutes.
5. As the soup is simmering, make the croutons. Cut the ciabatta into 3/4inch pieces and toss with olive oil, kosher salt and pepper. Place on a foil lined baking sheet and top with grated Gruyère. Place until a broiler for 2 minutes until cheese is melted and beginning to brown.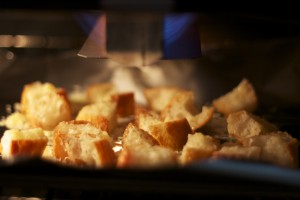 6. Check the seasoning of the soup and add more salt and pepper if needed. Add 3-5 croutons to each bowl of soup. Serve with hot. Enjoy!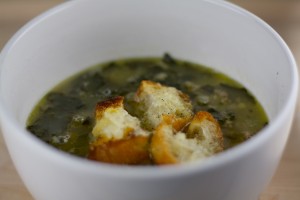 Search

Subscribe

Archives

Categories