Traditional English Shepherd's Pie
Posted on 27 October 2010
I know this is going to come as a surprise to most of you but… shepherd's pie is made with lamb and not beef. I know, I know, I know… You have spent your whole lives believing otherwise but no. Surely the clue is in the name? Shepherds look after sheep ergo shepherd's pie is made of lamb. And for those of you who just had your mind absolutely blown, the pie you thought was called shepherd's pie (the one made with beef) is actually called cottage pie! Who knew?!?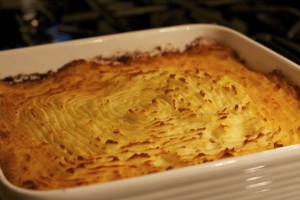 With all that said, I have no doubt that everyone here can imagine just how satisfying a real English shepherd's pie is. There is nothing quite like it for hitting the spot of a cold miserable fall or winter evening. This dish reminds me so much of home. My mum used to always make it for me growing up and even though I have haphazardly pulled this dish together before, I have not focused and tried to create an exact replica of mum's awesome shepherd's pie – until last week. My dad and sister were in town so I suppose home was on my mind a lot and I was inspired to cook this wonderful pie. I am happy to say I nailed it. This tasted absolutely divine and just like mum's!
The beauty of it is you can make the whole thing with minimal interaction with your kitchen, leaving you to do fun indoor winter activities like puzzles or board games (if anyone sees my husband please tell him these things are fun, thank you!). Literally all you have to do is spend ten minutes prepping everything; leave the sauce to simmer while the potatoes are boiling, mash them quickly and pop it in the oven. Half an hour later, viola! A beautiful meal, perfect for an evening in.
Another amazing thing about this meal, all the ingredients are commonplace ones that I usually have in my fridge and pantry, like celery, carrot, onion, stock, tomato puree, with the exception of the pound of ground lamb (preferably antibiotic free), which you can get from your local butcher or grocery store. I also suggest serving it with frozen peas (you can of course use fresh if you are so inclined), this not only is a throwback to childhood suppers but is the easiest vegetable in the world to add. I think all around this makes the perfect midweek meal. Enjoy!
Shepherd's Pie, serves 4-6 as a main course
2 tbsp unsalted butter
1 medium onion, chopped
1 celery stalk, chopped
1 carrot, peeled and chopped
1 lb minced (ground) lamb
1 1/2 – 2 tbsp tomato paste
1 cup beef stock
1 splash Worcestershire sauce
5 large Yukon Gold potatoes, peeled and chopped into 1 inch pieces
1 tbsp unsalted butter
2 tbsp cream
1. Melt butter in a large saute pan over medium high heat. Add onion, celery and carrot and cook for 5 minutes stirring to prevent sticking or burning, until the vegetables soften.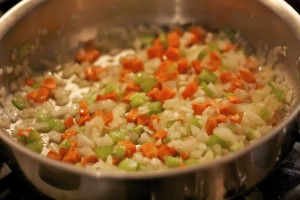 2. Add lamb and break up any large pieces with the back of a wooden spoon, stirring regularly, cook until browned about 4 minutes.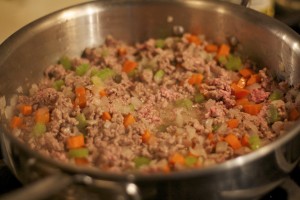 3. Add tomato paste and stir through vegetables and lamb. Add stock and Worcestershire sauce, simmer gently for 30 minutes. Season with salt and pepper.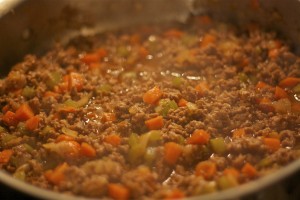 4. Meanwhile, as the mixture is simmering, place potato pieces in a large saucepan and add enough cold water so that they are under an inch of water. Add 1 tsp of kosher salt to the water. Bring to a boil over high heat and cook until fork tender. Drain potatoes. Pour potatoes back into the saucepan and mash them, using a hand held masher. Add butter and cream and season with salt.
5. Pour the reduced lamb mixture into a large baking dish (I used this 2 1/2 quart Gordon Ramsey by Royal Doulton roaster and it fit perfectly), smooth out with a spoon.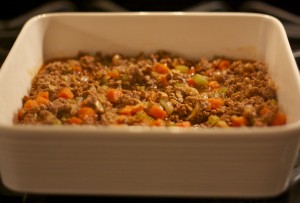 6. Top with the potatoes and by dragging a fork gently across the top, create a pleasing pattern.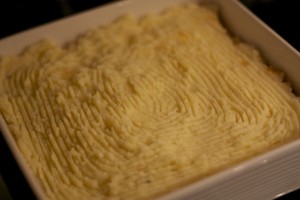 7. Bake in oven for 35 minutes until the sides are beginning to get slightly orange from the sauce beneath. Put the whole dish on the top rack of the oven under the broiler (or oven grill) and broil for 3 minutes, until the top begins to brown. Remove and serve with peas.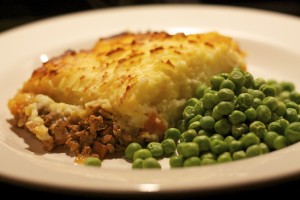 Search

Subscribe

Archives

Categories