Sticky, Soy Glazed Chicken Wings
Posted on 06 October 2010
The hubbie was out of town last night so I did what every girl wishes she could do on a nightly basis… wear her sweats, eat chicken wings and watch Gossip Girl! While I do adore fried chicken wings dripping with buffalo sauce, I a) do not want the house to smell of fried foods and b) really do not want my sweats to be the only pants I am able to wear! So I went with this heart healthy recipe. These baked chicken wings do not sacrifice on flavor though. The sweet, sticky and spicy sauce coats the wings and the sesame seeds and sliced green onions add texture and freshness. I ate mine last night with a huge (and I mean massive!) baby lettuce, avocado and tomato salad with Japanese Style Salad Dressing. If anything could take my mind of the hubs being away it was some seriously tasty food and some awfully amazing tv!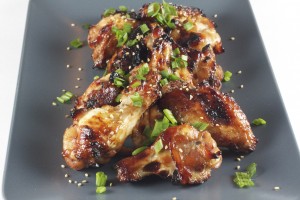 Also as everyone knows football season is a long one (I can hear collective cheers and groans around the country) so you need to have a variety of easy but delicious recipes up your sleeves for any impromptu parties you may have. You can make everything ahead for this recipe and just refrigerate until your guests arrive then just toss the wings in the sauce and pop them in the oven. As you can see this recipe makes enough for two people (maybe one if no-one is around and you are really engrossed in a television program…) so you can double, quadruple etc as you need.
Notes: If you are buying full wings, cut into the three recognizable parts (tips, wingettes and drumettes) and discard tips. You can also use them for stock or chicken broth/soup.
Sticky Soy Chicken Wings, makes 12 wingettes, serves 2 as an entree
1 tsp vegetable oil
1 garlic clove, peeled
1/2 tsp kosher salt
3 tbsp hoisin sauce
2 tbsp clover honey
2 tbsp soy sauce
3/4 tsp sesame oil
1/2 tsp chili oil
1/8 tsp cayenne pepper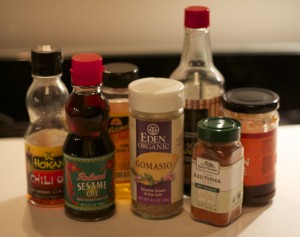 6 drumettes and 6 wingettes (see Notes), about 1.4 lbs
1/2 tbsp sesame seeds
2-3 scallions, green part only, thinly sliced (reserve whites for Japanese Style Salad Dressing)
1. Heat oven to 425ºF. Line a baking sheet with foil and spread oil around. Using a pestle and mortar, crush the garlic and salt together to form a thick paste. Place in a large bowl, add the hoisin, honey, soy, sesame oil, chili oil and cayenne. Combine well. Reserve 1/3 of the sauce in a separate container.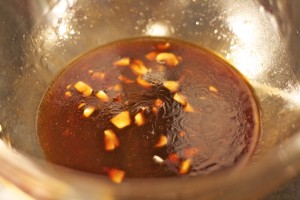 2. Add chicken wings to the large bowl and toss to coat well. Place chicken pieces skin side up on the oiled baking sheet.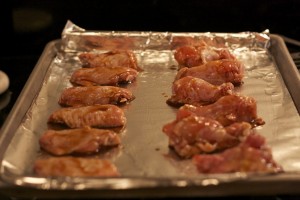 3. Place in oven and bake for 15-17 minutes. Turn the pieces over and drizzle with the reserved marinade. Return to oven. Begin to check on the wings after 15 minutes, making sure they are browned, beginning to crisp and cooked through. Remove from oven and sprinkle with sesame seeds and sliced scallion greens. Serve to the hungry masses!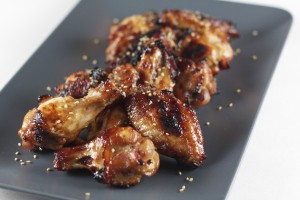 Search

Subscribe

Archives

Categories