Slow Braised Hungarian-style Lamb Stew
Posted on 12 October 2010
Even though parts of the country do not seem to know this, it is October. In most parts of the country, including New York, this dish is perfect this time of year but not so much in others… Yes, Raleigh I am talking to you! The hubbie and I just spent a weekend down in Raleigh where the temp was up to 82ºF. This suited us down to the ground as the weather hasn't been too hot (literally and figuratively) in NY recently. Seeing the beaming sun came as a surprise to both of us so I, of course, did not bring any sunscreen… BIG mistake. If you look up "English rose" in the dictionary there is a photo of me next to it, no joke (may I please refer you to my About page). Seriously pale person + freckles + sun – sun block + far too much fun running from tailgate to tailgate thus completely forgetting I needed it = pink nose and randomly pink collar bones.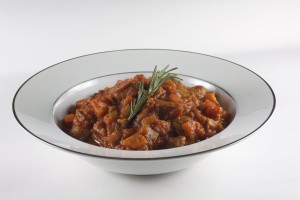 So after a fabulous trip and slight heat exhaustion (among staying-up-late exhaustion) I had never been more thankful to remember that we had some stew readymade in the fridge. I had made this stew the Thursday before our trip and made a large quantity of it knowing that I would not want to have to cook a meal after getting off the plane. It may have been the best decision I ever made! This stew could not be more perfect for leftovers. The lamb gets more tender the longer you cook it but just be careful of the consistency of the vegetables, too much cooking and the carrot and sweet potatoes could become mushy.
Tips: If you are making this dish for the first time the day before you serve it, pull out the lamb pieces from the rest of the stew and refrigerate them separately, the next day reheat over a medium low heat with a splash of water and a lid on the pot (about 15-20 minutes should do it). If you are reheating a little bit that is left over, you should be fine storing it in tupperware all together and reheating it the same way.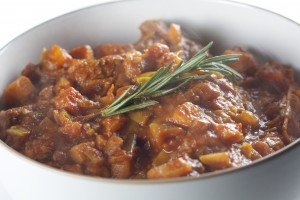 The lamb is melt-in-your-mouth tender as it slowly braises for almost two hours after being seared quickly to make sure all the moisture stays inside each piece. The Hungarian smoked and Andalusian sweet paprika work together in harmony providing their sweet and smoky flavors to the lamb and the vegetable and the cayenne pepper adds a spicy kick. The lamb and rosemary are the savory version of ice cream and hot fudge sauce, far better together than apart!
What I also love about this dish, other than the amazingly tender lamb and the perfect viscous sauce, is the amount of vegetables. I am always trying to cram more vitamins and minerals into the hubs diet (he would eat takeout everyday if left to his own devices – trust me, he did until we met!), so this is a great way to sneak them in. *P.S. not only will this work on most husbands but kids too!*
I served this with Crank's Homity Pie, which I made with equal parts Gruyere and Parmesan rather than the aged Cheddar, and some steamed broccoli – delish!
Notes: Deglazing the pan is simply using a cold liquid to remove the browned bits (not any burnt or blackened bits though) from the bottom of the pan. In this stew you can use red, white or even rose wine. The wine is not a huge flavor component in this dish and is there to help get the browned bits of the bottom of the pan and to add a splash of acidity, so feel free to use whatever wine you have sitting around.
Slow Braised Hungarian-style Lamb Stew, serves 4 as an entree
2 tbsp plain flour
1 lb lamb stewing meat, cut into 1 inch cubes
2 tbsp olive oil
1/2 red onion, medium diced
2 cloves garlic, finely chopped
2 stalks celery, medium diced
1/2 cup wine (can use white or red, depending on what you have around, see Notes)
2 cups beef stock (can also use chicken or turkey)
1 26.45oz (750g) Pomi brand strained tomatoes
1 sprig rosemary
1 1/2 cups chopped carrots (approx. 1 very large carrot)
2 sweet potatoes, peeled and chopped
1/2 tsp sweet paprika
1/2 tsp smoked Hungarian paprika
1/8-1/4 tsp cayenne pepper
1 leek, quartered, chopped, throughly washed and dried
1. Place flour on a large plate and season with salt and pepper. Toss lamb in flour. Heat olive oil in a 6-qt, lidded saute pan over medium high heat. Add lamb and sear for 3 minutes on each side, until browned but not burnt. Remove lamb and set aside on a clean plate.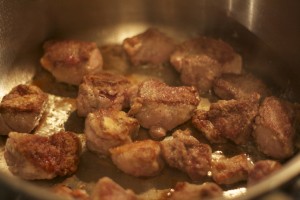 2. Turn heat to medium and add onion to pan, sprinkle with kosher salt and cook for 4-5 minutes or until they are begin to soften. Add garlic and cook for 1 minute more.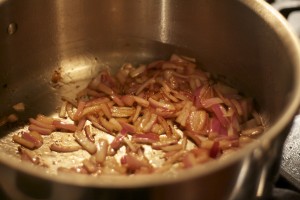 3. Add celery and cook, stirring to prevent any sticking or burning, cook for 4-5 minutes. Deglaze the pan (see Notes) by adding the wine and scraping the browned bits from the bottom of the pan. Be careful of scraping any burnt bits as they will add a bitter taste to the stew. Reintroduce the browned lamb.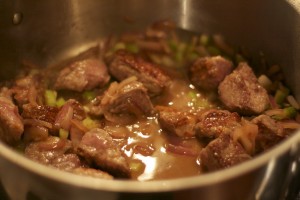 4. Add stock, tomatoes and sprig of rosemary and stir. Almost cover pan with a slightly ajar lid and simmer the stew gently for 1 hour.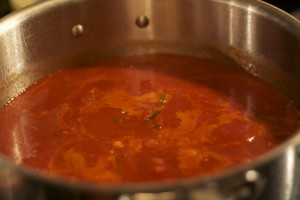 4. Add the carrot, sweet potato, paprikas and cayenne pepper (begin with 1/8 tsp and re-taste). Taste and season with salt and pepper and slightly more cayenne if wanted. Continue to simmer with lid ajar for another 35-40 minutes, or until the carrots and the potatoes and almost fork tender. Add leeks and cook for 30 minutes on low-medium heat, until leeks are tender and sweet potatoes are cooked through.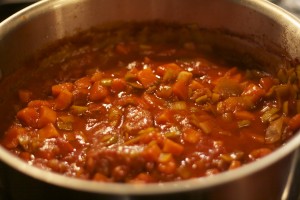 5. Taste again and season with salt and pepper. Serve with Creamy, Buttery Mashed Potatoes or Crank's Homity Pie and a green veggie. Enjoy!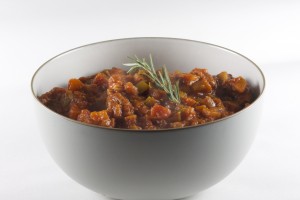 Search

Subscribe

Archives

Categories