Roasted Garlic Mashed Potatoes
Posted on 22 October 2010
These potatoes are just the thing when you want something a little different from regular mashed potatoes. I make Creamy, Buttery Mashed Potatoes all the time but sometimes feel like mixing it up. With almost no extra work, I am able to whip these up in the same length of time. Roasting the garlic tastes almost the same amount of time as boiling the potatoes and requires no active involvement on your part. Simply bundle the garlic up in some foil (almost like the bag on the end of a bindlestick) and pop it into the oven, then rice the softened cloves with the potatoes and viola!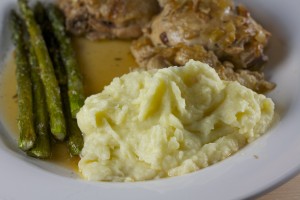 Adding roasted garlic to my mash also helps to bump up my vegetables count for the day. Garlic has been linked with helping prevent heart disease, cancer, lowering "bad" cholesterol levels and removing the plaque from around your aorta (which I am terrified of after reading this article), see Notes. When garlic is roasted it takes on a sweeter, more mellow taste than raw or sauteed garlic but still contains all the nutrients you want it to.
I served this with French Style White Wine Poached Chicken Thighs and Oven-Roasted Asparagus for a delectable fall meal.
Notes: Due to space constraints I do not like to have utensils or tools that only do one job but this tool has changed mashed potatoes for me. I had never seen a potato ricer until a couple of years, having always used a regular masher, but now, unless I am making lumpy mashed potatoes for a texture reason, I always use a ricer. A ricer is basically a device that squeezes the potatoes through small holes so the streams of potato are no thicker than a grain of rice (see below for photo). Ultimately, it produces the smooth, silky texture that makes this mashed potato recipe so good!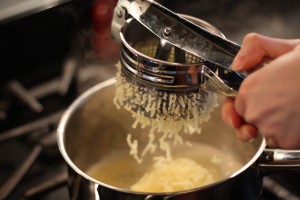 To make this dish completely heart healthy you can cut down on the butter and cream. Using olive oil is also a viable switch – I will post a recipe for an all round healthier mashed potatoes if anyone wants one.
Roasted Garlic Mashed Potatoes, serves 2-3 as a side
1/2 head of garlic
1 tsp olive oil
Kosher salt
3 large Yukon Gold potatoes, washed, peeled and cut into 1 inch chunks
2 tbsp unsalted butter
2-4 tbsp heavy cream
1. Heat oven to 400ºF. Place garlic on a 4×4 inch piece of foil. Drizzle olive oil over the garlic and sprinkle with salt. Gather the sides of the foil up to create a bundle around the garlic and pop it in the oven. Roast for 20 minutes, until the garlic is soft.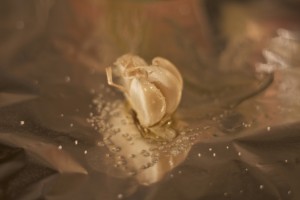 2. Meanwhile, place potato pieces into a large saucepan. Cover with water until the potatoes are under 1 inch of water, add 1 tsp kosher salt to the water. Heat over high and bring to a boil, continue to boil until the potatoes are fork tender, about 15-18 minutes.
3. Drain potatoes and place into a bowl. Add butter and cream to the pan you just used and heat over low heat. Using a ricer (see Notes), begin to puree the potatoes, adding the roasted garlic cloves to the first batch of potatoes. Continue to squish the potatoes through the ricer, making sure to scrape down the sides to get as much through as you can. Stir the cream and butter into the potatoes, adding more if necessary. Season with salt and serve hot.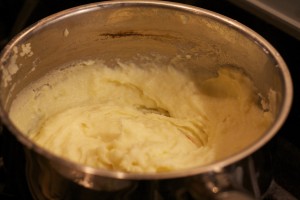 Search

Subscribe

Archives

Categories