Roasted Asparagus
Posted on 19 October 2010
Even though the asparagus season should be in spring, we are still (somehow) able to get tender asparagus stalks at this time of year. Recently they have been on sale at most grocery stores and I thought I would take advantage of the lower price points. Asparagus is a versatile vegetable to cook. You can add it to stir-fries, steam them, boil them or roast them. All of them are simple but I think that roasting is the method that brings out the flavor in the asparagus. It adds a nutty element without having to add the commonly used pine nuts, almonds or hazelnuts.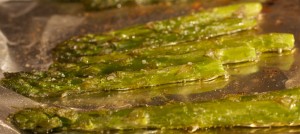 Asparagus is one of those super vegetables that contain every vitamin and mineral under the sun (vitamin A, vitamin B6, vitamin C, vitamin E, vitamin K, calcium, magnesium and zinc, thiamin, riboflavin, rutin, niacin, folic acid, iron, phosphorus, potassium, copper, manganese and selenium – to name a few!). They are chock full of antioxidants, high in dietary fiber and protein, while being low in sodium and calories. Basically something you should try to eat about six times a day!
Boiling, steaming and even blanching can leach all these goodies out of the asparagus but roasting helps keep them in… plus one for roasting.
I served this with a classically French style White Wine Poached Chicken and Garlic Mashed Potatoes.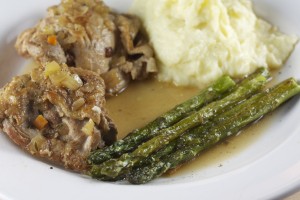 Notes: To trim the asparagus and separate the tender asparagus tip from the woodier stalk, snap the asparagus with two hands at the point where the woodier stalk begins. Gently try bending the stalk up its' length, when you reach the point to snap the stalk will 'give' a little more and be easy to snap (after the first stalk it should become much more instinctive). You can either trim the rest of the stalks to the same length or repeat using your hands.
Roasted Asparagus, serves 2 as a side
10 aspragus spears
1/2 tbsp olive oil
A large pinch of fleur de sel
1. Heat oven to 400ºF. Line a baking sheet with foil. Wash and trim asparagus (see Notes). Toss the spears with the oil and lay them in one flat layer on the prepared baking sheet. Sprinkle with the salt.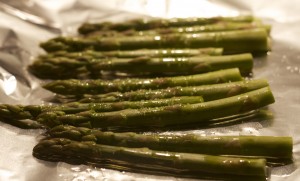 2. Place sheet in oven for 15-17, until the spears are slightly wrinkled at the ends. Remove from oven and serve on their own or tossed with a light vinaigrette.
Search

Subscribe

Archives

Categories