Prickly Pear Margarita with Homemade Infused Tequila
Posted on 08 October 2010
Do you have that Friday feeling? At the end of a long week I am often so excited to sit down for a moment with a perfectly balanced cocktail. All summer long, my Friday evening drink was gin and Red Jacket Orchard's Summer Blend of Apple and Lemon with a splash of tonic. It was in all honesty, the perfect summer drink. As summer has moved into fall, our store has stopped selling the Summer Blend to make way for new seasonal blend so I was on the lookout for a new beverage and it looks like I found one!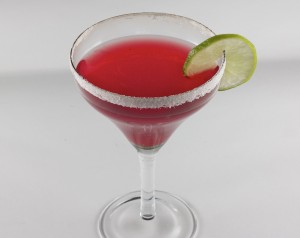 Fresh Direct recently began selling prickly pears so I thought I would try out a recipe – Prickly Pear Infused Tequila to make some Prickly Pear Margaritas. The infusing could not be easier, see recipe below, and I made the margarita with the usual proportions – 3 tequila: 2 triple sec: 1 freshly squeezed lime juice. All together so easy, a little different and my new favorite autumn drink.  It's a little too late to make for this weekend, unless you believe in Sunday Funday…, but perfect for next Friday.
Prickly pears are also called cactus pears in some parts of the country.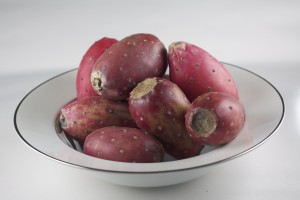 Tips: To make this a frozen margarita, blend recipe below with 1 to 1 1/2 cups ice until desired consistency. I like my ice slightly chunky so it doesn't melt as quickly and dilute the drink.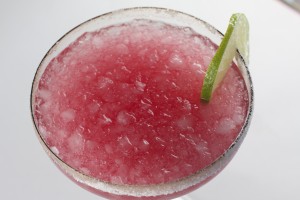 To rim the glass, I used Stirrings Cosmopolitan Rimmer. I thought its' cute pink color matched the drink perfectly!
Notes: Be cautious when peeling pears, even though the larger spines are usually removed there are almost invisible ones which will still be on the skin. I found three in my fingertips after I had finished peeling them. If you do find yourself looking like Winnie the Pooh after he has fallen in a briar patch, the best way to remove them is with tweezers (and this is going to sound weird but the best way to find them is with either another fingertip or your tongue which will be more sensitive… almost tmi I know!)
I left my tequila infusing for 2 days while we were away last weekend because I wanted to make sure it did not spoil while I was gone. When we came home I removed it from the fridge and let it sit at room temperature for 5 days and no adverse effects – it is still delicious and maybe even more pinky/red as a result!
Prickly Pear Margarita, makes 1 cocktail
6 tbsp Prickly Pear Infused Tequila (see recipe below)
4 tbsp triple sec
2 tbsp freshly squeezed lime juice
1. In a cocktail shaker add tequila, triple sec, lime juice and a cup of ice. Shake for 30 seconds, until the liquid is chilled, strain into a cocktail glass with a salted rim (see Tips) and garnish with a slice of lime.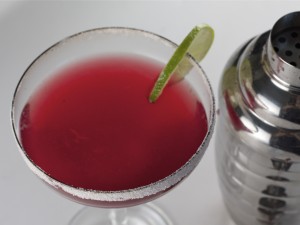 Prickly Pear Infused Tequila, makes 1 liter
1 liter tequila (I used a medium priced brand)
8 prickly pears, peeled and halved (see Notes)
1. Place pears in a large airtight container, pour tequila over and leave to infuse for at least 2 days in the refrigerator (see Notes).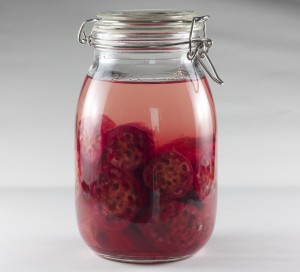 2. Strain and discard pears. Use infused tequila as you would regular tequila.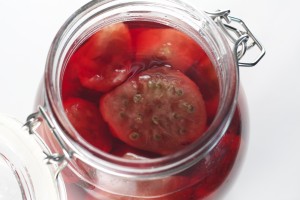 Search

Subscribe

Archives

Categories