Mini Pumpkin Cupcakes with Maple and Cream Cheese Frosting
Posted on 26 October 2010
I made these little cupcakes for a party we were attending over the weekend. The party was a P Party and the theme was all about pumpkin! We had to wear as much orange as we could muster and not say the word 'pumpkin' once we were inside the doors. If we did not turn up in an orange outfit and if we did say the word there would be forfeits! As I, like most people, own barely any orange clothing (bar some cute orange ballet flats and orange nail polish, does that count?) and fearing the wrath I thought I wise to make these cupcakes.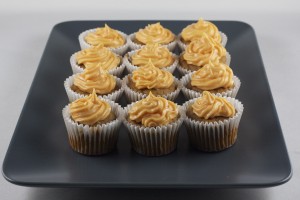 Thankfully they were well received and even when I did say the word pumpkin by mistake I didn't have to do a forfeit! So I advise you to take these mini cupcakes to all situations where you feel you have to curry favor… They just might help you out!
These cupcakes are light and fluffy unlike lots of pumpkin containing foods. There have only been a few occasions where I have wanted to continue eating something containing pumpkin past the first bite but these may have converted me for good. The pumpkin and the spice taste exactly how fall should taste! The maple cream cheese frosting is the perfect accompaniment, it isn't overly sweet but it adds moisture and a creaminess to the cupcake. Another perfect thing about them, the fact that these cupcakes are mini means that you can eat a whole lot more of them (wait! That isn't how it works?!?)
As the party was part P party part fancy dress Halloween, I decided to dye the maple cream cheese frosting an orange color to embrace the festivities. I added 4 drops of yellow food color and 2 of red to get the shade of light shade of orange that I decided to go with. You can of course leave them the light cream color the frosting is naturally (which I will do when I make them again closer to turkey day) or you can make them a bolder color. When mixing up the food coloring, make sure to add a drop at a time and combine thoroughly before adding more to make sure there isn't dye at the bottom of the bowl.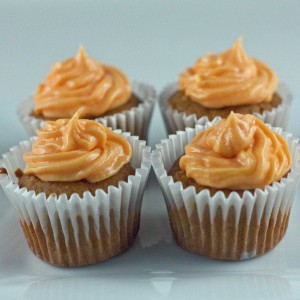 Notes: This recipe can also be made into 17-18 cupcakes or a two layer cake by following the directions below.
For the cupcakes –  Place 17 to 18 cupcake liners in a cupcake baking tray. Double ingredients and follow the directions below. Bake for 20-25 minutes (until a toothpick comes out clean).
For the double layer cake – butter two 8 by 2 cake pans, line with parchment circles, butter the parchment and lightly flour, tapping out the excess flour. Double the ingredients and follow the directions below. Divide the batter between the two cake pans and rap the pans on a counter to remove any air bubbles. Bake for 30-40 minutes (until a toothpick comes out clean). Cool in pan for 10 minutes, then invert the cakes onto racks and remove parchment paper. Completely cool. After assembling and frosting the cake (in between layers and then top and sides), refrigerate for 30 minutes to allow the frosting to set.
Mini Pumpkin Cupcakes with Maple and Cream Cheese Frosting, makes 36 mini cupcakes (see Notes)
Adapted from Smitten Kitchen's cupcakes and David Leite's two layer cake
Mini Pumpkin Cupcakes
1 cup cake flour
1 tsp baking powder
1/2 tsp baking soda
1/2 tsp ground cinnamon
1/2 tsp ground ginger
1/4 tsp ground nutmeg
1/16 tsp ground cloves
1/4 tsp fine salt
1/8 tsp freshly ground pepper
1/4 cup buttermilk
1/2 tsp vanilla extract
4 tbsp unsalted butter, room temperature
1/2 cup firmly packed dark brown sugar
2 1/2 tbsp sugar
1 large egg
1/2 cup plus 2 tbsp canned pure pumpkin (not pumpkin pie mix)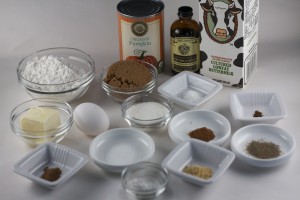 1. Heat oven to 350ºF. Line two and a half 24 cup mini muffin baking pans with mini cupcake papers. Sift flour with baking powder, baking soda, cinnamon, ginger, nutmeg, cloves, salt and pepper into a medium bowl. Stir vanilla extract into the buttermilk. Set both aside. In the bowl of a stand mixer, mix the butter and the sugar together on medium speed until light and fluffy, about 5 minutes. Scrape down the sides of the mixer.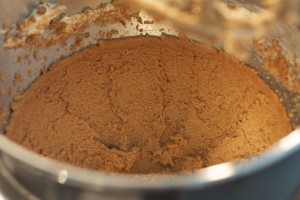 2. Continue to mix at medium speed and add the egg. Scrape down the sides again.
3. Add the flour in three additions, alternating with two additions of the buttermilk and vanilla, so you begin and end with flour. Beat in the pumpkin until the mixture is smooth. Remove bowl from stand mixer and stir the mixture gently to make sure the all the flour and pumpkin are combined.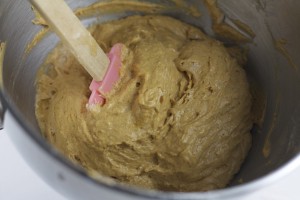 5. Using a teaspoon begin to scoop the batter into the prepared baking trays until they are 3/4 way full. Bake in oven for 16 minutes, check with a toothpick. If the toothpick comes out clean, remove from oven and let cool for 5-10 minutes in baking trays before removing to a cooling rack to cool completely.
Maple Cream Cheese Frosting
1 8oz cream cheese package
4 tbsp unsalted butter, at room temperature
2 tbsp maple syrup
1 cup confectioners' sugar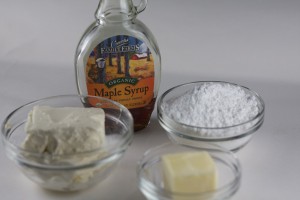 1. In the bowl of a stand mixer, mix the cream cheese, butter and maple syrup together on medium speed until smooth and fluffy, about 5 minutes. With the mixer on low speed begin adding the confectioners' sugar continuously. When it is all added and combined (any sooner and the sugar will fly everywhere!), turn the mixer to medium high and whip the frosting for 1 minutes.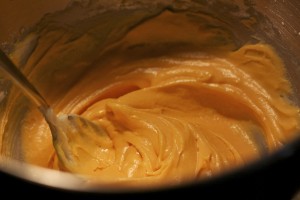 2. Scoop into a piping bag (or ziploc bag) fitted with a #16 tip (a small flower tip by Wilton) or equivalent. Frost the cooled mini cupcakes and serve!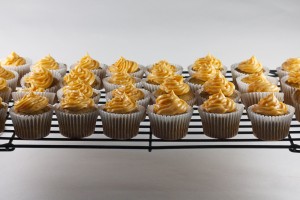 Search

Subscribe

Archives

Categories