The Ultimate Potato Gratin
Posted on 22 September 2010
In the neighborhood we live in, a sandwich place opened up a little while ago. My husband was instantly enarmored with the prospect of quick meals and was extremely excited about it being in our building. I, while more hestitant, would also press my face against the glass to see the progress the builders were making on the kitchen and the dining room (we have almost no restaurants where we live – we take what we can get!) When it finally came to opening day I balked. I heard from some of our neighbors about the long waits and the frequency of incorrect orders. Finally though, I ventured in. I stared up at the tastefully decorated menu board and the second I saw two magical words all was forgiven, scrap that, smitten. Potato Gratin.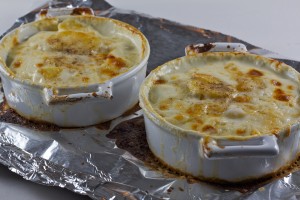 The next couple of weeks were a whirlwind love story for me and said sandwich place. The hubbie and I switched from date nights at cute restos around the city for date night downstairs, gleefully tucking in to some scrummy grub. Week one, we were going strong. Flavorful, well seasoned gratin was making my heart sing. Week two, slightly overloading on the carbs but still, happy as a clam. Week three and we had an upset, and not the good exciting football kind either. It was the kind that makes you want to write a new review on yelp. The gratin was completely unseasoned. I don't know if you have ever had an unseasoned potato but I'll save you the work and let you know – not good! Not being a quitter though, I gave them a couple more tries, always with the same disappointing result. It was back to making my own at home with no quick fixes.
This gratin has everything you could want (and then some, the ooey-gooey cheesiness, the garlic scented creamy sauce) so if you want to cut down on the cheese or the garlic, or switch the cream out for milk, or halve the amount of butter…. I understand, but you have to know that it will taste soooo much better with it all in!
Potato Gratin, serves 2-4 as a side
3/4 lb potatoes, peeled, thinly sliced, preferably Yukon Gold
1 1/4 cups heavy cream
1/2 cup milk
3 garlic cloves, finely minced
3/4 cup grated Gruyere cheese
1/4 cup finely grated Parmesan
1 tbsp unsalted butter, plus more for greasing the serving dishes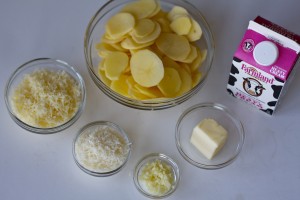 1. Heat oven to 375F. Butter ovenproof serving dishes (either 1 large one or 2 smaller). Combine cream and milk in a measuring cup. Begin to layer potato slices, after completing a layer, top with a sprinkle of Gruyere, garlic, salt and pepper and cover with the cream milk mixture. Repeat until all the potatoes, Gruyere and cream are used up. Top with tiny cubes of butter and Parmesan cheese and a sprinkle of salt and pepper.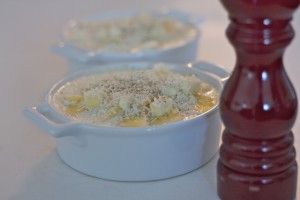 2. Cover a baking sheet with foil. Place serving dish/es on to prepared baking sheet and cover tightly with foil. Place in the oven for 45 minutes. Remove foil and allow potatoes to continue cooking for 10 until the top is beginning to brown and the cream is bubbling.
3. Remove from oven and allow to sit for 5 minutes, loosely covered with foil. Be careful as you are serving as the dish will still be hot. Enjoy!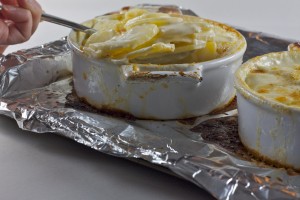 Search

Subscribe

Archives

Categories