Spaghetti Carbonara
Posted on 14 September 2010
Creamy and rich carbonara sauce is one of those dishes whose origins are obscure and disputed. There are of course many theories and claims. One is that it is named after a restaurant in Rome called Carbonara; others stem from the etymology of its' name, 'carbone' means charcoal in Italian so did coal miner's eat this hearty meal before heading off to work? What is known is that this dish was not represented in the comprehensive La Cucina Romana which was published in 1927 and it is not recorded until after the second world war. The first published recipe was in Englishwoman Elizabeth David's 1954 cookbook Italian Food (go England!), after she had spent time in Italy researching. The most probable theory I have heard is that US servicemen stationed in Italy had access to far better rations (i.e. the eggs and the bacon required for this dish) and asked people to make them a dish with it. The timing make sense as does the availability of the ingredients… What are your thoughts? Have you heard any other theories?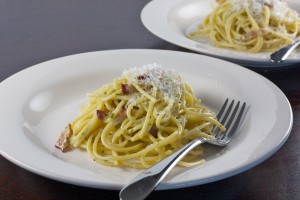 Traditionally, this dish should be made with guanciale, which is aged, unsmoked pig's jowls or cheeks, Pecorino and Parmesan, eggs (yolks or whole). As guanciale is not always available pancetta and bacon have been commonly substituted. What is not authentic to the dish is cream… I am guilty of adding a splash of cream but you can also leave it out, as I have done on warmer days to lighten the dish. Garlic can be added or not depending on the recipe you read. All I knew was as I was writing mine, it was going to have garlic! I have quickly fried the crushed garlic and then removed it so the oil is lightly flavored with its scent and taste rather than overwhelming the dish.
As this dish only has a few ingredients make sure that the quality of each is the best you can afford. There are some amazing smoked pancetta and bacons out there, which may be more expensive but the flavor carries further so you do not have to use as much. I used my favorite bacon for this recipe, D'Artagnan uncured applewood smoked bacon and some perfectly aged cheeses.
Notes: As I mentioned in the paragraph above, using the best ingredients you can is very important in general but none so much as the eggs. The eggs are raw in this dish and then "cooked" with the heat of the pasta. For this reason you want to make sure that you are using the freshest eggs possible and do not serve this to anyone who may have be immunodeficienct: young children, elderly people, pregnant women, as the threat of salmonella is far higher. Also make sure to add the pasta right from the boiling water so it is still very hot, this will help cook the eggs, and remember to toss quickly to prevent the eggs from scrambling!
Spaghetti Carbonara, serves 2 as an entree
2 tbsp extra virgin olive oil
2 garlic cloves, crushed and roughly chopped
2 slices smoked thick cut bacon, cut into 1/4″ strips
3 tbsp white wine
1 large egg, beaten (see Notes)
1/4 cup Parmesan cheese
1/4 cup Pecorino Romano cheese
1-2 tbsp heavy cream
1 tbsp Italian parsley, chopped
8 oz spaghetti (preferably De Cecco brand)
1. Cook spaghetti according to manufacturers' directions in a large salted pot of boiling water.
2. Add oil to a large saute pan over medium high heat. Once the oil is heated, add garlic. Stir often making sure the garlic does not burn and cook until golden brown. Remove garlic pieces and discard.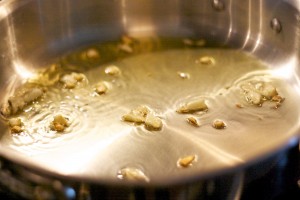 3. Add bacon to the pan and cook until its' edges are browned. Pour off half the fat and the oil and add wine and scrape up any browned bits from the bottom of the ban. Simmer mixture for 2 minutes.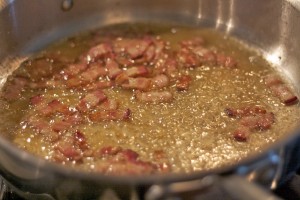 4. Meanwhile, in a large bowl, combine the egg, Parmesan, Pecorino, cream and parsley. Stir to mix well.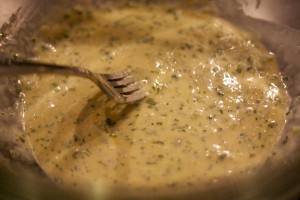 5. Add cooked pasta and stir rapidly to coat the pasta with the mixture (I use tongs for this but you could also use two forks and rapid toss the pasta). Add bacon and the liquid in the pan and continue to toss. Serve immediately with a more freshly grated Parmesan sprinkled on top.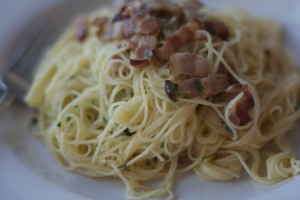 Search

Subscribe

Archives

Categories