Red Velvet Cupcakes with White Chocolate Cream Cheese Frosting
Posted on 28 September 2010
I love making these delicious cupcakes, they are always a huge hit. I do not think that is due to any expert baking skills that I may or may not have, it is all down to science… Every characteristic about these little cakes: how tender its' crumb is; how moist they are; the amazing crimson color; their chocolatey-ness which pairs beautifully with the whipped white chocolate and cream cheese frosting. The only thing you have to be mindful of is to not over-mix the cake batter once the cake flour has been added, other than that the ingredients do it for you.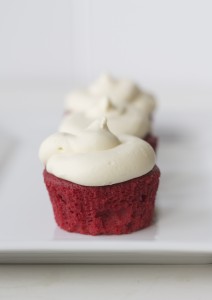 Now for your brief and highly specific science lesson. It is important to use cake flour to get the right texture in the cake. Cake flour is extra finely milled flour with less gluten; gluten is the protein that makes bread chewy and in this case the lack of it makes the cake extra tender. Whenever I make them I always marvel at the chemical reactions going on. People always say that baking is very technical and precise and while this is true in general, none more so than with these little delights. Somehow the baking soda and the cider vinegar react and fizz to make the cake extra fluffy. The buttermilk, salt and baking soda have some high school acid and base reaction going on to help cakes rise even more. Not to mention, the vinegar and buttermilk work together to make a red pigment in the cocoa powder called anthocyanin more pronounced… Who would have thought all that was going on in one little cupcake?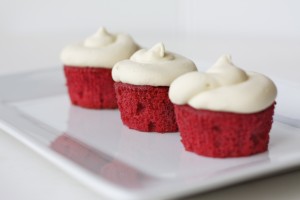 I have tried them out three different ways: these cupcakes, an impressively large three layer cake or adorable, tiny mini muffins. All three have their own niche market. The cake is perfect for afternoon tea or a sit down dinner where a plated dessert is more appropriate; the mini cupcakes are served at fancier evenings, like our annual Oscar party where I make ten or so different hors d'oeuvres and mini sized treats; and I make these cupcakes for a more informal gathering, such as a Saturday afternoon football party, serving them after pulled pork sandwiches.
Notes: You should be able to find cake flour at your local supermarket but if you are unable to you can substitute 1 3/4 cups plain flour and 1/4 cup cornstarch. If you are looking for other recipes that use cake flour to make sure you use the whole box, I promise you could not be disappointed with these Carrot Cake Cupcakes
or these Pecan Blondies with a Cream Cheese Swirl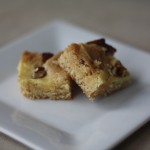 or even these decadent Individual Chocolate Cakes with a Molten Center.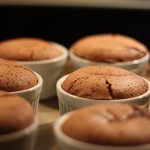 Also if you want to use a simple Cream Cheese Frosting rather than adding white chocolate (although I do suggest you try it at least once – it pairs beautifully), use the frosting from the aforementionedCarrot Cake Cupcakes.
Red Velvet Cupcakes with White Chocolate Cream Cheese Frosting, makes 20-22 cupcakes
Recipe modified from More From Magnolia by Allysa Torey
Red Velvet Cupcakes
Just under 1 3/4 cups cake flour (not self-rising)
6 tbsp unsalted butter, at room temperature
1 1/2 eggs, room temperature
1 cup plus 4 tbsp sugar
1 1/2 tbsp red food coloring
1 1/2 tbsp unsweetened cocoa
3/4 tsp vanilla extract
3/4 tsp fine salt
3/4 cup buttermilk
3/4 tsp cider vinegar
3/4 tsp baking soda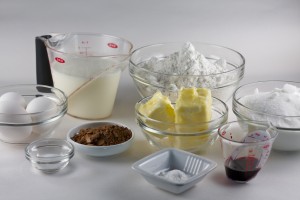 1. Heat oven to 350ºF. Line 2 12-cup muffin trays with cupcake liners.
2. Sift flour and set aside. Place butter and sugar in the bowl of an electric mixer and beat together on medium speed for 5 minutes, until butter and sugar are light and fluffy. Add eggs in two additions and beat well after each.
3. In a small bowl, combine the red food coloring, cocoa and vanilla. Add to batter and beat well.
4. In a measuring cup, stir the salt into the buttermilk. Add to the batter in three parts, alternating with the flour. Beat until the ingredients are just combined.
5. In a small bowl, stir the cider vinegar and baking soda (it will fizz up a lot so use a slightly larger bowl than you think you need). Add to the batter and mix well. Using a rubber spatula, scrape down the batter in the bowl, making sure the ingredients are all well combined and the batter is smooth.
6. Pour batter into cupcake liners. Place trays in oven and cook for 20 minutes or until a toothpick comes out clean. Remove from oven and let the cupcakes cool for 5-10 minutes in their trays before removing and allowing to cool completely on a cooling rack.
White Chocolate Cream Cheese Frosting
1 lb cream cheese, at room temperature
6 tbsp unsalted butter, at room temperature
1 tsp vanilla extract
8 oz white chocolate, chips or chopped into small pieces
1. Place chocolate into a medium sized bowl. Bring a small saucepan of water to a simmer. Place bowl on top of water. Stir chocolate until melted. Remove from heat and set aside for 10 minutes, until cooled to luke warm.
2. Place cream cheese and butter in the bowl of an electric mixer and beat together until very smooth and fluffy, about 3 minutes. Add vanilla and beat well. Pour in chocolate and beat again.
To frost the cupcakes…
Use a piping bag or a knife and spread the room temperature frosting.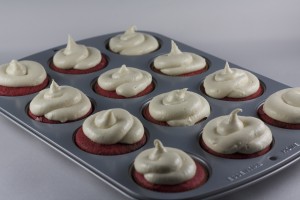 Search

Subscribe

Archives

Categories