Not-Terribly-Traditional Bruschetta
Posted on 13 September 2010
This dish combines many of my great loves and it is perfect for this time of year. The tables at the farmers' markets are bowing under the weight of the overflowing piles of tomato varietals and the scent of basil lingers lazily in the air. The bunches of basil are huge at the moment and they are virtually giving tomatoes away before they turn mealy, so what better way to use perfectly in-season produce than bruschetta?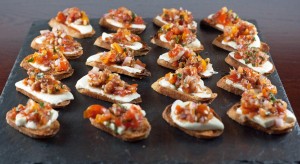 The name bruschetta comes from the latin bruscare which means 'to toast', so at its' most basic, bruschetta is just grilled or toasted bread usually rubbed or drizzled with olive oil. Nowadays though bruschetta has come to be more of a production… rubbing the toasted bread with garlic cloves, adding chopped tomatoes and chiffonades of basil… While I do love the simpler style of bruschetta I decided to give it a revamp myself. As a strict carnivore and turophile (that means cheese lover for all you non-Greek speaking people!) I decided that I could squeeze more onto that little baguette toast.
One of my main joys of bruschetta is the textural difference between the crispy bread and the soft topping and one of my pet peeves with bruschetta is when, after sitting out for fifteen or so minutes, the bread gets soggy from the juices of the salted tomato. I decided to test out a couple of solutions to this mushy bread problem. The first is probably the most obvious – remove any hint of a seed or moisture from the tomato. I found this left the topping bland and sort of took away the refreshing juiciness of it all. So I tried out the ultimate decadent method – a barrier impervious to water. That's right, a layer of molten, gooey cheese. Surprise, surprise, this worked out amazingly and tasted divine. Mushy bread problem, solved!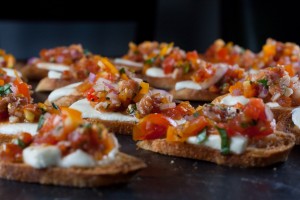 Even though cured meats and cheeses are also served as antipasti with bruschetta, as I had managed to combine mozzarella I decided to throw in some prosciutto as well. Just an ounce of this sweet, salty cured ham is enough to add its' flavor into the mix. It melds so well with the finely chopped red onion and minced garlic and of course with the tomatoes, their juices and the basil. All in all, an amazing explosion of flavor!!
Tips: One tip that I am sure you all know, is to slightly freeze prosciutto before slicing. It helps the fat solidify which makes slicing or in this case mincing far easier. I put the prosciutto in the freezer for 5 minutes before chopping it.
Notes: The tomatoes used can be cherry, beefsteak, on the vine, heirloom and any color at all. When I have made this in the past, I have used a combination of large beefsteak tomatoes and small on the vine cherry ones, and also just small heirloom cherry tomatoes. Using lots of smaller tomatoes increases the amount of time it takes to chop them, so if speed is a big factor, you may want to think about using larger tomatoes and if you want to add some sweetness supplement a few smaller ones (not that you need to with most late summer tomatoes).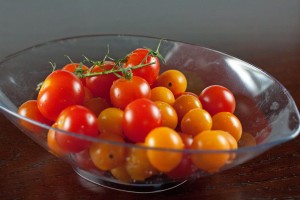 Using a large ball of mozzarella, I slice 1/8″ slices and then cut those slices into thirds and it is usually the right size. You basically want to cover as much bread as possible when the cheese melts.
Bruschetta, makes 48 hors d'oeuvres
1 lb tomatoes, chopped finely (see Notes)
1/3 red onion, chopped finely
12 basil leaves, chopped finely
2 cloves garlic, minced
1 oz prosciutto, minced (see Tips)
1 tbsp balsamic vinegar
1 baguette, sliced on a steep diagonal into 1/4″ slices
Olive oil for brushing or drizzling onto baguette slices
1/2 to 3/4 lb fresh salted mozzarella, cut into thin baguette slice size pieces (see Notes)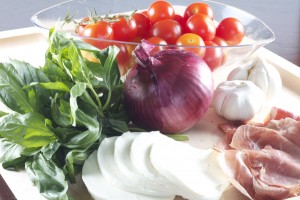 1. Combine tomatoes, onion, basil, garlic, prosciutto and balsamic together. Season with kosher salt and freshly ground black pepper to taste.
2. Heat the broiler (the grill in the oven – UK), and lay out all the baguette slices on a large baking sheet. Either brush or drizzle your slices with olive oil and place under the broiler for 2 minutes, rotating half way through. Top with mozzarella pieces and pace back under broiler until cheese melts, about 2 more minutes, checking to make sure it doesn't burn.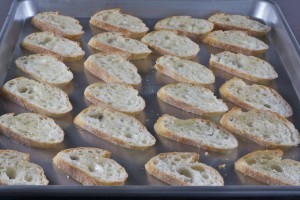 3. Top with bruschetta topping, season again with kosher salt and pepper to taste.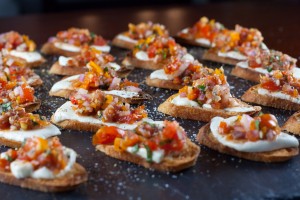 4. Serve warm or at room temperature.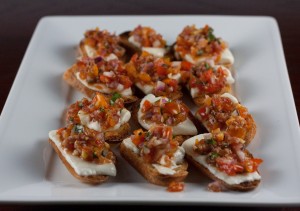 Search

Subscribe

Archives

Categories