How to Wrap, Freeze and Defrost Your Wedding Cake
Posted on 21 September 2010
I am so excited! This is my 100th post. Thank you so much for reading, commenting and giving me ideas for new posts and recipes. As it's a special post I thought I would let you into a special part of my life. Enjoy!
As I mentioned in my Labor Day Menu Ideas post my hubbie and I recently had our first anniversary. Somehow, we have been so busy that we haven't had a chance to sit down, plan ahead and pick a day to defrost and eat a slice of our wedding cake. As most couples still do we froze the top layer of our cake to eat one year on, without any real research into the freezing or defrosting of the cake. I have eaten enough freezer burnt ice cream to know that wrapping the cake tightly was advantageous but when it came to defrosting I found a lot of misinformation online so I thought it would make the ideal informative post!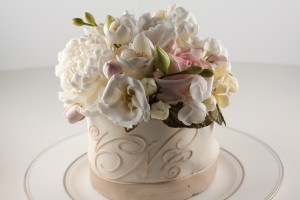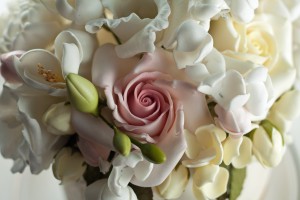 One of the first things that I had picked out for the wedding was the cake. Even before I was wearing my engagement ring I knew who I dreamt of baking my cake. Ron Ben-Israel. He is simply a cake baking genius and is the absolute best when it comes to weddings (I mean his website is weddingcakes.com), he books up months in advance and his cakes are the most gorgeous cakes I have ever seen and of course tasted! On one of my first dates with my hubbie, we had attended a corporate birthday party where one of Ron's cakes were served. It was an almond cake with vanilla buttercream and it was absolutely divine. As everyone was leaving and we were one of the last there, I asked one of the waiters what was happening to the remainder of the cake. I was told it was being thrown away after the party had cleared out. Knowing this to be a crime against cake, I decided to give the remaining untouched half a home in my refrigerator…
Through some fabulous twist of kismet, we were lucky enough to have him make our cake for our wedding last year (thank you Mum and Dad!). Whenever we went for our tastings (you know me, there had to be more than one tasting), I was always astounded at how fabulous everything tasted and loved to watch the cakes being assembled in the workshop. One of the many amazing things about Ron's cakes are everything on the cake, from the ribbons, the monograms, the exquisite flowers, are all edible!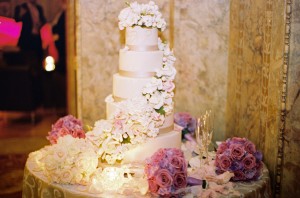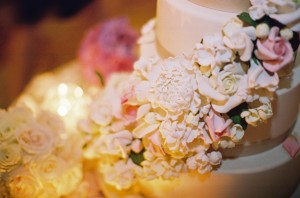 Just a few ideas for all you brides to be out there… I love the way fondant creates a perfectly smooth surface but I don't love the way it tastes. One solution is to roll the fondant very, very thin and lay it over the buttercream and sponge. You get the perfect surface but without the gummy taste! I had my fondant dyed a light champagne color to match my dress.
We had a multi-layer cake so we took full advantage of the flavors we could have. We had alternating cake types for each layer. The first type was a white almond sponge cake with hazelnut praline crunch and blackberry buttercreams and the second was a vanilla sponge cake with a passion fruit and lime buttercream with a white chocolate cream filling.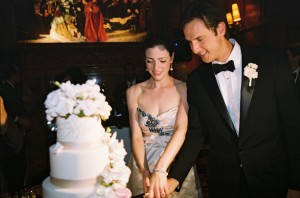 Notes: I know that many people leave for honeymoon the next morning so you can ask a family member or close friend to wrap, freeze and store it for you until you return. The whole process does not take too long though, I wrapped mine the morning after, with my head still full of hairpins, attempting to get the cake and my dress back to our apartment before rushing to the airport. I had a very sweet bellman bring up foil and cling wrap and made him stand in our room, holding the cake while I ran around it with wrap and foil. It can be done!
Method for wrapping and defrosting your cake.
1. Place cake in refrigerator the night of the wedding and leave to cool overnight.
2. The next morning, make sure that you wrap your cake very tightly. Wrap the cake so no air can touch the surface with three separate layers of cling wrap. Follow this with a layer of foil, again very tightly wrapped. If you have a cake box, place the wrapped cake inside. If not, simply place the wrapped cake at the back or the side of your freezer.
3. Wait one blissful year, and pull out the cake from its' deep freeze. Unwrap the cake and remove and discard the wrap and the foil. Rewrap the cake loosely with waxed paper and then cling wrap. Place wrapped cake into the refrigerator overnight.
4. Leave the cake in the fridge until a couple of hours before you want to eat, 2-4 hours. At which point remove the cake and place it on your countertop and let it come to room temperature.
5. Cut the cake with a cake knife or a serrated knife. Enjoy and toast again to your married life!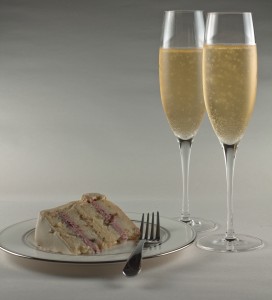 Search

Subscribe

Archives

Categories