Harry's Bar Curried Chicken
Posted on 01 September 2010
The first time I made this dish, I was in college and in a woefully ill-equipped and under utilized kitchen (maybe the under utilization was due to the lack of equipment!). It seemed like such a challenge to get two frying pans, two saucepans – one for the sauce and one for the accompanying risotto – and a sieve clean and in the same place at the same time.  But I was determined to make this fancy (at least for a student) entree for dinner.  This chicken curry is a complete departure from what you would ordinarily think of as the typical curry house chicken curry.  It is refined, creamy, smooth with a mild curry taste.  While the addition of fruit is quite common in Indian curries, I love the combination of apples with the leeks, onions and celery.  It is slightly unexpected, and works perfectly with the flambeed brandy and cream.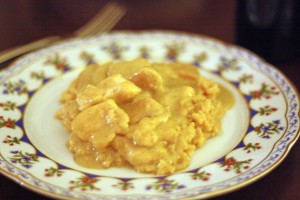 This dish, "Chicken al Curry", is at every Cipriani restaurant I have been to. They serve it in in Venice, London, all five of the New York restaurants even Grand Central! It is a complete classic and while it make look a little tricky, with some time management it is a doddle. The sauce can be made up to three days ahead and kept in a airtight, sealed container in the fridge, leaving you to just saute the chicken when you want to serve this.
Thankfully since leaving university, my kitchen collection has grown so I do not have quite the same pot and pan problems anymore. Even though I probably could rustle up two 12-inch saute pans, I still choose to wash out the frying pan that I used to make the sauce to saute the chicken. Maybe it just makes me feel as youthful as an undergrad!
Harry's Bar Curried Chicken, serves 6 as an entree
Curry Sauce
1/4 cup olive oil
1 small onion, chopped
2 leeks, white part only, thoroughly washed and thinly sliced
1 celery rib, chopped
1 Golden Delicious apple, peeled, cored and thinly sliced
3 tbsp brandy
2-3 tbsp Curry Powder (store bought or homemade), to taste
1/4 cup flour
3 cups boiling chicken stock
1/2 cup heavy cream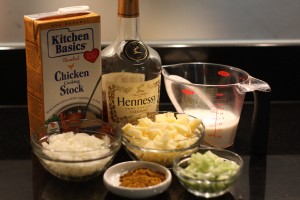 1. Heat a large frying pan over medium high heat. Add olive oil. Add onion, leeks and celery and cook until they are wilted, about 6 minutes. Reduce heat to medium, add apple and cook the mixture for about 30 minutes or until everything is soft, stirring occasionally.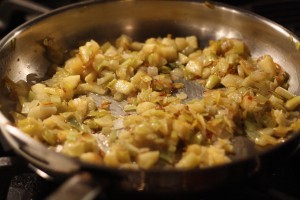 2. Pour on the brandy, allow it to heat slightly and carefully ignite it using a long kitchen match. Swirl the pan gently until the flames die out.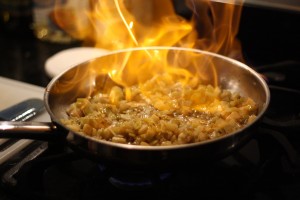 3. Add the curry powder and season with salt and pepper, stirring to combine. Add the flour and stir well, cook for 2-3 minutes.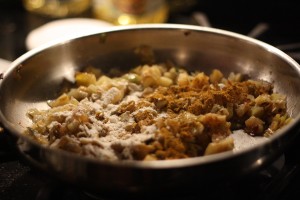 4. Add the chicken stock slowly, whisking constantly. Cook until the sauce begins to thicken. When the sauce starts to thicken, lower the heat and allow it to simmer uncovered for 20 minutes, stirring frequently.
5. Strain the sauce through a sieve into a medium saucepan. It should be the consistency of thin cream. Taste the sauce and adjust the seasoning and add more curry powder if you prefer a more intense flavor and if it is too thick add a splash more stock.
6. Bring the cream to a boil and add it to the sauce. Allow the sauce to simmer for 10 minutes.
Curried Chicken
6 chicken breasts or boneless thighs
Plain flour for dredging
1/2 cup olive oil
1 recipe curry sauce, recipe above
1. As the sauce is cooking, cut the chicken breasts or thighs into 1-inch pieces. Pat the pieces dry and season with salt and pepper. Dredge in flour, shaking off any excess.
2. Heat a large frying pan over medium-high heat and add the olive oil. Brown the chicken pieces on both sides, until they are golden brown and crisp, about 15 minutes. (You may need to cook the pieces in batches, making sure they do not touch otherwise they will not brown.)
3. Pour off any fat remaining from the pan and add the curry sauce. Reduce heat to medium and stir the pieces so that they are covered well in the sauce. Cook, partially covered, for 30 minutes, or until chicken is cooked through.
4. Pour the chicken and the sauce onto a heated platter and serve with a Curried Rice Pilaf.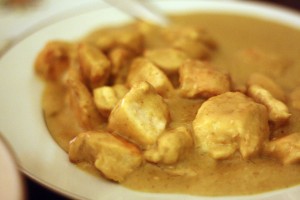 Search

Subscribe

Archives

Categories