Curried Rice Pilaf
Posted on 02 September 2010
To me a rice pilaf is a "set and forget" risotto. Rather than constantly stirring the rice and chicken stock, everything is put in the same "Dutch oven" and allowed to cook. Personally, I had never heard of a Dutch oven until I saw the term used in a recipe. A Dutch oven is simply a casserole dish, preferably enameled cast iron and even more preferably the exact ones in the photo below… (if someone wants to get them for me, it would be much appreciated!)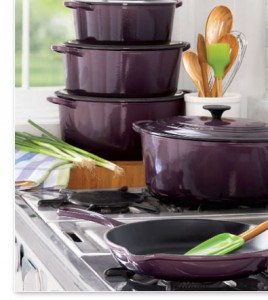 You can also use an ovenproof pan with a lid, make sure no part (handles or the lid's knob) will melt and you should be fine. I used a stainless steel All-Clad saucepan and I have never had a problem.
This dish compliments the Curried Chicken perfectly. It is a very savory tasting side. It has a hint of curry, it's creamy but not as much as the sauce and it provides a texture contrast from the rice grains and the onion. You can also make this on the stove top as well, just make follow the directions for my Simple Risotto only exchanging the Parmesan in the final stage for the Curry Powder.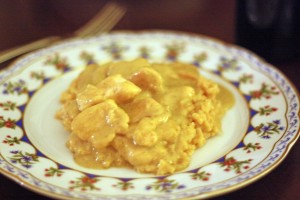 Curried Rice Pilaf, serves 6 as a side dish
3 1/2 cups chicken stock
2 tbsp butter
1 small onion, small diced
2 cups Arborio rice (or other short grain Italian rice)
1 tsp Curry Powder
1. Heat oven to 350ºF. In a saucepan, bring chicken stock to a boil.
2. In an ovenproof saucepan (or Dutch oven), heat butter over medium high heat. Add onion and cook until slightly softened, about 5 minutes. Add rice and stir to coat with butter and onion, cook for 3 minutes, making sure not to brown the rice. Pour the boiling stock over the rice, season with a sprinkle of salt. Cover the pan tightly with a layer of tin foil and place the lid over the top. Put the pan into the oven.
3. Remove pan from the oven and carefully remove the lid. Pull up a corner of the foil and taste a grain of rice. At this point if the rice is cooked enough, remove the foil and fluff the rice, stir in the curry powder and  place the lid ajar onto the pot for 5 minutes as you get the rest of the meal ready. If it is not cooked enough, leave the foil and the lid on for 10 minutes longer before fluffing, stirring in the curry powder and leaving the lid to one side for 5 more minutes.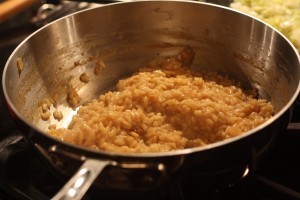 4. Serve with Harry's Bar Curried Chicken or any dish you think it would compliment.
Photo of Le Creuset pans from the Sur La Table site.
Search

Subscribe

Archives

Categories