Bucatini All'amatriciana
Posted on 15 September 2010
Unlike yesterday's Carbonara recipe, the origins of this dish are not so mysterious. It is well known that the dish was created in Amatrice in the Lazio region that lies within central Italy. It quickly spread to Rome where it was embraced and recategorized as a Roman recipe. Like the carbonara this sauce should also be made with guaciale (unsmoked pork jowl) but bacon and pancetta work also. Traditionally this sauce can be made with or without chili but of course I chose to add some. Garlic and onion are more recent additions to the sauce but I find that they offset the acidity from the tomato nicely so for me, they are welcome additions.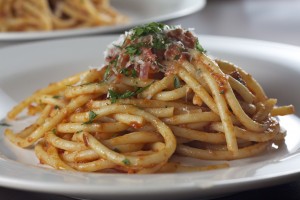 Apart from this sauce being exceptionally easy to prepare and practically everything you could want in a sauce (if I could have found a way of sneaking cream in this sauce I would!), the neatest thing about it may be the pasta it is served with. I had seen the name bucatini on menus before but had never seen the pasta itself. I headed to the grocery store with a list of a couple of harder to find ingredients for all the recipes I was testing that week, half assuming I would be unable to find it. I went to a couple of different grocery stores with no success and completely unaware of exactly what I was looking for. So I did what any 21st century gal does nowadays… I googled it. Lo and behold I found out if was not similar to the penne I was presuming but more similar to spaghetti except… it has a hollow through the center! I have no idea how they form it but it is amazingly neat! Thankfully De Cecco (my brand of choice for pasta) had it listed on their site. It's the #15 line and in the US it is renamed perciatelli, for reasons unknown.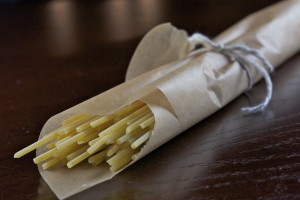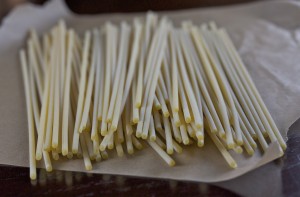 If you are unable to find bucatini/perciatelli, simply replace it with fettucini, spaghetti or penne. You can also order it online.
Bucatini All'amatriciana, serves 2 (with some extra for leftovers!)
1/2 lb bucatini pasta
1 tbsp unsalted butter
1 tbsp olive oil
1/2 cup red onion, finely chopped
1 clove garlic, minced
1/2 tsp red pepper flakes
2 thick cut bacon strips, cut into 1/4″ strips (or pancetta)
1 cup chopped tomatoes (Pomi brand)
1/2 tsp red wine vinegar
3 tbsp Pecorino Romano
Parmesan and chopped Italian parsley, to serve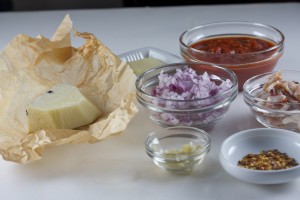 1. Cook pasta according to manufacturer's directions in a large pot of salted, boiling water. Drain well.
2. Heat a large saute pan over medium high heat. Add butter and olive oil and onion, cook until soft about 1-2 minutes. Add garlic and chili flakes and cook for 1 more minute, stirring occasionally to prevent burning. Add bacon and cook until brown, 2-3 minutes.
3. Pour in the tomatoes and their juices and reduce heat to a simmer for 5 minutes. Add red wine vinegar and leave to simmer gently for 15-20 minutes. Add cooked pasta and toss in the sauce to coat. Add cheese and toss again.
4. Serve with Parmesan and chopped parsley.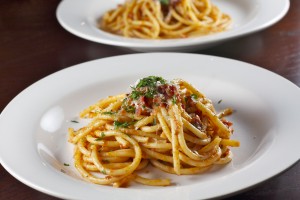 Search

Subscribe

Archives

Categories