Bangers and Mash with an Onion and Tarragon Gravy
Posted on 08 September 2010
Even though we are still experiencing summer here in New York we did have a ropey patch of weather last week. When it begins to rain and get chilly all I crave is familiar comfort food. As I am sure everyone knows, bangers and mash are traditionally English (with a name like that where else would they be from!) but I think it is one dish that should make a cross over as there is nothing that can cheer your spirits quite as perfectly on a cold and miserable day.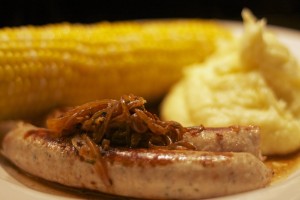 An onion gravy with bangers and mash is fairly common but I have switched it up a bit and made it slightly more refined by adding tarragon and white wine*. The gravy is so easy to make. Using all the browned bits of the sausages and the compound butter creates a sauce with a lovely depth of flavor. Almost everything in the compound butter is a pantry item so you can make this dish anytime the mood strikes you, which I can promise will be almost anytime the weather turns slightly colder!
*This does not mean that I am adverse to a bistro and onion gravy – sometimes that can also hit the spot!
Definition: a compound butter is simply butter with other ingredients. You can add literally anything to make a compound butter: fresh herbs, dried herbs, spices, seasonings, onions, shallots, wine, spirits. Think of them as an easy way to inject flavor into anything.
I served this with a succulently sweet piece of local corn on the cob for a little touch of summer with this fall/winter meal.
Bangers and Mash with an Onion and Tarragon Gravy, serves 4
Compound butter
2 tbsp unsalted butter, softened at room temperature
1 tbsp minced onion
3 tbsp dry white wine
1/2 cup chicken stock
3/4 tsp dried tarragon
8 chicken and apple sausages
1 recipe of Creamy and Buttery Mashed Potatoes
1 tbsp unsalted butter
1/4 onion, thinly sliced
1. Make the compound butter – combine all ingredients and return to fridge. Can be made a day in advance.
2. Line a baking sheet with foil. Heat a large frying pan over medium high heat. Add 1 tbsp canola oil. Add sausages, making sure that they are not touching and cook until they are browned, about 5 minutes. Turn over and brown the other side, about 5 minutes more. Remove from pan and place on foil lined baking sheet, cover with another piece of foil to keep warm.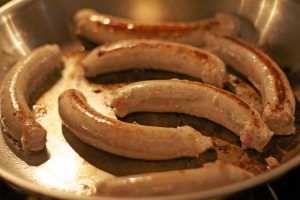 3. Add 1 tbsp butter to the pan. Once the butter has melted, add onions. Cook until soft, stirring occasionally.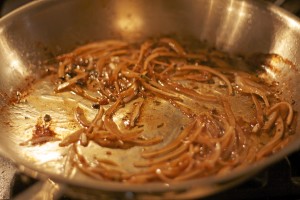 4. Add compound butter and allow to melt, stirring often. Allow to bubble for a minute or 2.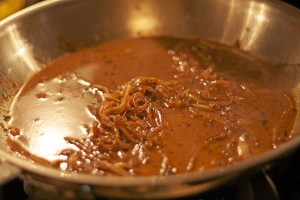 4. Plate 2 sausages and a generous heap of mashed potatoes on each plate.  Apply gravy liberally over the sausages.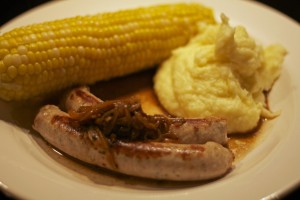 Search

Subscribe

Archives

Categories