Banana Bread
Posted on 10 September 2010
This recipe honestly could not be any simpler. Just heat up the rum and the raisins together, wait until the raisins have absorbed all the rum's goodness then add to everything else and bake. Easy peasy! Whenever I buy bananas invariably we never eat them quickly enough. I buy them in large bunches because at my grocery store they seem cheaper that way. They would be cheaper, if we could eat them all. The oddest thing happens, when we do not have bananas I crave them and imagine all the fantastic smoothies I could create with them, think about how they are the perfect snack on the go, grab one and run out the door but the second we have them in the house we get instant banana fatigue. We never finish them so they turn brown, soft but sweet and perfect for baking.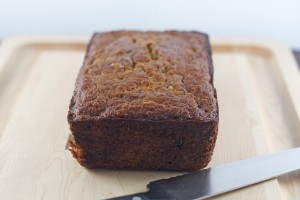 Whenever I have too many bananas that are just past the point of eating (I cannot eat an overly bruised banana, the texture is so off for me) I bake this banana bread. It's not overly sweet so you feel okay about having a slice for breakfast but it is moreish enough that you can have it for your mid afternoon pick me up as well. This recipe is based on a similar recipe in Nigella Lawson's cookbook, How to be a Domestic Goddess, a book with a title that is near to my heart and aspirations! I somehow do not own said book (head down in shame) but thankfully my mum does so I was able to scribble down the recipe on a slip of paper. This slip of paper with highly important information did exactly what slips of paper with cannot-lose-instructions-on-them want to do and decided to give me the proverbial slip… Thankfully by that point I have made this recipe so many times that I could approximate what when in and voila, we have this recipe. Not exactly the same but I assure you just as good!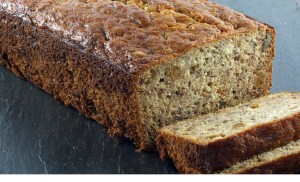 Tip: If you are completely overrun with ever-ripening bananas and you cannot possible use them all in time, throw them into the freezer. Just thaw them out in the fridge for a couple of hours and you have instant ripe bananas for baking!
Unbelievably More-ish Banana Bread, makes a 9 by 5 inch loaf (about 10 slices)
1/4 cup sultanas
5 tbsp dark rum
3/4 cup plain flour plus more for dusting the pan
2 tsp baking powder
1/2 tsp baking soda
1/4 tsp fine salt
1/2 cup unsalted butter, melted
Just under 1/2 cup sugar
2 large eggs
4 small very ripe bananas (about 300 g peeled weight)
1/4 cup walnuts, coarsely chopped
1 tsp vanilla extract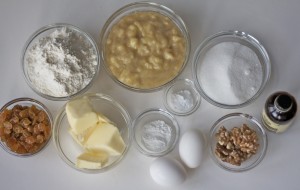 1. On the stove top – place raisins and rum in a small saucepan. Cook over high heat until rum is boiling. Cover with plastic wrap and set aside until cool.
Microwave option – place raisins and rum in a bowl, cook on high for 45 seconds until rum is hot. Cover with plastic wrap and set aside until cool.
2. Heat oven to 350ºF. Butter and flour a 9″ x 5″ loaf pan. Put flour, baking soda, baking powder and salt in a small bowl. Stir sugar and melted butter until combined. Add eggs one at a time, mixing well after each addition. Add bananas, walnuts, raisins (with the rum) and vanilla and stir until combined. Pour into loaf pan. Bake in oven for 1 hour, or when tested with a toothpick, the toothpick comes out clean.
Search

Subscribe

Archives

Categories