Roast Tomato, Chili and Cumin Soup
Posted on 26 August 2010
This soup is pretty much the most ideal use of sweet, juicy, late summer tomatoes. It is rich, filling, sweet and spicy but it is also completely dairy and gluten free. The texture comes from the tomatoes and the onions without any need for a thickener. The ground cumin, whole cumin seed, chili flakes and garlic all pack a punch and add some spicy savoriness to what would otherwise be a sweet soup. I served mine with freshly baked, buttered sourdough bread rolls.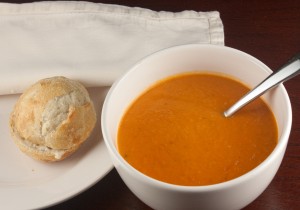 It is from the Leon cookbook, which is full of all the recipes that makes the Leon cafes so popular. We received it as a wedding present last September and I have found it be the most perfect book to call on when I am looking for healthy, dairy free food.
Notes: The original recipe calls for 5-6 vine ripened tomatoes rather than cherry tomatoes. I went with cherry tomatoes as they lend more of a sweetness to the soup and I love them roasted. If you are concerned about the soup being too sweet, halve the amount of sugar added to the olive oil and add more to taste at the end of the recipe. If you do use vine-ripened tomatoes, follow step 1 but allow the tomatoes to cool until you are able to handle them and then remove their skins before adding them to the soup.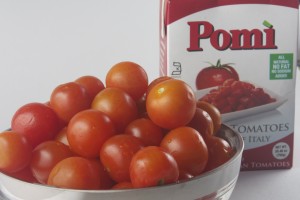 I was recently told by friends that tinned tomatoes are awful for you. The acidity in the tomatoes cause chemicals to leach out from the can and into the tomatoes and their liquid, which you then ingest. I now buy Pomi crushed tomatoes (they are sold in grocery stores, stores online and amazon), not only are they high quality tomatoes fresh from Italy, they are also 100% BPA free so I know that I am not adding needless chemicals to our meals. Trader Joe's also offer tomatoes which are in BPA free containers. While some tomatoes come in glass jars make sure that the glass is still BPA free and not epoxy lined as this will also leach chemicals.
Roast Tomato, Chili and Cumin Soup, serves 4
2 pints cherry tomatoes (see Notes)
1/2 cup extra virgin olive oil
1 heaped tbsp sugar
3 cloves garlic, crushed and roughly chopped
2 large red onions, thinly sliced, root to tip
3/4 tsp dried chili flakes
1/2 tsp ground cumin
1/2 tsp whole cumin seeds
14 oz tin chopped tomatoes (see Notes)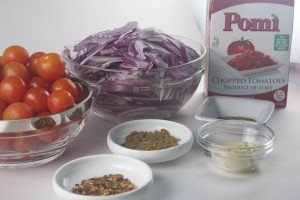 1. Heat oven to 375°F. Pour half the olive oil onto a baking sheet and add sugar, garlic and some salt and pepper. Halve the tomatoes and pack them closely together, cut side down in the olive oil mixture, making sure to coat them slightly. Place in oven for 20 minutes, or until the skins have shrivelled and the tomatoes are soft. Remove from the oven and set aside.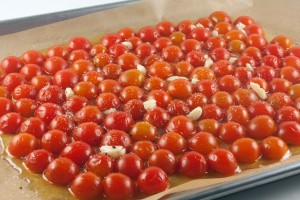 2. Meanwhile, heat a large saucepan over medium heat. Add the rest of the olive oil and fry the onions, cumins and chili flakes with a lid on, stirring occasionally, for 10-15 minutes or until the onions are soft.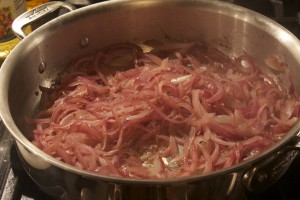 3. Add the tinned tomatoes and cook over same heat for 10 minutes on, with the lid on. Add 3 1/2 cups water to the pan and bring the soup back to a simmer.
4. Add roasted tomatoes and their roasting oil to the pan and simmer everything together for 20 minutes. Puree the soup in a blender or with a hand held blender until you have the texture you would like (see Notes). If you think the consistency is too thick add a splash more water. Check seasoning and serve hot.
Search

Subscribe

Archives

Categories