Roast Duck Hash
Posted on 27 August 2010
If this dish sounds original, it is because it is probably is. One cold and rainy Saturday morning the hubbie and I woke up slightly worse for wear and absolutely famished. Due to the miserable weather and thumping headaches we were completely unwilling to brave the outdoors to find a brunch spot or even to run out for supplies so we made this meal from whatever we had around the house. Thankfully I am a sucker for condiments and we usually have a pretty well stocked fridge. In situations like these a hash with poached eggs and toast is always the best option. To make one you just need a potato, in this case – sweet, some vegetables, and preferably (for me at least) some meat, which in this recipe is duck.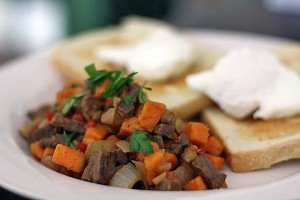 Somehow this dish is perfect for brunch. The flavor all meld together harmoniously and while the ingredient list may look extraordinary together, oddly it makes sense. I added the hoisin sauce as I love how it works with duck whenever I eat peking duck (which is not as often as I would like to). The sweet potato and duck are also a fairly classic pairing. Sweet potatoes are at their peak during duck season (mid fall), and the sweetness of the potato plays off the gaminess of the duck.
To balance the dish I added onions, red peppers and garlic to make sure it was a fully savory meal and added some Tabasco for a kick.
Make sure to poach your eggs so the whites are fully cooked but the yolks are still runny. When they burst it will taste divine with the hash! (If you are cooking this for someone with a restricted immune system (pregnant women, elderly people, young children, immune supressed people) make sure to cook the eggs fully including the yolk.
Notes: to cook the duck from raw, carefully score the fat of the duck in a criss cross pattern making sure not to cut the flesh. Salt the duck and begin to heat up an oven proof saute pan over medium heat and heat oven to 350F. Add a tiny splash of oil, as the duck already has so much fat beneath its' skin. Place duck, fat side down, in pan and cook slowly until fat begins to render out. Once the fat is mostly rendered and the skin is beginning to crisp, pour off fat and flip the duck over for 30 seconds to sear the other side. Place the whole pan in the oven until the duck is medium rare, about 15 minutes.
Roast Duck Hash, serves 2
1 medium sweet potato, peeled and diced into 1/2 cubes
1 tbsp olive oil
1 duck breast, cooked until medium rare and fat rendered out then cooled, small dice (fat reserved) (see Notes)
½ red pepper, small dice
⅓ large onion, medium dice
2 cloves garlic, minced
2 tbsp chicken stock
1 tsp hoisin sauce
3 slugs Tabasco hot sauce
1. Place sweet potato in pan of cold water to cover, bring to boil and reduce to simmer for 8 minute under knife tender.
2. Heat saute pan over medium-high heat, add 1 tbsp duck fat and olive oil to the pan. Add the onions, cook for 5 minutes until tender and fragrant, stirring occasionally to prevent burning. Add garlic and cook for 2 minutes, continuing to occasionally stir, then add red pepper and cook for 3 minutes until soft. Add sweet potato and duck, cook for 4 minutes until warmed through. Add hoisin sauce, stir then add chicken stock and tabasco, stir again. Cook until the meat and vegetables are coated with a sauce.
3. Serve with 2 poached eggs and hot, buttered toast.
Search

Subscribe

Archives

Categories