Pulled Chicken and Avocado Sandwich
Posted on 10 August 2010
This recipe came out of a very simple philosophy… 'waste not, want not'. As you may have gathered I hate to throw anything away and as I had two spare chicken thighs from my Baked Barbecue Chicken from last week I decided to shred them and heat them with some extra Kansas City-style Barbecue Sauce. I am equally addicted to and obsessed with avocados. I eat them with almost every meal and certainly add them to every salad I make. I think that the avocado adds a layer of amazing creaminess to the tart and sweet, vinegar-ketchup sauce. I chose to use arugula as it is fresh tasting and just a little spicy. Together with the sweet, soft brioche bun it makes the perfect sandwich and the ideal way to use up your leftovers!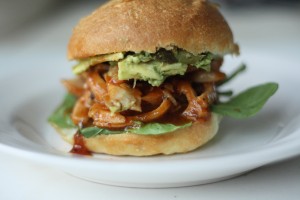 Pulled Chicken Sandwiches, makes 1 overstuffed or 2 regular sandwiches
2 Baked Barbecue Chicken Thighs, shredded into thin strips (see Notes)
2 tbsp Kansas City-style Barbecue Sauce
1/4 avocado per sandwich, mashed
1/4 cup baby arugula or other greens per sandwich
1 brioche bun per sandwich
1. Add chicken thighs and sauce to a small saucepan over medium low heat and slowly heat until simmering gently. Allow to simmer until heated through, about 5 minutes.
2. Toast bun under broiler or on a grill until golden. Add greens to the base, then layer the heated chicken, then top with the avocado (alternatively you could mash the avocado directly onto the bun for speed). Serve and enjoy!
Search

Subscribe

Archives

Categories