Portuguese Tomato Rice
Posted on 04 August 2010
As I mentioned in yesterday's recipe, Piri Piri Chicken with Tomato Piri Piri Sauce, this Tomato Rice works wonderfully with spicy and flavorful foods while adding its' own sweet and herby taste. It is so easy to make, only requiring simply adding the ingredients and then stirring occasionally while it is happily cooking away. As it is wholly vegetarian dish it fills a void that is too large in my repertoire… For some reason I have never been a vegetarian for any length of time. There was perhaps a week long stage in high school where I decided that I just had to be one (I am sure my mama was so excited!) and another stage when I first moved out to New York where I ate nothing but tofu and vegetable stir-fries; it was cheap and tofu and vegetables just so happened the only foods I could guarantee my roommates wouldn't eat late night! But in general I have always been a strict carnivore, so having a dish like this up my sleeve makes it so much easier when I want to have a dinner party for people with dietary restrictions. You could also leave out the butter for vegans but we may be overdoing it…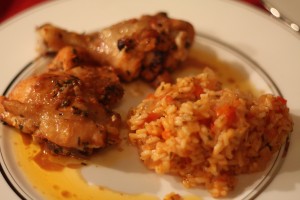 When I was testing this dish out I used fresh bay leaves. You can find them at some larger gourmet supermarkets and also online stores or if you are lucky enough to have bay trees in your garden you could pop outside. I bought mine from my go-to speciality supplier, Kalustyan's, where they cost $1.99 for a half ounce.
Notes: A good way to measure the amount of water going in with basmati rice is to place your index finger on top of the rice and add enough water to reach the first joint. Somehow this trick works and produces perfect basmati every time!
Tomato Rice, serves 4 as a side
2 tbsp olive oil
1 onion, finely chopped
1/2 red bell pepper, finely chopped
2 garlic cloves, chopped
1 tbsp finely chopped parsley
1 fresh bay leaf, or half a dry
7 oz chopped Italian plum tomato (1/4 of 28 oz can)
1/2 tsp sweet paprika
1 tbsp butter
1 cup basmati rice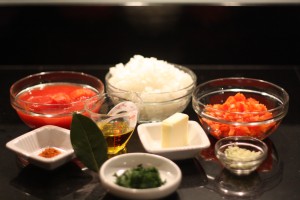 1. Heat a medium saucepan over low heat. Add the oil and the onion, cook slowly stirring once or twice to prevent burning. Cook until onions are softened and turning golden, about 10 minutes.
2. Add pepper and cook, stirring occasionally, until sticky and jammy, about 10 minutes.
3. Add garlic, parsley and bay leaf and cook until fragrant, about 2 minutes.
4. Stir in tomatoes, paprika, butter, 1 tsp kosher salt and a little pepper and simmer until thickened, about 5 minutes.
5. Add rice and stir to coat in tomato mixture. Pour cold water in to cover (see Notes).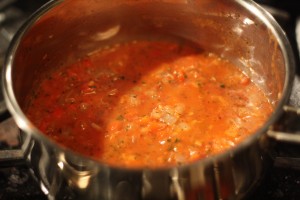 6. Bring to a boil and simmer for 10 minutes, stirring often to make sure the base is not burning. Turn off the heat and fluff the rice with a fork, cover and leave it to steam for another 10 minutes. Fluff it again before you serve, making sure that all the liquid has been absorbed. Serve hot.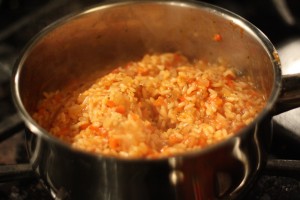 Search

Subscribe

Archives

Categories