Piri Piri Chicken with Tomato Piri Piri Sauce
Posted on 03 August 2010
This recipe, with its' three parts, may look slightly daunting I promise it is completely easy to make. As each step adds another delicious layer of flavor, making all the steps is important. You can make the tomato piri piri sauce and basting sauce while the chicken is marinating and the oven or grill is heating up saving you a lot of time. The marinade adds so much flavor to the chicken that if you need to, you can bake it in the oven rather than get your grill all messy. As is we are still in the midst of summer, I have still included the grilling directions in the recipe below for those of you who just can not live without an extra char to your meat!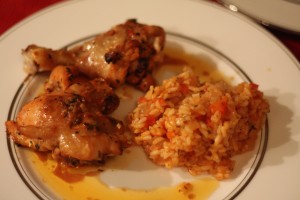 Piri piri chicken has become increasingly popular with the astronomic rise of the Nando's restaurant chain (where they spell the dish peri peri – the chain came to the UK and the US by way of South Africa) and their ubiquitous supermarket sauces. I would say that this sauce is the equivalent spiciness to their medium heat peri peri sauce. You can of course add more of the peppers to kick this up a notch, which of course I did!
This recipe is from the Books for Cooks' volume 9 and it was originally from Piri Piri Starfish: Portugal Found by Tess Kiros. I absolutely adore Notting Hill's Books for Cooks! If you ever find yourself without lunch plans while in London, eat in their kitchen in the back of the bookshop. Just like mine, their test kitchen is tiny too!
I served this with the traditional accompaniment Tomato Rice – perfect for a satisfying dinner! And the tomato piri piri sauce can go on anything. I saved the leftovers of the sauce and tried it with the addition tomato rice and some grilled, sliced steak for a quick, inexpensive meal!
Notes: If you are too short of time to marinate the chicken for 4 plus hours you can leave the chicken pieces in the marinade for 30 minutes at room temperature rather than placing it in the refrigerator and waiting longer.
The peppers used in this dish are piri piri peppers (also called African birds eye chilies or peri peri peppers), they are native to Mozambique and are found in dried form all over Portugal. I bought mine from Kalustyan's in New York where I got a little 1/2 ounce bag for a very reasonable $3.49 (you can also buy them by over the phone). Or if you are in the UK from The Spice Shop in Notting Hill also sells them.
Piri Piri Chicken with a Tomato Piri Piri Sauce, serves 4 as an entree
Marinade
1 lemon, washed and cut in half
4 garlic cloves, finely chopped
1 tsp dried oregano
1 tsp sweet paprika
8 bone-in and skin-on chicken thighs and/or drumsticks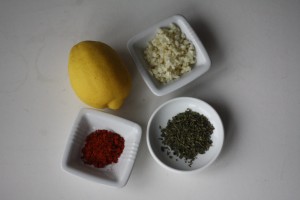 1. Using a sharp kitchen knife, carefully slash each chicken piece with 3 deep cuts through the meat to the bone.
2. Squeeze all the juice out of the lemon into a medium sized bowl. Add the lemon halves, garlic, oregano and paprika. Add chicken pieces and sprinkle generously with salt. Turn the pieces to coat and rub the marinade in well, making sure to get marinade into the cuts. Cover and refrigerate for at least 4 hours and up to 24 hours (see Notes).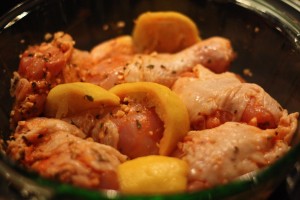 Tomato Piri Piri Sauce
1 cup olive oil
3 tbsp unsalted butter
14 oz chopped Italian plum tomatoes (half of a 28 oz can)
1/2 tsp salt
large pinch sugar
6 dried piri piri chilies, finely chopped (see Notes)
4 large garlic cloves, finely chopped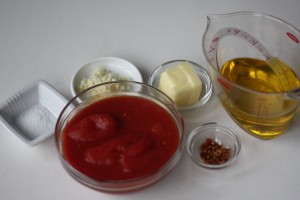 1. Heat a small saucepan over low heat and add oil, butter and tomatoes. Cook for 25 minutes, until the tomatoes are thick. Add salt, sugar, chili and garlic and cook for 10 minutes, until the mixture is fragrant and the garlic is soft. Remove from heat and blend in a blender or with a hand blender until smooth. Cover to keep warm and set aside. (You can store this sauce for up to a month. Cover with a layer of oil and reheat as needed. Re-blend to emulsify if it splits while reheating.)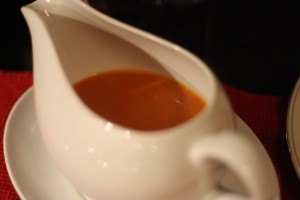 Basting Sauce
6 dried piri piri chilies (see Notes)
3 garlic cloves, roughly chopped
5 tbsp butter
2 tbsp olive oil
1 tsp kosher salt
Juice of 1 lemon
2 fresh bay leaves or 1 dry bay leaf
2 tbsp port
2 tbsp whisky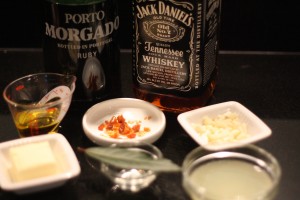 1. Crush chilies and garlic with a pestle and mortar to make a rough paste (or use a food processor and pulse). Heat a small saucepan over medium heat, add butter and oil and add paste, cook until sizzling and fragrant about 2 minutes. Stir in salt, lemon juice, bay, port and whisky and let bubble for 5 minutes. Remove from heat, taste and adjust seasoning.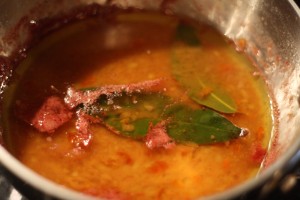 Piri Piri Chicken
In the oven
1. Heat oven to 400°F. Remove chicken from marinade and place in a single layer in a roasting tin. Roast, turning once during cooking and drizzling with the basting sauce a couple of times of each side, until golden skinned and cooked through with no hint of pink, about 30 minutes.
On the grill
1. Grill chicken over a medium hot barbecue, turning and drizzling with basting sauce every 3 minutes, until cooked through with no hint of pink at the bone, for 15-20 minutes.
To serve…
Drizzle over any remaining basting sauce before serving. Serve with"> Tomato Rice and the Tomato Piri Piri sauce.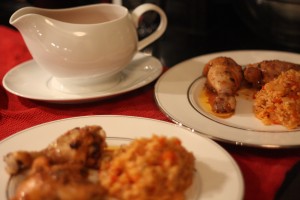 Search

Subscribe

Archives

Categories