New York Style Cheesecake
Posted on 25 August 2010
A couple of weeks ago the hubbie and I went to the famous Peter Luger steakhouse for a friend's bon voyage party. My recommendations are to get the steak for 2, medium-rare, their thinly cut onion rings, special fried German potatoes and for goodness sakes, you should get the thick cut bacon to start and slather it in their house sauce, you can thank me later! While everyone raves about the steak, which of course I appreciate, I love the cheesecake with a heaping side of schlag (sounds rude, tastes delicious). We all got a piece to share and it was the perfect end to a traditional New York meal. It is creamy, rich but not heavy, old school New York style cheesecake, basically it is the cheesecake that all other deli cheesecakes want to be like. (Junior's in Brooklyn also does a mean original cheesecake and I hate to say it but… Stage Deli's really isn't so bad.)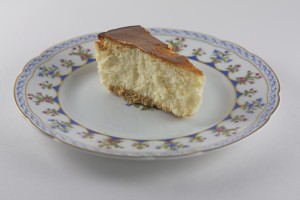 Since that meal I have been craving a big piece of cheesecake of my own and I knew that I had several pounds of cream cheese in the fridge so I set out to find the ultimate New York cheesecake recipe. It was an exhaustive search, I scanned the indexes of my cookbooks and searched online. When I found this recipe in Maida Heatter's Book of Great Desserts I thought I had hit the jackpot. Not only was it in a classic dessert text (if you don't believe me read the amazing amazon reviews), the recipe was original printed in the New York Times by none other than Craig Claiborne. Craig Claiborne was quite possibly the most influential man in media for the food world. He was a food writer, a critic and the editor of the New York Times food section. So I thought this recipe was going to be out of this world. Sadly I was disappointed; I do not know what happened, maybe it is because I used a springform pan and should have sought out one of these hard to find cheesecake pans but all I know is the recipe was not as heavenly as the Peter Luger's cake. I found it too lemony with not enough vanilla or enough of a crust on the bottom (see Notes for my modifications). The texture however was good so I shall be tweaking this recipe until I get it exactly how I desire. I still wanted to put this recipe up here as I love how classic this recipe could be and if anyone does own a cheesecake pan let me know how it turns out!
Notes: as this is a classic recipe I wanted write it out in its' entirety. As mentioned above I would tweak this recipe. I did not love how lemon flavored the cake turned out but instead would prefer more of a vanilla flavor. Next time I make a New York style cheesecake I am going to halve the amount of lemon zest and up the vanilla. I also did not think the crust was thick enough and would perhaps bake a graham cracker crust, similar to the one on my Key Lime Pie, for more of textural difference.
The recipe does not state to strain the lemon juice of pulp and seeds but if I made this cake again I would certainly do it. I found the pieces of pulp distracting and unpleasant in my cake slices.
Maida Heatter also recommends using a "cheesecake pan", which apparently does not have a removable bottom and are deeper than the average pan and she states not to use a springform. After I briefly searched for one of these pans I only found "cheesecake pans" with removable bottoms, I decided that I would use a springform pan and risk it. I could not see how the pan would make a difference to the final cake. If you possess a round 8-inch wide, and at least 3 inches deep, cheesecake with a non-removable bottom, you are in luck as that is exactly what you need!
This cheesecake also freezes well. If you wish to freeze the cake, after inverting the cake for the second time place the cake in the freezer rather than refrigerator. Make sure to wrap well to prevent freezer-burn.
Craig Claiborne's New York Style Cheesecake, serves 10
Finely grated juice of 1 lemon (see Notes)
3 tbsp lemon juice, (see Notes)
2 lbs cream cheese, room temperature
1 tsp vanilla extract
1 3/4 cups sugar
4 eggs
1/3 cup graham cracker crumbs (see Notes)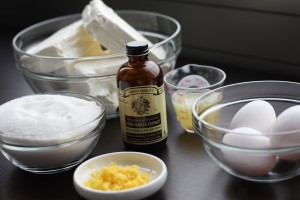 1. Adjust rack to lowest level in oven. Heat oven to 350F. Lightly butter an 8/9-inch round cake pan, at least 3 inches deep.
2. Mix the lemon zest with the strained lemon juice and set aside. In the bowl of an electric mixer beat the cream cheese on medium-high heat scraping down the sides occasionally, until absolutely smooth. Beat in the vanilla and sugar, mix until smooth. Add eggs one at a time, waiting until the last one is completely combined before adding the next. Do not beat more than you have to combine them. With a rubber spatula stir in the lemon rind and juice.
3. Spray the butter pan generously with Pam or some other non-stick spray (this is what the recipe calls for! It does make the cake come out remarkably easily and allow it to rise without sticking to the sides.)
4. Pour the batter into prepared pan. Smooth out the top by briskly rotating the pan a bit, first in one direction, then the other. Place the pan inside another pan which is large enough that the edge of the cheesecake pan does not touch but shallower. Pour hot water into the larger pan up to 1 1/2 inches deep. Bake for 1 1/2 hours, until the top of the cake is a rich golden brown and feels dry to the touch but the cake underneath still wobbles slightly.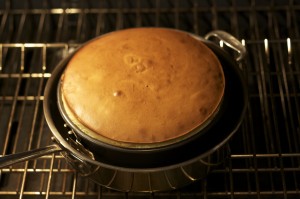 5. Carefully lift cheesecake pan out of water and place it on a rack at room temperature for 3 hours, or until it is completely cool. Do not cool cheesecake in the refrigerator.
6. Cover the pan with plastic wrap (rather than cling wrap) and place a flat plate firmly over the top and invert (basically flip the cake onto the plate). Remove the cake pan. Sprinkle the bottom of the cake evenly with the graham crackers. Very carefully and quickly invert the cake again so it is right side up.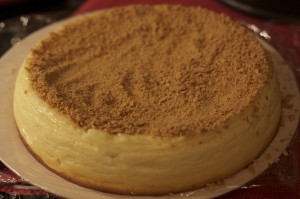 7. Refrigerate for at least 5 to 6 hours or overnight. Serve very cold. To cut the cake, dip the knife in hot water before slicing as it helps to prevent the cheesecake from sticking.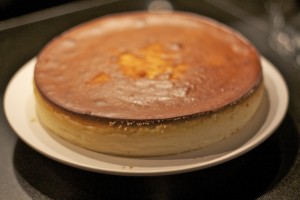 Search

Subscribe

Archives

Categories