Cranks' Homity Pie
Posted on 24 August 2010
Even though I am a pretty strict carnivore (that can be a thing, right?), growing up I loved visiting Cranks with my mum and my sister. While I can't remember the location we went to (Mum, maybe you can help me?), I do remember walking down the stairs from street level and joining the long queue to be served your food, almost like a cafeteria lunch line. We would then bustle with everyone else, exiting the line and try to find a solitary empty table in the packed and noisy restaurant.
While it was not so remarkable that a) a restaurant in London was packed to the rafters and b) that we would wait in long lines to get served (the English are honestly the best at queuing, no bias and no exceptions!), the reason the whole thing amazes me now, when I think back on it, was the whole restaurant was completely vegetarian and wholegrain! And as a small child, I entirely loved it! As it seems did everyone else.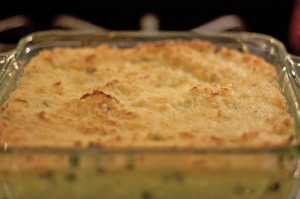 My favorite dish was the inspiration for this dish, Homity Pie. They served their's with a wholewheat pastry crust but I have created this recipe without one as it greatly reduces the prep trip not having to make pastry and to be frank, the potatoes were always my favorite part! This oddly named dish is one of the most entirely comforting things you will ever eat. It is basically a bunch of deliciously amazing things all in one serving. Mashed potatoes made with sour cream and butter, check; baked Cheddar cheese, check; onions, check; garlic, check; I mean… how much better could it get?!
I served this with some grilled boneless lamb loin chops, asparagus and a Homemade Mint Sauce. All in all, it could not be more perfect for a weeknight meal. Also even though I use a potato ricer for my Extra Creamy, Buttery Mashed Potatoes, I use a potato masher to keep some of the texture for this dish. The potatoes still come out smooth but not quite a refined as with a ricer which I prefer here.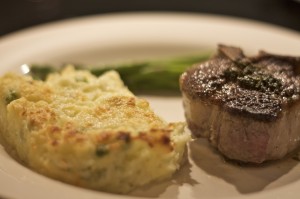 Notes: I had some Aged Cabot Cheddar left over from the Three Cheese and Bacon Macaroni and Cheese from last week so I used it in this dish. The sharp, salty taste was perfect but you can use any sort of Cheddar cheese.
Homity Pie, serves 4-6 as an entree or a large side
2 lb potatoes, preferably Yukon Gold or Maris Piper
3 tbsp butter
8 fl oz sour cream
4 1/2 tsp canola or sunflower oil
1 garlic clove, crushed and roughly chopped
1/2 cup petit pois (baby peas)
1/2 cup onion, diced (about half an onion)
1/3 cup grated Cheddar cheese (see Notes)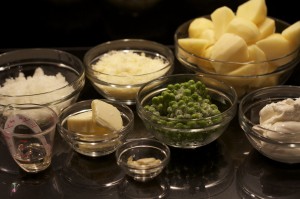 1. Heat oven to 375F. Butter a 9×9″ baking dish. Peel potatoes and place in a large pot of cold, salted water and bring to the boil. Cook for 30 minutes or until potatoes are fork tender.
2. While the potatoes are boiling, bring a small saucepan of salted water to the boil. Add the peas and blanch for 4 minutes. Drain and set aside.
3. Drain and add butter, sour cream, oil, garlic and salt and pepper. Mash thoroughly with a potato masher.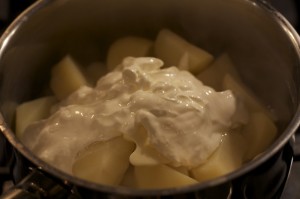 4. Add the peas and onions to the potatoes and stir to combine. Pour mixture into baking dish. Top with grated cheese and bake in the oven for 30 minutes, or until golden brown. (If the cheese is not browning, place the dish under the broiler/grill for 3-4 minutes.)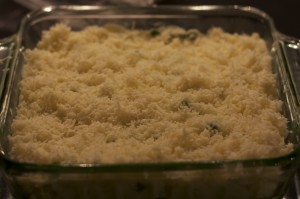 Search

Subscribe

Archives

Categories