Herbed Roasted Chicken with a Red Wine Vinegar Sauce
Posted on 18 August 2010
As I mentioned in my post last Friday we love to throw dinner parties so much so that we held two last week. My last post contained the menu for our first party but I was saving the second menu for today. For our second dinner party on Thursday evening I had a slight challenge. One of our friends is lactose intolerant and as you may have noticed I have a fondness for cream, butter and cheese. I thought planning a whole menu that omitted this holy trinity was going to be tough. Somehow it was easier than I thought, it may have been that it is summer so many of the dishes you gravitate towards are on the lighter side and are usually dairy-free.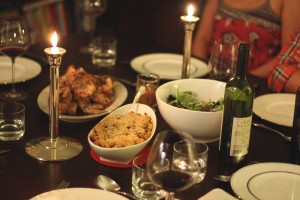 We started with Gazpacho again (sneaky I know! I just added a little extra virgin olive oil and some freshly diced avocado right before serving.
Then I served Grilled Asparagus with Prosciutto, Fried Bread, Poached Egg, and Aged Balsamic Vinegar. Rather than using the Torn Croutons which are slowly fried with butter I used these Easy Garlic Croutons and baked them with some thyme sprigs as well as the crushed garlic cloves.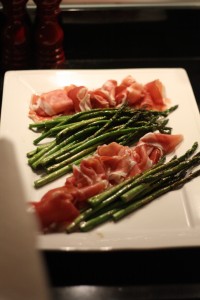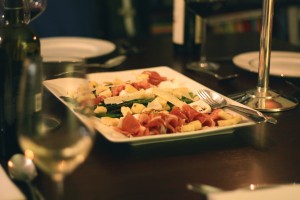 For an entree I made Herbed Roasted Chicken with a Red Wine Vinegar Sauce (recipe below) with a creamy Three Cheese Bacon Macaroni and Cheese and a green salad with a white balsamic vinaigrette.
As I dessert I am still tweaking the White Chocolate Vanilla Bean Panna Cotta I had made the day before. Being as addicted to white chocolate as I am I tried to up the chocolate-i-ness but found that the texture suffered in the balance.
This recipe is originally from Saveur magazine attempting to recreate the famous Stretch's Chicken Savoy from the Belmont Tavern in New Jersey. It was created in the test kitchen while I was working there. I have probably made this dish thirty times but I am still amazed at how easy it is and how tender, moist and flavorful the chicken turns out. The quick sear at the beginning of the preparation helps to keep the moisture in.
Notes: for an 8 piece bird, in this case, you want two wings, two thighs, two drumsticks and 2 breasts. Try to get an all-natural bird as they have a better flavor and a naturally higher water content than commercially farmed birds.
You can use a hand grater to grate this cheese or use the grating attachment on your food processor.
Herbed Roasted Chicken with a Red Wine Vinegar Sauce, serves 3-4
1 3-4 lb chicken, cut into 8 pieces (see Notes)
4 cloves garlic, roughly chopped
1/3 cup grated Pecorino Romano (see Notes)
4 tbsp olive oil, separated
1 tbsp dried oregano
1 tsp dried thyme
1 cup red wine vinegar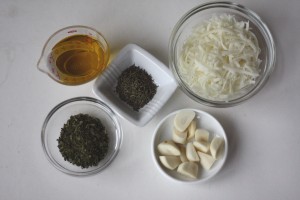 1. Heat oven to 500°F. Season chicken with salt and pepper.
2. In a food processor, combine garlic, Pecorino, 3 tbsp olive oil, oregano and thyme until they form a paste. Set aside.
3. Heat remaining 1 tbsp olive oil in a large skillet over medium high heat. Add chicken skin side down and cook until golden brown, about 6 minutes. Using tongs, turn chicken over and using the back of a spoon smear the skin side with the herbed paste. Place skillet in the oven and cook until cooked through, about 20 minutes.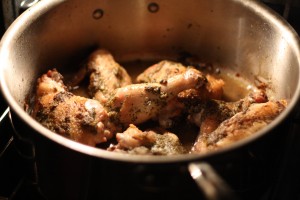 4. Remove from oven and carefully pour of the fat from the pan. Add the vinegar, spoon the vinegar over the bird as though you are basting. Transfer chicken to a serving platter and spoon over the vinegar sauce.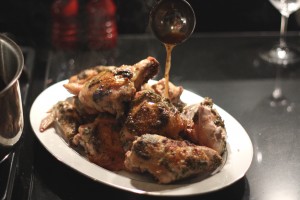 Search

Subscribe

Archives

Categories