Gougères
Posted on 11 August 2010
These delightful, fluffy "cheesy puffs" always go quickly at any party. They are so easy to make; after making a simple choux pastry with Gruyère and Parmesan added, all that is left is to pipe them out and bake them. These have gotten me out of many a pinch when I know that I am not making enough food for the number of guests we have over. Or when I know that I will not have dinner on the table in a timely fashion, these are the perfect way to distract everyone while they have their welcome drinks. They are also the perfect thing to get ready and then pop in the oven while you are doing last minute touch ups of yourself and the house! The whole house smells divine.
While I made them and then placed them in a cute little serving basket, wrapped in a linen napkin, I failed to get a close up.  Please excuse the need for Where's Waldo-like skills (they are in between the two wines glasses to the right of the picture).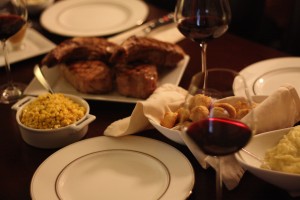 These gougères are buttery, light and slightly chewy all whilst being immensely cheesy. The Gruyère has a slight nutty taste making them more adult than ones made with cheddar and both the Gruyère and Parmesan are drier cheeses so you end up with a non-greasy hors d'oeuvres.
I served this before and during a recent dinner party. We ate these Brined then Grilled Pork Chops, Buttery and Creamy Mashed Potatoes, Creamed Summer Corn and a large green salad. We drank it all down with a lovely, light Pinot Noir.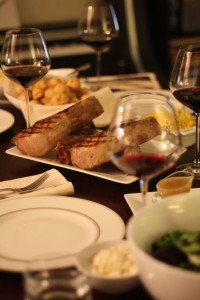 Gougères, makes 30
2 large eggs, room temperature
4 tbsp unsalted butter, cut into squares, chilled
1/4 tsp kosher salt
3/4 cup all-purpose flour
1/2 cup grated Gruyère cheese
2 tbsp Parmesan cheese
Pinch freshly ground black pepper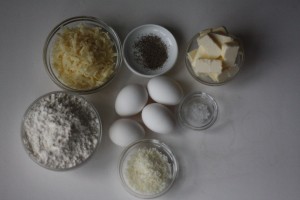 1. Heat oven to 400°F. Place Silpats on 2 baking sheets or lightly grease 2 baking sheets.
2. Whisk eggs gently until whites and yolks are combined but no further.
3. Put 1 cup water, the butter and salt into a medium sized saucepan over medium high heat and bring to a boil, stirring occasionally to make sure the butter melts. Once it reaches a boil, add the flour. Beat heartily with a spoon until the mixture pulls away from the pan's sides (the mixture should all be one mass). Turn the heat down and continue cooking for 1 to 2 minutes, until the dough is partially dry.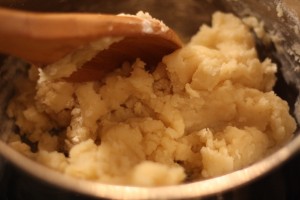 4. Remove from heat. Add the beaten eggs slowly, stirring all the time. Stir in the cheeses and pepper until everything is well combined.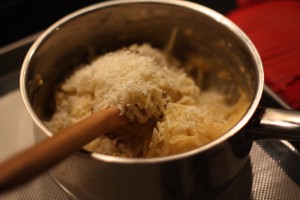 5. Put the dough in a ziploc plastic bag (or a large pastry bag with a large round pastry tip). Cut off the tip of the bag and pipe the dough into 1 to 1 1/2 inch rounds onto the baking sheets (3 rows of 5 on each sheet).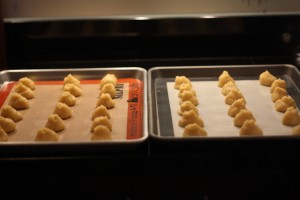 6. Bake for 20 to 25 minutes, checking on them regularly, until slightly crispy of the outside but still slightly doughy on the inside, and golden colored.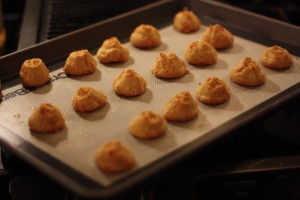 Search

Subscribe

Archives

Categories