Creamy Macaroni and Cheese with Three Cheeses and Bacon
Posted on 19 August 2010
I made this dish as a side to go with the Herbed, Pan Roasted Chicken with a Red Wine Vinegar Sauce. The creaminess of the extra cheesy bechamel cut the acidity of the vinegar sauce, and the smoked bacon and the blue cheese added other elements of flavor which are not as common in macaroni and cheese. This is an Ina Garten recipe and she calls it her Grown Up Mac and Cheese. It is certainly not the boxed variety of mac and cheese (which definitely has its' place – late night or very very lazy weeknight!) and it is is not your average homemade macaroni. The three cheeses work well together and create a thicker sauce that envelops the pasta, oozing inside the hollow. As you may have noticed this was the one dish that our lactose intolerant friend should not have eaten due to its high content of everything dairy but after smelling it and seeing she couldn't resist a taste!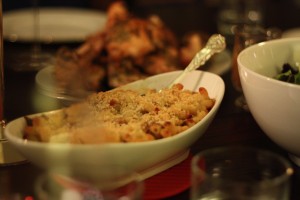 From the original recipe I just made a few changes. I fried the bacon as it is faster and it is easier to save the bacon fat. I have a container in my fridge for any bacon grease, it is perfect for making cornbread, eggs in the morning, and hash browns or any potato dish. In the original recipe Ina Garten adds two tablespoons of chopped basil to the breadcrumbs before sprinkling them over the pasta, I omitted this as I did not want the flavors to compete with the oregano and thyme in the Herbed Chicken entree I was making but when I have made it other time it has been a nice addition. You can also add which ever herb you think best suits the meal you are about to eat.
Notes: I use D'artagnan's Uncured Applewood Smoked Bacon. Not only is the smoky flavor delicious, it is also made without nitrates and nitrites which means I have to use it up a bit faster than other brands of bacon but I have no problem with that! Also this bacon is more forgiving than other bacon as you cook it due to the thickness of the slices. I am able to render most of the fat out of the bacon on a medium high heat giving me perfectly browned and crispy bacon without it sticking to the pan like the less expensive brands do.
I used Extra Aged Cabot cheddar from Vermont but you can use any, just make sure that it is white so when it blends with the other cheeses it looks better.
I LOVE a cow's milk blue cheese from King Island off the coast of Australia called the Roaring 40's. It is perhaps the most divine cheese ever, with the except of some triple creams… or maybe robiola bosina with truffled honey or a well balanced Camembert or fresh Bucheron or Morbier or Cantelet… okay, so maybe it is my favorite blue cheese… I also think it is adorable how it is named after a nautical term!
Creamy Macaroni and Cheese, serves 6 as a side or 2 as an entree
4 oz thick cut bacon (see Notes)
2 cups cavatappi or favorite pasta for macaroni
1 1/2 cups milk
2 tbsp butter
2 tbsp all-purpose flour
4 oz Gruyere cheese, grated
3 oz extra-sharp Cheddar grated (see Notes)
2 oz blue cheese, crumbled (see Notes)
1/4 tsp freshly ground black pepper
1/8 tsp freshly grated nutmeg
2 slices sandwich bread, crusts removed, grated with a hand grater or food processor to form crumbs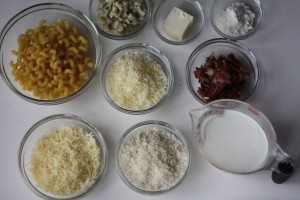 1. Heat oven to 400°F. Add bacon to a cool frying pan over medium high heat and cook until crispy and most of the fat has rendered out. Pour of bacon fat and set aside cooked bacon on a paper towel lined plate to cool. When cool enough to handle, crumble bacon and set aside.
2. Cook pasta of choice according to package directions in a large pot of salted boiling water. Drain well.
3. As the pasta is cooking, heat milk in a small saucepan until steaming but not boiling. Melt butter in a medium saucepan over low heat and whisk in flour. Cook for 2 minutes, whisking continuously. While whisking pour in hot milk in a continuous slow stream and cook for 2 minutes more, until sauce has thickened and is smooth. Remove pan from heat and add Gruyere, Cheddar, blue cheese, 1 tsp kosher salt, pepper and nutmeg.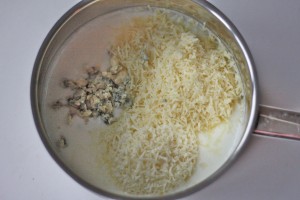 4. Add cooked macaroni and bacon and stir well. Pour into a 2 quart baking dish. Sprinkle with breadcrumbs and place in the oven for 30-40 minutes until the sauce is bubbling and the top is a golden brown.
Search

Subscribe

Archives

Categories