Sauteed Chicken Breasts with a Tarragon and White Wine Reduction
Posted on 20 July 2010
On this blog there are a few things that have been well documented, my love of spice and curries (I've even post a recipe so you can make your own curry powder at home!) and my love of Thomas Keller's book Ad Hoc at Home. This one, just like the Cauliflower Soup, combines both. Thomas Keller seems to share my love of curry powder using liberally in recipes throughout the book. This recipe takes a simple every day and well priced ingredient and makes it dinner party worthy.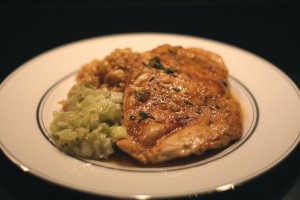 I love recipes that can jazz up chicken breasts rather than just serving them as it with a sauce. This recipe requires you to season the breasts with an aromatic mixture of sweet paprika (I used Hungarian sweet paprika) and curry powder and let them marinate for two hours. The presentation of the dish is different than usually as you pound the breasts to a thin quarter of an each, this also greatly reduces the cooking time to just 3 minutes! This tarragon and white wine sauce is the perfect accompaniment to the chicken, adding richness from the butter and chicken stock but lightness from the tarragon and white wine. The sauce is also easy peasy to make, from start to finish just 5 minutes!
I served these last night with a Basic Risotto (replacing the Parmesan with a tiny sprinkling of curry powder) and some creamed leeks (just leeks added to olive oil and butter over a medium heat, seasoned with salt, put a lid on top until they were sweated down and very soft, removed lid, cooked off moisture and add a splash of cream and then season with salt and pepper).
Notes: Even though now is prime time growing season for tarragon, I was unable to find it fresh anywhere when I made this dish. (This also could have been because everyone else rushed out looking for this light summery herb.) I substituted dried French tarragon; for substitutions the ratio is 1:3. In this recipe I used 1 teaspoon of dried but if you can find fresh, replace it with 1 tablespoon of chopped fresh tarragon. You can also garnish the finished dish with tarragon leaves.
Sauteed Chicken Breasts with a Tarragon-White Wine Reduction, serves 4
Sauteed Chicken Breasts
1 tsp sweet paprika
1 tsp curry powder, homemade or store bought
4 large chicken breasts, about 6-8 ounces each
Tarragon-White Wine Reduction, recipe below
1. Combine paprika and curry powder in a small bowl. Season chicken breasts with mixture. Cover with plastic wrap and refrigerate for 2 hours.
2. Place a large piece of plastic wrap on your counter. Lay 1 chicken breast on top. Cover with another piece of plastic wrap. Using a meat pounder, pound the breast to 1/4″ thick. Transfer to a plate and repeat with other chicken breasts. (At this point the chicken can be wrapped and refrigerated for up to 12 hours.)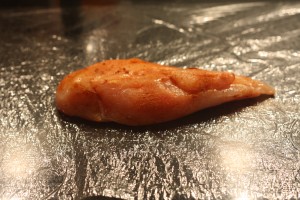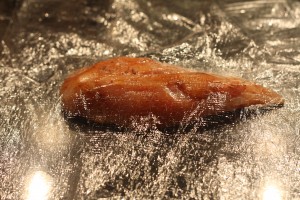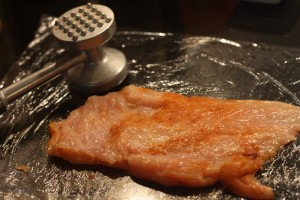 3. Heat oven to 200°F. Set a cooling rack over a baking sheet (as shown below).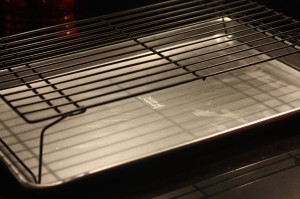 4. Season chicken on both sides with salt. In a large frying over medium high heat, add a large glug of canola oil. Working in batches, making sure the chicken is not touching, add chicken to the pan, presentation side down (whichever side is smoother and looks nicer – usually the side that was not pounded) – I managed to fit 2 pounded chicken breasts to a 12″ frying pan. Cook until bottom of chicken is golden brown, 1 to 1 1/2 minutes. Turn to the second side and cook until golden, 1 to 1 1/2 minutes again.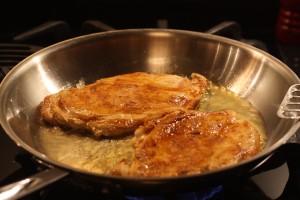 5. Transfer to rack and keep warm in the oven. Add oil to the pan as needed as you continue to cook chicken in batches.
Tarragon-White Wine Reduction
3 tbsp unsalted butter
1 tbsp minced shallot, about 1/4 of a shallot
1/4 cup dry white wine
1 cup chicken stock
1 tsp dried tarragon (see Notes above)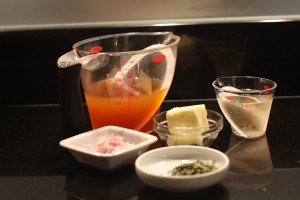 1. Once the chicken is cooked, pour any remaining oil from the pan and wipe out any burned bits. Melt 1 tbsp butter over medium high heat. Add shallot to pan, reduce heat to medium, cook for 30 seconds, stirring shallot to make sure they are coated in butter and to prevent burning.
2. Pour in wine and turn up heat to medium high, cook until wine has been reduced by half, about 1-2 minutes. Add chicken stock, bring to a boil and cook until slightly thickened and reduced, about 1-2 minutes. Stir in tarragon, remaining 2 tbsp butter and any juices that have accumulated on the baking sheet. Season with salt and pepper to taste.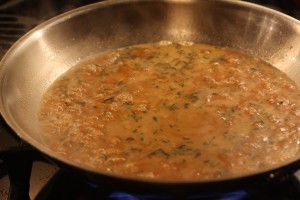 To serve…
Arrange the chicken on a platter, pour sauce over it and if using fresh tarragon (see Notes) garnish with tarragon leaves. For accompanying side dish ideas, see above.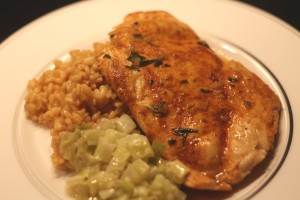 Search

Subscribe

Archives

Categories