Hot Dog Chili
Posted on 19 July 2010
This is one of my hubby's all time favorite things to eat, which is handy as I have loved hot dogs more than any healthy person should since I was little. In fact hot dogs, along with cotton candy, beer, fresh lemonade, barbecue, funnel cakes, and occasionally salted peanuts (but not on windy day, the shells go everywhere), are one of my favorite things about the sport of baseball. Sadly the hot dogs at the stadium do not have this chili on them as I would probably eat about 10 of them (maybe it is actually a good thing thing then!).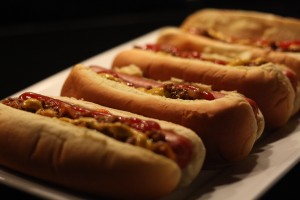 This chili is so easy to make; almost everything except the fresh beef is a pantry item which I have in my cupboard or fridge at all times. This is a great entree to make for a crowd in the summer with a couple of side salads, like a corn salad or a pasta salad or a potato salad (recipes coming soon!), just double, triple or quadruple the recipe.
As I am usually only cooking for the two of us this makes enough for two batches. Rather than eat 4 hot dogs in a week each (which I hear may be unhealthy

), we make grilled cheese and chili sandwiches with the second half of the chili. We make them the same way we make regular grilled cheeses just adding the pre-warmed chili right before we sandwich the two slices of bread together.
Hot Dog Chili, makes 2 cups, enough for 8 hot dogs
2 tbsp olive oil
1/2 onion, chopped finely
1/2 pound ground beef, preferably chuck
1/2 cup ketchup
1 1/2 tsp yellow mustard, preferably French's
3/4 tsp chili powder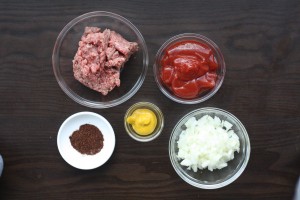 1. Add olive oil to a medium pan over medium-high heat. Add onion and cook until soft, about 5 minutes. Add beef and cook until browned, using a spoon to break up any large pieces. Add ketchup, mustard and chili powder. Bring to a simmer and cook for 15 minutes, until the chili has thickened.
2. Add on top of cooked hot dogs, preferably grilled, on toasted potato rolls. Serve with extra ketchup and mustard.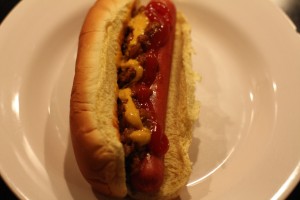 Search

Subscribe

Archives

Categories