Watermelon Curry (Tarbooz ki Subzi)
Posted on 10 June 2010
For me, summer can be 'summed' up by a watermelon. Watermelon is the epitome of seasonal fruit. The rest of the year seems colder and lonelier without having the happy red and green crescents in the produce aisle. So a couple of weeks ago when it first began feeling like summer, I jumped the gun slightly. I bought the first watermelon I had seen this year. I did not just buy a small, conservative slice, I came home with a 6 pound chunk of melon! My husband who is not a fan of watermelon – he thinks it's all downhill after the first juicy mouthful – was somewhat surprised and alarmed that a whole shelf in our little fridge was now dominated by this wedge.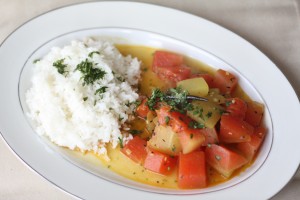 One mistake I make every year is to get too enthusiastic too soon. After the first couple of bites I soon realized that this watermelon was bland and lacking all the dripping goodness that late summer watermelon possess by the bucket load. I actually held off posting this recipe for a couple of weeks to make sure that no-one ran out and came home with a similar one. I now think though that we are in safe watermelon territory.
Not-so-nice, insipidly pink watermelon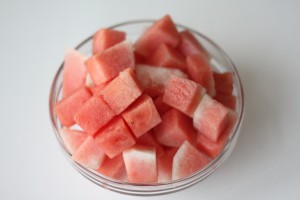 I would estimate that I ate roughly half of the watermelon before finally calling a truce. So the other three pounds just sat in the fridge…. and it sat some more. I was not quite sure what to do with the rest of this watermelon as I knew it would not be flavorful enough for a sorbet or gelato but I did not want to throw it away. Then I remembered a recipe from two years ago from Saveur. A couple of summers ago Saveur did an issue highlighting watermelon. I worked in the test kitchen that summer and as lowest man on totem pole (I was right out of culinary school at the time), it was my unfortunate task to purchase the thirty-some pound melons and bring them on the long subway ride back to the kitchen. It may have been have the only time in my life when I could not stand the site of watermelons!
This recipe as it is so unexpected; you can completely change someone's perspective on watermelon, showing that is is more versatile and deserves more than just being cut up into slices every 4th of July. The recipe is Indian in origin and some of the spices are a little hard to find. The ajwain and the nigella seeds are both used frequently in Indian cuisine (I have included online links in case you do not have a good Indian speciality store near you).
Ajwain seeds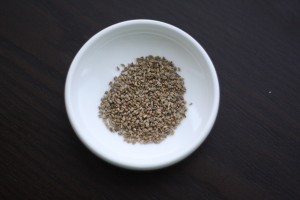 Nigella seeds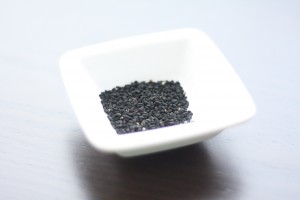 Before making this dish I had not heard of either of these spices and I also did not know that you could use watermelon rind to cook with. I vaguely recall hearing that you could pickle it but as I grew up hating vinegar I had not tried this. Although it would be a great way to use up all the leftover rind when making something with the flesh.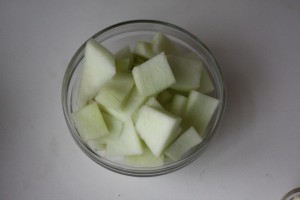 Watermelon Curry
3 pounds seedless watermelon, with rind left on
2 tbsp canola oil
1/2 tsp ajwain seeds
1/2 cumin seeds
1/2 nigella seeds
2 dried chiles de arbol, stemmed
4 cloves garlic, finely chopped
1 tsp kosher salt
1/4 tsp tumeric
2 tsp chopped fresh cilantro, to garnish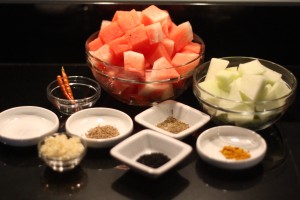 1. Trim and discard the thin, green skin of the watermelon rind, leaving the inner, whitish-green rind intact. Separate the rind from the red flesh with the knife and cut both rind and flesh into 1″ pieces. Set aside in separate bowls. In a medium saucepan, heat oil over medium high heat. Add ajwain, cumin, nigella seeds, and chiles and cook, swirling the pan, until spices are toasted and fragrant, 2-3 minutes.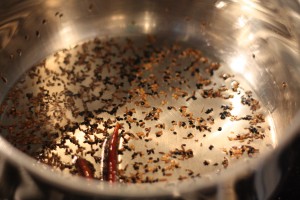 2. Add garlic, cook, stirring, until golden brown, about 30 seconds. Add watermelon rind, salt, and tumeric and cook, stirring occasionally, until the rind is lightly browned and the liquid has almost evaporated, about 7 minutes.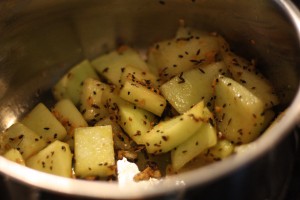 3. Pour 1 cup water into pan, cover, and reduce heat to medium low. Simmer curry, stirring occasionally, until the rind pieces are tender, about 10 minutes. Uncover saucepan, add the red flesh, and stir to combine. Raise the heat to medium high and boil, stirring occasionally, until the flesh softens and the flavors come together, about 5 minutes.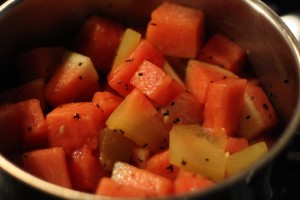 4. Transfer curry to a serving platter and sprinkle with cilantro. Serve with rice.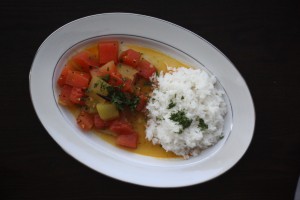 Search

Subscribe

Archives

Categories