Seared Tuna Salad
Posted on 16 June 2010
As promised in yesterday's post, Japanese Style Salad Dressing, here is a recipe for a delicious Seared Tuna Salad. This salad is an easy make-it-yourself restaurant style dish. I have so often ordered salads so similar to this in Japanese restaurants and never really thought about making one at home until I saw a gorgeous fresh-as-can-be tuna steak on sale and had to think of something to do with it. This recipe would be perfect to make for an easy weeknight dinner party, you can prepare the marinade in the morning and just add the tuna for a short thirty minutes before cooking. Fish is great for a quick marinade as it takes the flavors so quickly.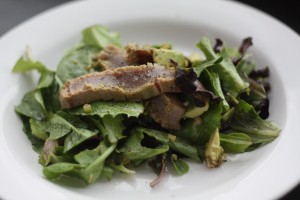 In the post yesterday I mentioned that the dressing is addictive and seriously moreish. Even though the hubby had already eaten, he had one mouthful of this salad and had to go and get a plate for himself. Occasionally I would frown upon two dinners (not always, I believe there are times when it is a necessity, especially late night), I am fully supportive of eating this as the second supper. This meal is seriously healthy; the fish is lean yet contains good omega 3 oils and it is only quickly seared in no oil!; the collection of fresh produce that is used in this dish is awesome. You get almost four servings of vegetables in this delicious salad. The only change that I would make for dietary restrictions would be for gluten allergies or people with high cholesterol, you can use gluten free soy or low sodium soy.
Notes: As always, remember to use the freshest ingredients you can. This tuna is seared lightly so the inside is pink. For people with compromised immune systems i.e. elderly people and pregnant women, you can saute the tuna until cooked through.
Seared Tuna Salad, serves 2 as an entree
Marinated Tuna Steak
1 tbsp soy sauce
1 tbsp mirin (sweetened Japanese cooking wine)
1 tbsp sesame oil
1 tbsp rice vinegar
3/4 tsp ginger grated on a Microplane
2 scallions, greens only, sliced (whites reserved for salad dressing; see Notes)
1 jalapeno, halved, seeded and thinly sliced
8 oz wild yellowfin tuna loin steak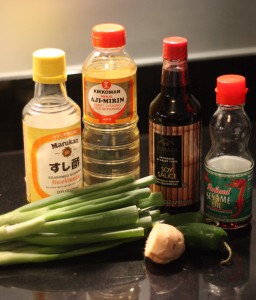 1. Combine soy, mirin, oil, vinegar, ginger, scallion greens, and jalapeno in a sealable bag. Add tuna, move the marinade around the steak and place in refrigerator to marinate for 30 minutes.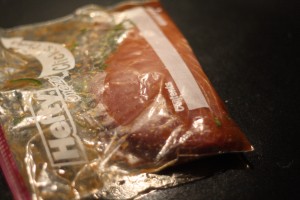 2. Remove tuna from refrigerator and remove from marinade, taking off as much as possible. Heat a 9 inch frying pan over medium high heat. The tuna should have retained some oil from the marinade so place directly into the frying pan. Cook for 1 1/2 minutes before turning and cooking the other side for 1 minute. Let rest for 2 minutes. Slice tuna along the short side into 1/4 inch thick slices.
To assemble the salad…
Cooked, marinated tuna steak
1 serving of Japanese Style Salad Dressing
1/2 avocado, diced
1/4 cup cilantro leaves
3-4 cups mixed baby lettuce leaves
1. Place lettuce leaves in a bowl. Top with tuna, avocado and cilantro. Pour dressing over and toss. Serve immediately.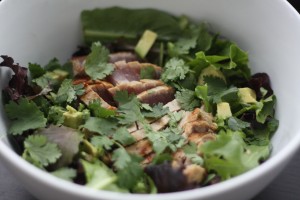 Search

Subscribe

Archives

Categories