Sauteed Tilapia with a Thai Cucumber and Papaya Salad
Posted on 23 June 2010
A couple of years ago I tried a green papaya salad with a similar dressing. Green papaya is an unripe papaya, because of its' hard and crispy texture to make it usable in a salad you need to wilt it with salt and sugar for at least an hour. I wanted to make a salad quicker than that so decided to try it out with a perfectly ripe and sweet hawaiian papaya. I felt as though it may be missing the crispy texture so I decided to add some cucumber. I also think that the cucumber adds some coolness to what would otherwise be a spicy salad! The teeny, tiny Thai bird's eye chilies should not be underestimated… other they are little they are super spicy so be careful when cutting them (see Notes below). The tangy, tart dressing is the perfect foil for the sweet, soft papaya and the crunchy fresh cucumber. The dressing is spicy, sweet and highly addictive.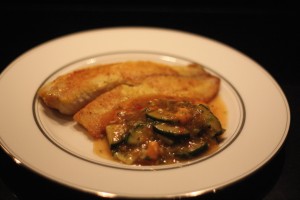 Tilapia is a white fleshed fish, it is light in taste and it is also sustainably farmed so you do not have the guilt factor that comes with so much seafood nowadays. As the filets are so thin you can quickly saute them, with just three minutes on each side to get them to a perfect golden brown crisp. The seasoned, flavored flour helps the fish create this crispy outside. This dish is easy enough that you can make it on a weeknight for a quick meal but tasty and interesting enough that you can serve it at a dinner party, which I intend to do in the very near future!
Notes: When cutting the Thai chilies be very cautious about touching your face, especially your eyes. Make sure to wash your hand immediately after handing and before touching your face so as not to hurt yourself.
Sauteed Tumeric Tilapia with a Thai Style Papaya and Cucumber Salad
Papaya Salad, serves 2 as a side, 4 as a condiment
3 tbsp fish sauce
Juice of 1 lime, about 2 tbsp
2 tbsp light brown sugar
1 clove garlic, minced
1 ripe hawaiian kapoho papaya, peeled and chopped into 1/2″ chunks
1/2 English cucumber, quartered lengthwise and sliced
2 Thai red chilies, seeds removed and finely chopped
3 scallions, greens and whites thinly sliced
2 tsp minced cilantro
1. Mix fish sauce, lime juice, sugar and garlic until sugar is dissolved. Add papaya, cucumber, chilies, scallions and cilantro. Stir until all ingredients are coated with fish sauce lime mixture. Set aside and let the flavors meld for 20-30 minutes at room temperature.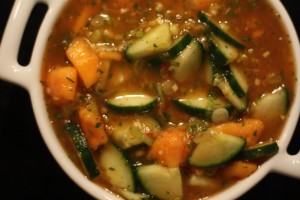 Sauteed Tumeric Tilapia, serves 2 as an entree
1/4 cup all purpose flour
1/2 tsp kosher salt
1/4 tsp tumeric
1/4 tsp freshly ground black pepper
2 tilapia fillets, about 8 oz each
2 tbsp canola oil
1. Heat oil in 12 inch flying pan over medium high heat. Combine flour, salt, tumeric and pepper in a shallow bowl until well mixed. Dredge tilapia in mixture, shaking off any extra. When oil has heated up, add tilapia. Cook for 3 minutes on each side, or until the filets are cooked through.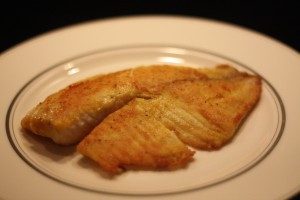 To assemble the dish…
Serve the tilapia immediately with the papaya and cucumber salad on the side. You can also serve a green side salad with a citrus vinaigrette.
Search

Subscribe

Archives

Categories