Cream of Celery Soup
Posted on 21 June 2010
Celery gets a bad rep. For some reason people think of it as more of a weight loss tool than a vegetable in it's own right. Everyone has heard the rumor that chewing and digesting celery burns more calories than you take in from it, or is that just my all-girls school education? While that is not actually true (sad, I know!), celery is awesome for you in so many other ways. It is high in vitamins C and K – you are excused for not knowing what vitamin K is, it is a new-ishly named vitamin. Celery has a ton of fiber, is a natural diuretic and is naturally high is sodium so you do not need to add much more when you cook with it. I may be predisposed to loving it though as it was my grandma's favorite vegetable. This fact could also be the most quaintly English thing I have ever heard!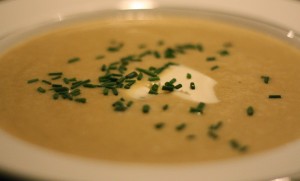 This soup came about for a couple of reasons… I was a little bit bored, it was really cold and miserable and I needed to remind myself that spring was just around the corner and I had two huge heads of celery in our fridge. For unknown reasons whenever something sits in my fridge for a couple of days I get anxious; I am convinced that everything goes off in a matter of moments. (*please don't judge me and write me off as neurotic, I'm just a huge clean/germ freak!)
So with all that on my mind I needed to find a quick, practical vehicle for all this celery. The first things that popped into my mind were a cream of celery soup, chicken salad and crudites with an interesting and healthy dip.  Here is the said soup's recipe.
As the weather is now gorgeous (or a little too humid, depending on how you enjoy New York summers), spring has been and gone – today is the first day of summer people! I thought that it was high time I posted this delicious, spring/summer soup. You can make the soup lighter by leaving out the cream and having a stock based soup. I love adding the cream because even in summer I believe a little richness rounds out a soup.
Notes: I added some creme fraiche to this soup as I had some on hand but you can leave it out or add mascarpone or heavy cream.
Cream of Celery Soup, serves 4-6
4 tbsp butter
3 cups celery, medium rough chop (about 8 stalks)
1/2 large onion, medium rough chop (about 1 1/4 cups)
2 medium Yukon Gold or similar potatoes
4 cups chicken stock
3/4 cup heavy cream
3 tbsp creme fraiche
3 tbsp chopped chives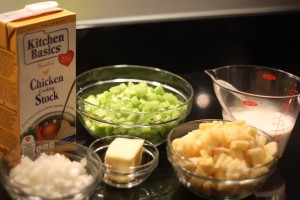 1. Melt butter in a large saucepan over medium-high heat. Add celery, onions and potatoes and stir to cover them in butter. Salt with 1/2 tsp kosher salt and turn the heat down to medium-low and place a lid on the pot, let sweat for 15 minutes. Stir occasionally and make sure that they are not burning, they should be releasing lots of water, softening and becoming fragrant.
2. Add chicken stock, bring to a simmer over medium-high heat. Keep at a gentle simmer for 20-25 minutes.
3. Remove from heat, allow soup to cool slightly. Begin to blend in batches, you can use a blender (which I prefer, as I believe it gives you a smooth soup) or an immersion blender. I like to hold the lid of the blender in place and cover it with a kitchen towel (or a tea towel for those of you in the UK) just in case the steam causes the lid to move during blending.
4. Pour the batches of the blended soup into a different pot and return to medium heat. Add and stir in the cream. Heat through and serve. Garnish with creme fraiche and chives.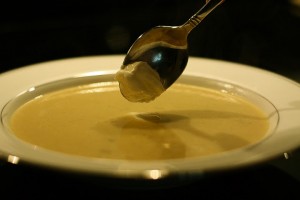 Search

Subscribe

Archives

Categories