Brioche French Toast
Posted on 22 June 2010
While everyday french toast is for the everyday this extra special french toast made with brioche and half and half tastes like a special occasion type breakfast. The amazing news is it so easy to make that you can literally make it every day. I do not think your figure will approve but your tummy will.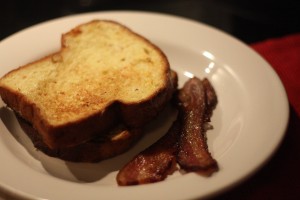 When I made this for the hubby recently after eating french toast his whole life he was amazed when I told him it was french toast. (I was happy at his reaction but also a little miffed… what was my french toast made with regular white bread?) But I agree, this is french toast taken to a whole new decadent level. The brioche is the perfect bread for this recipe. It is pillowy soft, eggy itself and slightly sweet but still savory. While I am slicing a loaf I usually have one of two nibbles with some salted butter – naughty! I also use brioche in this sandwich recipe.
While this recipe is designed for a romantic breakfast for two, it nicely doubles, quadruples and so on for as many people as you need to feed.
Notes: to all our British readers, french toast is the same as eggy bread.
I have used both cream and milk in this recipe as I always have them in the fridge. You can use 2/3 cup half and half to replace them.
Brioche French Toast, serves 2
2 large eggs
1/3 cup heavy cream
1/3 cup whole milk
2 tsp sugar
1/4 tsp vanilla extract
Pinch kosher salt
4 thick slices of brioche bread
2 tbsp unsalted butter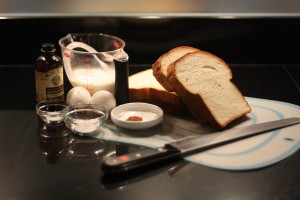 1. Heat oven to 250°F. Line a baking tray with foil. Whisk together eggs, cream, milk, sugar, vanilla and salt. Pour into a shallow dish.
2. Heat 1 tbsp butter in a 12 inch frying pan over medium heat. Soak 2 brioche slices in the egg mixture, making sure to press the bread on both sides gently to make sure it is well soaked.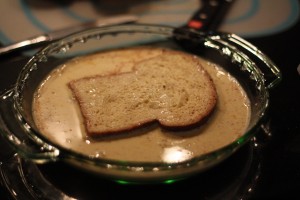 3. Place in frying pan and cook until brown on each side, about 3 minutes each side. Place in oven to keep warm. Soak the other 2 pieces of bread in the egg mixture. Add remaining 1 tbsp butter to pan. Once butter is melted, add bread to pan. Cook for 3 minutes on each side.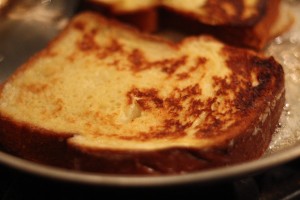 4. Serve with maple syrup, whipped cream and if you are terribly American (which I seem to be now) some crispy bacon! Delish!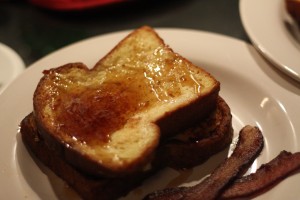 Search

Subscribe

Archives

Categories