Thai Stir-Fried Chicken
Posted on 11 May 2010
For some reason on Monday evenings I hit a wall when it comes to cooking. I just cannot fathom how exactly I am going to cook wholesome, interesting meals for the next five days until the weekend rolls around again. That is why I am thankful I have meals like this one in my back pocket. This whole meal takes twenty minutes to come together. You can literally put the rice on to cook, prepare the other ingredients and cook the stir fry in the last eight minutes. Unlike other meals that can be ready in such a short time, this one is healthy and not laden with trans-fats, chemicals and additives!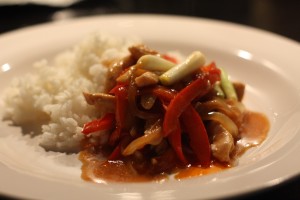 And even though I attempt to plan our week's meals down to the exact amount of garlic cloves I will need, I somehow always forget an ingredient.   As it happens, this also throws my world into disarray – have I mentioned that I am a delicate little flower yet? – so again I am thankful for meals like this. At any given time, I know that I have the ingredients for a stir fry, even if it is a man's worst nightmare, 'The Veggie Stir Fry'! For this one you just need chicken, which of course you can take out or replace depending on your dietary restrictions, a red pepper, an onion and some scallions.
I have used common household pantry items for the rest. I could literally reach up into my cupboard, or the back of the fridge for some, and grab everything I needed. Which as we all know is the most refreshing thing to be able to do on a Monday evening!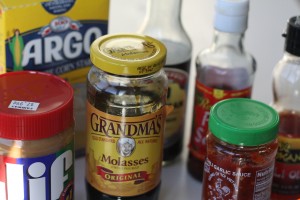 Notes: I state that the onion should be sliced lengthwise. This means from root to tip. It simply gives a more tidy appearance to the finished dish as the longer pieces of onions hold their shape better.
I specify dried chiles de arbol, you should be able to find them at your local supermarket. Stored correctly (airtight container in a cool, dark place), they keep indefinitely so you can order in bulk and use a couple whenever you need them.
Thai Stir-Fried Chicken, serves 2-3 as an entree
1 tbsp plus 1 tsp soy sauce
1 tbsp molasses
1 tbsp fish sauce
1 tsp cornstarch
3/4 tsp chili garlic sauce (Huy Fong brand)
1/2 tsp peanut butter, creamy style
1/4 tsp chili oil
2 tbsp vegetable oil
3 garlic cloves, crushed and roughly chopped
1 lb chicken breast, boneless and skinless, thinly sliced
1/2 yellow onion, thinly sliced lengthwise (see Notes)
1/2 red pepper, thinly sliced
5 dried chile de arbol peppers
6 scallion, cut into 1 inch pieces
1 tbsp cashews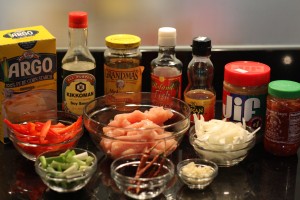 1. Combine soy sauce, molasses, fish sauce, cornstarch, chili garlic sauce, peanut butter and chili oil in a small bowl. There will still be streaks of peanut butter no matter how much you stir it. Set aside.
2. Place a wok or a large frying pan over medium high heat and add oil. Add garlic and cook for 30 seconds, stirring constantly. Add chicken and cook for 3 minutes, until chicken is no longer pink, stirring and shaking the pan constantly. Add onion, pepper, and chile peppers and cook for 2 minutes, stirring and shaking the constantly.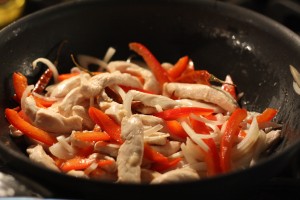 3. Add reserved soy mixture to wok and stir in, coating all the ingredients. Cook for 1 minutes, continuing to stir. Turn off heat.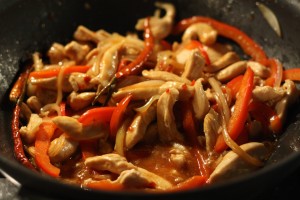 4. Add scallions and cashews. Stir to coat them in sauce.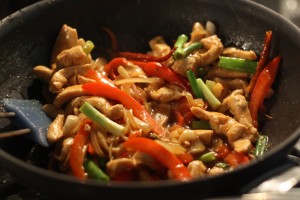 5. Serve with steamed rice.
Search

Subscribe

Archives

Categories