Thai Red Curry Broth with Udon Noodles
Posted on 26 May 2010
As everyone who regularly reads this blog knows, I absolutely hate to waste food! Everything that can be salvaged from a meal served in my kitchen, will be salvaged. As I made Tuesday's Thai Red Curry for just my husband and myself I had about a third of it leftover (I should have had half but the hubbie went back for seconds… he had just been on a long run so it's allowed :)). These leftovers made their way into one of my cute glass storage bowls to rescue me another day.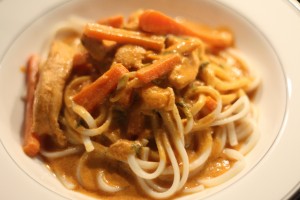 And today was their time to shine. I needed to have something filling and interesting on the table in fifteen minutes. This ruled out almost anything I could think of except pasta and jarred sauce (which has come in handy many a time), but when I looked in the refrigerator I saw this shining beacon of deliciousness! The inspiration behind this recipe was some of the amazing noodles dishes I have had at two of my favorite restaurants, Wagamama in London and Republic in New York, both of which I am wildly obsessed with. Whenever I fly home to London, the first thing I do is eat at Wagamama's. Hello, miso ramen with extra chili oil and terriyaki sauce! This is shortly before I fill my suitcase with jars of goose fat and cans of Heinz tomato soup.
Any way back to this entree… I simply boiled some udon noodles in unsalted water and simmered the leftover curry with some chicken stock and viola! A meal for two in no time! I only added 3/4 cup of chicken stock but feel free to add more to make it extra soupy.
Notes: I used Shirakiku brand, Japanese Style Noodles Inaka Udon, as they contain no preservatives and are made with just wheat flour, salt and water.
Thai Red Curry Broth with Udon Noodles, serves 2 as an entree
1/3 to 1/2 of Tuesday's Nearly Authentic Thai Red Curry recipe, about 1 1/4 cups
3/4 cup chicken stock
6 oz udon noodles (see Notes)
1. Cook udon noodles according to directions. In a medium saucepan, bring red curry and chicken stock to a simmer over medium low heat, stirring to combine. Cook for 10 -15 minutes.
2. Once cooked, drain noodles and add to shallow bowls. Divide the red curry broth, chicken and vegetables between the two bowls. Serve immediately.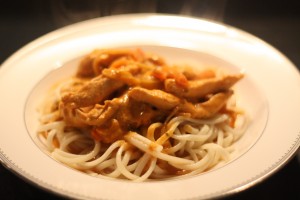 Search

Subscribe

Archives

Categories