Snickerdoodles
Posted on 14 May 2010
These old fashioned cookies with a peculiar name have been around since the nineteenth century, which in culinary terms really is not that long. There is much debate over whether they are a New English invention or from Germany or Holland, but there are a couple of things we do know for sure though. They are delicious, chewy on the outside and buttery and melt in your mouth on the inside; basically a sugar cookie with cinnamon rather than lemon zest. These cookies are so incredibly quick to make – the part that takes the longest time is waiting for the butter to come to room temperature.  And they are incredibly more-ish (I have eaten three four since I made them… oops!)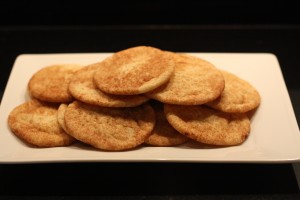 And not to sound too Stepford, but they make an excellent present as they stay fresh tasting for up to three days. Get that cellophane and ribbon out!
Snickerdoodles
Cookies
2 3/4 cups all purpose flour
2 tsp baking powder
1/2 tsp kosher salt
1 cup unsalted butter (2 sticks)
1 1/2 cups sugar
2 large eggs
1/2 tsp vanilla extract
Cinnamon sugar
1/4 cup sugar
2 tsp ground cinnamon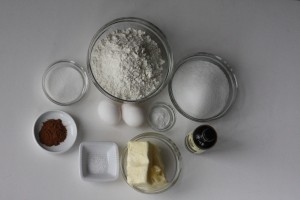 1. Heat oven to 350°F. Line 2 to 3 large baking sheets with parchment paper. Mix together cinnamon sugar ingredients on a small plate; set aside. Over a large bowl, sift flour, baking powder and salt together.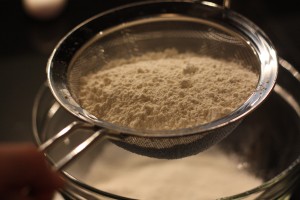 2. Place the butter and sugar in the bowl of a stand mixer with the paddle attachment fitted. Mix on medium speed for 3 minutes, until light and fluffy.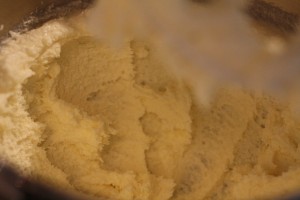 3. Mix in eggs and vanilla extract on medium speed. Reduce speed to low and gradually mix in flour mixture until well combined.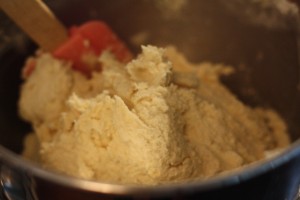 5. Roll dough into 1 1/2 inch balls and roll in cinnamon sugar mixture. Place onto parchment lined baking sheet and repeat. Place balls 2 inches apart on sheet. You should be able to fit 12 balls on each sheet.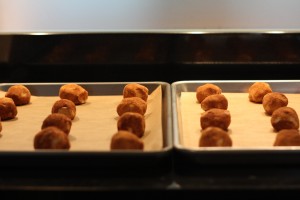 6. Bake for 12 minutes, until edges are golden, rotating pans half way through baking. Allow to cool on sheets on cooling racks.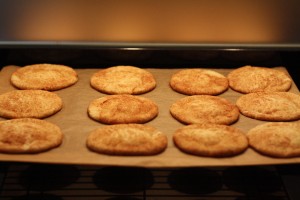 Search

Subscribe

Archives

Categories