Raspberry Cream Sandwiches
Posted on 05 May 2010
Originally I picked this recipe out for a Kentucky Derby party we had last weekend. The pink raspberry filling seemed so spring like and festive and perfect for a day spent watching horse races and sipping mint juleps. Alas, in the end the menu I had planned fell by the way side as I had to get myself and my apartment back into company ready condition after a night out at the Lucky Rice Festival Night Market (more on this in another post), which resulted in some late night karaoke with some friends and neighbors back at our place. My menu had involved these raspberry cream sandwiches, key lime bars topped with whipped cream and a slice of key lime and Benedictine sandwiches, a traditional Derby staple, which have cucumber and cream cheese filling which is dyed a light green with a splash of food coloring. The spring pastels would have work so well together, sigh!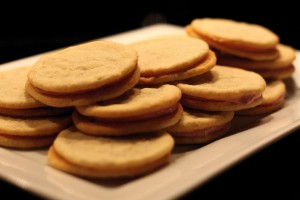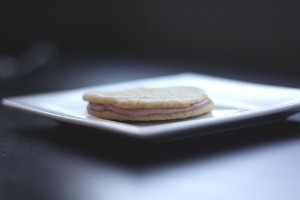 As I did not get to make them this past weekend I decided to make them for dessert at a dinner party we had last night for one of my closest friends from university. I was making a mild and creamy Chicken Curry with a curried onion risotto for an entree so I wanted to have something light and refreshing after. The flavors in this cookie are so bright and at the same time subtle. The cookies have a delicate texture that melts in your mouth leaving you with a gently yet decidedly vanilla taste on your tongue coming from the pure vanilla extract and the seeds just scraped from a vanilla bean. The filling has body from the chocolate and the cream but it is silky and there is a freshness from the raspberry that prevents the sandwich from being too sweet or too cloying on the palate. The flavors in this sandwich remind me of my favorite ice cream bar growing up, the Haagen Dazs raspberry sorbet and vanilla yoghurt bar. While writing this post this morning I learned that they discontinued the bar earlier this year, so if I seem a little upset and down in the mouth for the next few days you know why…
Vanilla seeds, freshly scraped from a plump vanilla bean pod, have the most amazingly beautiful aroma. Nearly all my perfumes are vanilla based…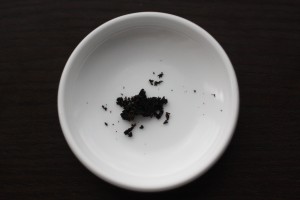 I found this recipe in Martha Stewart's fabulous book of Cookies, called funnily enough Martha Stewart's Cookies. There really is a cookie for every occasion and for every season of the year. Also the notes of packaging and gift giving at the back of the book make me want to become a Stepford wife, maybe even more than I already do.
I think these cookies are great for any spring gathering, a dinner party like ours, a buffet lunch, a pot luck party. And they are truly perfect for a bridal shower or a baby showers! Could there be a better way to toast a new baby girl?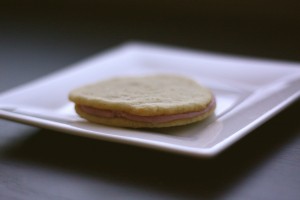 Notes: As I have stated before, I believe that you should buy the best quality ingredients you can and with chocolate you can really taste the difference. I used Guittard Choc-Au-Lait baking chips, which also meant that I did not have to chop the chocolate. They are currently on special at my local grocery store, so if you are in NY click here to get them.
This recipe specifies that the filling needs to be refrigerated for 30 minutes. In this case it means at least 30 minutes, you can however leave it longer if you need to. When I tested these I was wary of leaving it longer, just in case the chocolate harden and I would have to reheat it to get it to become spreadable again. In the end I left it in the fridge for over an hour and it didn't harden.
In the original recipe it calls for a 1 inch ice cream scoop to scoop the batter. I do not own one so I used a regular teaspoon and formed 1 inch round balls, it worked just as well. I do not believe in having every gadget out there and try to reduce the items I do have to save drawer space so multi tasking items are a live saver.
Raspberry Cream Sandwiches, makes 15 sandwiches
Vanilla Bean Sugar Cookies
cup all-purpose flour
1/2 tsp baking soda
1/4 kosher salt
5 tbsp unsalted butter
3/4 cup sugar
1/2 large egg
1 tsp pure vanilla extract
1/2 vanilla bean, halved lengthwise, seeds scraped out and reserved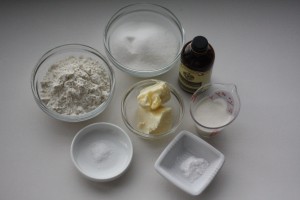 1. Heat oven to 350F. Whisk together flour, baking soda and salt. Put butter and sugar in the bowl of an electric mixer fitted with a paddle attachment. Mix on medium-high speed until pale and fluffy, about 2 minutes, stopping to scrape down the sides after 1 minute.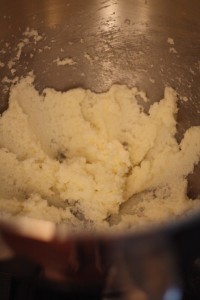 2. Add egg, vanilla extract, and vanilla seeds, reserving bean for another use. Mix until smooth. Reduce speed to low and gradually mix in flour mixture.
3. Using a teaspoon, make 1 inch balls of batter and drop onto baking sheets lined with Silpats or unbleached parchment paper, spacing 2 inches apart. I managed to fit 15 1-inch cookie dough mounds onto a 18 by 13 inch baking sheet.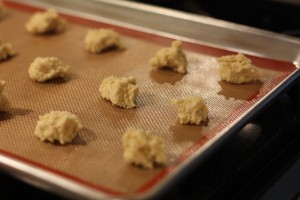 4. Bake, rotating sheets halfway through until golden and just set, 8 to 10 minutes. Let cool on Silpats or parchment on wire racks.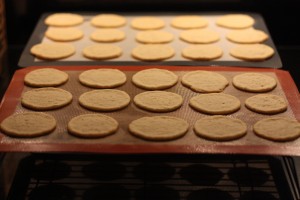 Raspberry White Chocolate Filling
Just under 1 cup fresh raspberries
1 tsp sugar
3 3/4 oz best-quality white chocolate, coarsely chopped, just over 1/2 cup
2 tbsp plus 2 tsp heavy cream
1. Puree raspberries and sugar in a food processor. Pour mixture through a fine sieve into a small bowl, pressing to extract juice; discard any seeds.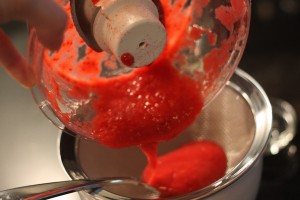 2. Melt white chocolate in a heatproof bowl set over a pan of simmering water (a double boiler). Remove from heat; whisk in cream in a slow, steady stream. Add reserved raspberry mixture; slowly whisk until pale 3 minutes. Refrigerate for 30 minutes.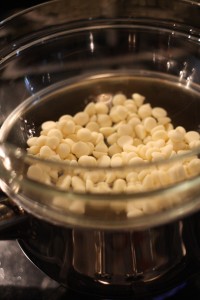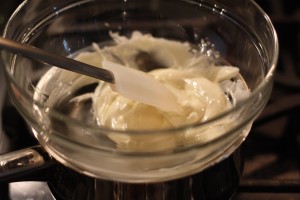 To assemble…
1. Spread 1 tbsp of filling onto the bottom of one cookie and sandwich with another. Repeat until you have all 15 sandwiches made. Enjoy!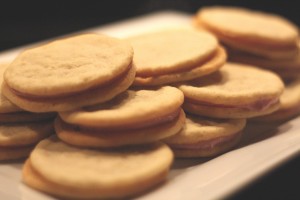 Search

Subscribe

Archives

Categories