Nearly Authentic Thai Red Curry
Posted on 25 May 2010
As I have mentioned before, one of the prerequisites to being English is that you must love curry, and if you don't I am not quite sure what to do with you! This usually refers to what most people think of as "Indian" curry; for me it covers all manners of curry. In fact, I have not met a curry that I didn't want to take home with me! So it is only natural that I love thai curries as well. While I am sure there are many great Thai restaurants in New York, we have not found one yet (if any one has any recommendations let us know), so I often make this dish at home. As it cooks it fills our apartment with a wonderful smell that is just a little bit exotic and spicy.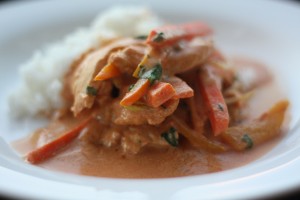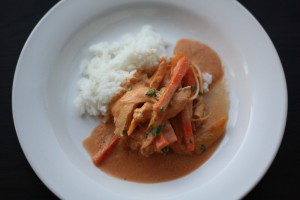 One of the advantages of making this entree at home is that I am able to make it spicier than I would usually get in a restaurant. The recipe reflects this so feel free to add less curry paste and to leave out the sliced jalapeno pepper garnish when you are making it. I love being able to quickly simmer the chicken in the coconut milk. It tastes almost like braised chicken, so tender!, but so much quicker.
While this recipe is somewhat authentic I have definitely switched up the ingredients, hence the name! While I have kept the red curry paste, fish sauce and lime juice, I left out tamarind juice, palm sugar, sweet Thai basil leaves and lime leaves. I also added peppers, rather than bamboo shoots, and jalapenos, rather than Bird's eye chilies. I think that these ingredients make this recipe far more approachable for the home cook. While I may be able to get most of the authentic ingredients they are usually so pricey and I know that I would not be able to use all the ingredients before they went bad. I prefer to leave them out unless I am making this dish for a special occasion. If I get enough requests for a truly authentic recipe, I will post one and a recipe for homemade red curry paste as well.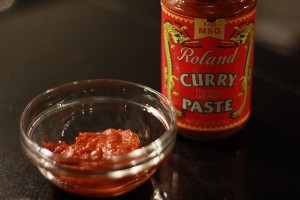 Traditionally, red curry paste is made with a pestle and mortar. It is made of a whole host of ingredients; Bird's Eye chilies (dried and fresh), lemongrass, garlic, shallots, ginger, cilantro, galangal, coriander seeds, lime zest, cumin, and shrimp paste or anchovy paste. You can make curry paste as home more easily by using a blender but it only keeps for three days. I prefer to buy mine premade in jars, knowing I will have two months or so before I have to use it all and will not have to waste it. There are so many brands of red curry paste but I prefer the Roland brand, it is made in Malaysia and does not contain any of the food additive monosodium glutamate (MSG), which is contained in lots of premade Asian condiments. While all the ingredients are fresh and natural is does contain shrimp paste making it unsuitable for veggies. I know that Thai Kitchen's red curry paste is vegetarian friendly and is also gluten free.
Notes: I use Chaokoh brand of coconut milk. It is thicker and creamier than most other brands I have tried and has a more prominent coconut flavor. Other brands that I like – if you only eat organic, Roland Organic Coconut Milk and for a low fat diet, Thai Kitchen Pure Coconut Milk.
To make sure the carrots cook the whole way through in the short time it takes to make this meal, I blanche them before hand. This simply means that I put the cut carrots into boiling water for two minutes and then drain them before adding them to the curry.
Thai Red Curry, serves 4 as an entree
13.5 fl oz can coconut milk (see Notes)
3 tbsp red curry paste
1 carrot, peeled and cut into thin strips, blanched for 2 minutes (see Notes)
1/2 yellow pepper, thinly sliced
1/2 orange pepper, thinly sliced
2 1/2 tbsp fish sauce
Juice of a half lime
2 boneless, skinless breasts, thinly sliced
1/4 cup beansprouts
1/4 cup cilantro, chopped, plus extra leaves for garnish
1 jalapeno pepper, sliced thinly
Freshly cooked short grain rice, to serve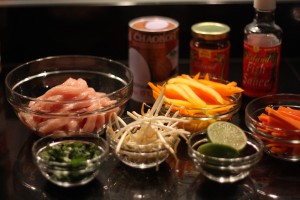 1. Place wok over medium high heat. Add coconut milk and red curry paste, stir to combine. Bring to a simmer and cook for 5 minutes.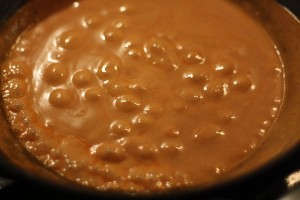 2. Add peppers and carrots to simmering coconut milk, cook for 2 minutes. Add fish sauce and lime juice, stir in. Add chicken, cook for 4 minutes, until cooked through. Add beansprouts, stir in and cook for 2 minutes. Make sure the chicken is cooked completely, by cutting a piece in half and checking for any pink color; the chicken should be white the whole way through.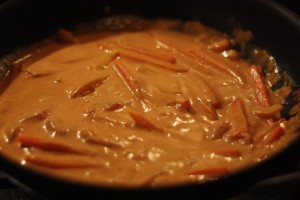 3. Remove from heat and stir in cilantro.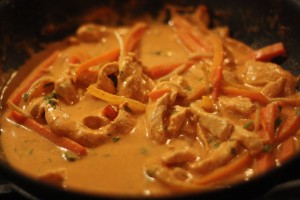 4. Serve with rice and garnish with extra cilantro leaves and lime slices and sliced jalapeno peppers.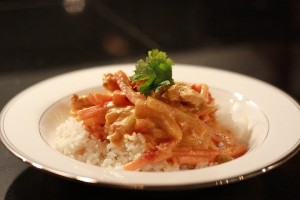 Search

Subscribe

Archives

Categories